FIRSTPOST: E-commerce companies' sales during October this year, the festival month, are expected to be 50 percent higher than a year ago simply because of the attractive offers being lined up for the consumers. The range of products that are on sale and easy-to-purchase schemes devised by the companies are a killer combination that consumers may find difficult to ignore. Sector watchers see online sales beginning from 14 October to generate $700-900 million.
E-tailers are on track to generate highest-ever monthly sales over the course of the festival period this year (20 September-20 October). This period has three mega sale events, according to RedSeer Consulting, a research and advisory firm. The sale during September 20-24 was to the tune of $1.5 billion, October 4-8 $500-600 million, it says.
"If we also add the BAU (business as usual) days falling in this period, we expect that e-tailers would generate $3.3 billion of sales (Rs 20,000 Cr) for the whole 30-day (1-31 October) festival month," it said in a report.
Previous sales during this festival season were 'bumper' sales and there is no reason why Diwali sales should not follow the trend, says Mrigank Gutgutia, head, consumer internet at RedSeer. Another reason why online sales have become attractive during the festival season is that what offline offers in form of discounts and EMI schemes have been adopted by online retailers making festival offers irresistible for shoppers.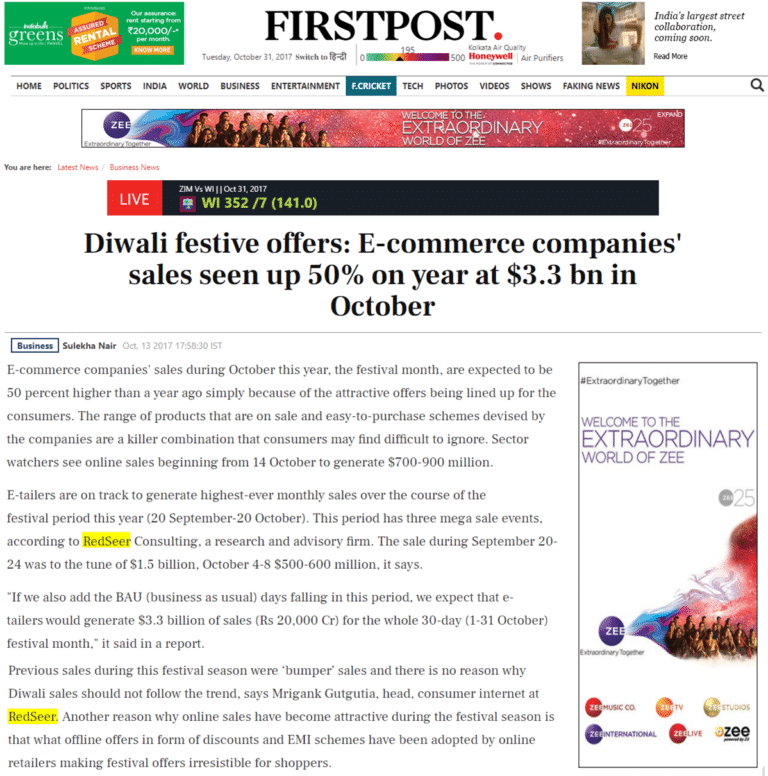 Click Here for the complete Article.