FORTUNE: Life for online grocery store Grofers has been a bit of a rollercoaster since its inception in 2013. In this short period of five years, the business of selling groceries online in India has seen a boom, a bust and now a revival that appears to be sustainable.
Less than two years after its launch, Grofers found itself in the midst of immense competition. From Sequoia Capital-backed PepperTap to Flipkart Group's Nearbuy, everyone wanted a piece of the online grocery business pie, and more than 300 such firms had cropped up. Yet, despite investors with deep pockets, most of the start-ups in the space shut down. BigBasket and Grofers were one of the few to remain.
Soon, it was evident that a hyperlocal sourcing model to service customer orders would simply not work. Instead, what would work is setting up warehouses and servicing orders from the inventory in the warehouses.
Grofers, that had already raised $155 million by the end of 2015, realised this the hard way. After expanding rapidly, in early 2016, Grofers had to scale back and shut down operations in nine cities.
While BigBasket has the Alibaba Group's backing, American giant Amazon is equally aggressive about its own grocery delivery platform Amazon Now by regularly offering more services and more products. With rumours that Walmart is planning to buy a majority stake in Flipkart, it is only safe to assume that competition in the space will only grow. The most obvious reason for the interest is India's demographic. According to a Morgan Stanely report, there are more than 400 million millennials — those born after 1982 — in India. And these people will buy grocery more regularly than mobiles or fashion according to Dhindsa. "We buy groceries every week but you don't buy a cell phone, infact, even every month," he said.
Luckily, the market also appears to be at an inflection point. According to RedSeer Consulting, the online grocery market is 'on the cusp of an extended growth cycle' and can potentially reach $2-3 billion by 2020 driven by developments both on the supply side and demand side. "On the supply side, players are offering multiple business models (express delivery vs slotted delivery, on-demand vs subscription based models) and continuously growing the ease of shopping (driven by large selection and convenience of app-based shopping). On the demand side , growing awareness and comfort with online grocery shopping are likely to drive growth by roughly 50% year-on-year over 2016-2020," a recent report from the firm stated. The fact that online purchases account for only 0.2% of India's total FMCG and grocery sales means that the market will be big enough for everyone from BigBasket, Grofers, to Amazon and others to co-exist.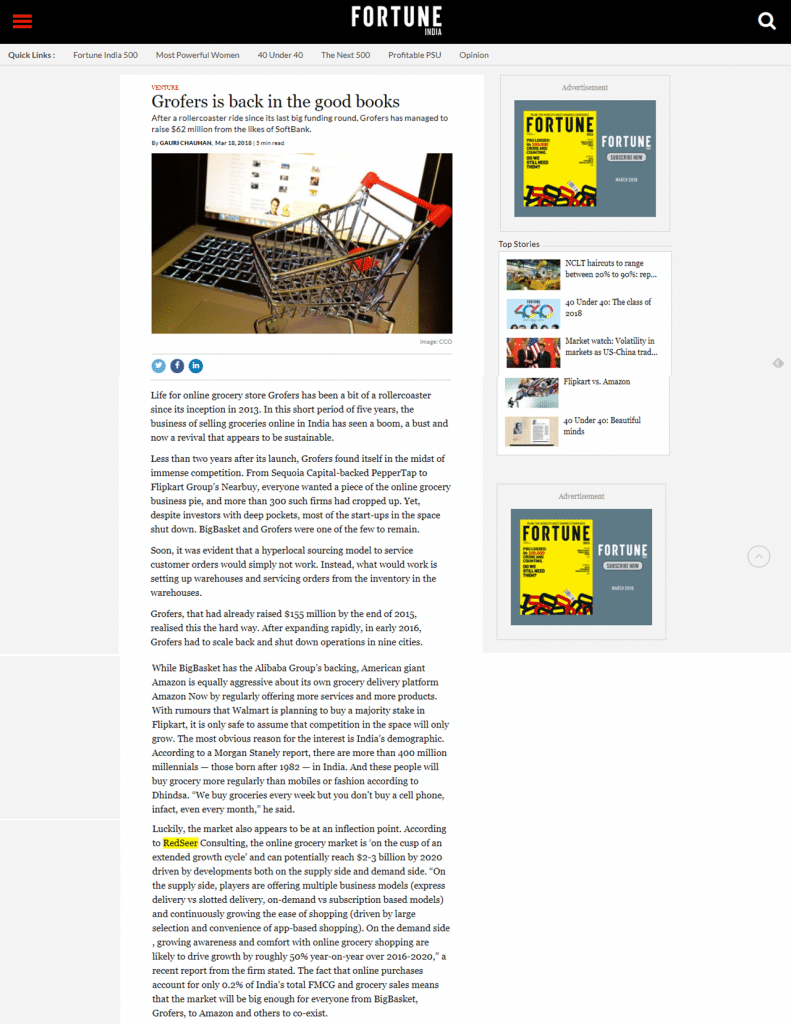 Click Here for the complete Article.