LIVEMINT: A growing number of Indian start-ups, including cab-hailing service Ola, hotel brand Oyo Rooms and eyewear retailer Lenskart, are venturing overseas, as they grow increasingly confident about their business models and their ability to take on global rivals.
On Tuesday, Ola said it has expanded its presence in Australia by introducing its service in Brisbane, the Gold Coast and Canberra. Lenskart is also considering expanding to countries in Asia, according to two people aware of the discussions.
One reason behind their overseas expansion is that the founders of these companies have become increasingly confident about their platforms' ability to attract customers. Ola has so far come out on top in its gruelling market-share battle with Uber, while Oyo has seen a turnaround in its business, driven by its effort to gain full control of the room inventory on its platforms.
These firms are also well-funded, so they have cash to spare for new businesses. Ola raised $1.1 billion last year and is looking for $1 billion more. Oyo, which raised $250 million in September, is in talks to raise $500-800 million in fresh capital.
"The Indian market has become big and start-ups here have solved complex problems at scale, so they are well-placed to apply their solutions to international markets," said Anil Kumar, chief executive of RedSeer Consulting, the largest consumer internet consulting and market research firm. "Especially in South-East Asia and smaller geographies, the consumer mindset is similar to India, so it helps Indian start-ups. Additionally, those markets are too small to sustain stand-alone start-ups. These markets can become lucrative for well-funded Indian start-ups that have huge amounts of capital. It's a good way to increase the market size for such start-ups."
Oyo and Ola are the latest start-ups to expand outside India.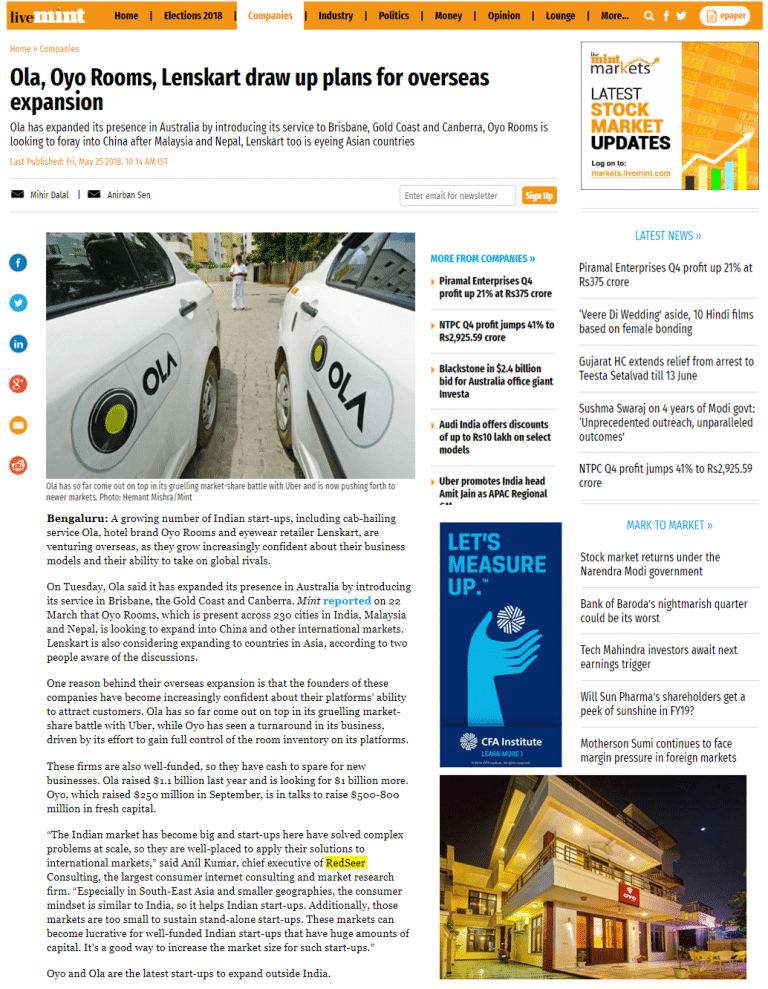 Click Here for the complete Article.