THE ECONOMIC TIMES: India's largest online retailer Flipkart Ltd is expanding its fledgling online groceries business even as it plans to sell movie tickets ahead of a proposed takeover of the company by American retailer Walmart Inc., three people aware of the developments said.
Flipkart will also soon enter the food retail business, the people mentioned above said.
Arch-rival Amazon India has piloted its food retail business in Pune.
Flipkart will also launch consumables and FMCG (fast moving consumer goods) products under its Billion private label, which is the brainchild of founder and executive chairman Sachin Bansal, the people cited above said, on condition of anonymity.
Billion was launched in mid-2017, as part of a push to bring new users to Flipkart by selling low-priced products.
The Bengaluru-based retailer has earmarked several hundreds of millions of dollars to grow its online groceries business, the people mentioned above said.
It is pushing hard to expand the grocery business to avoid losing more ground to the likes of Alibaba-backed Bigbasket, Grofers and Amazon India.
Grocery is currently an insignificant revenue source for Flipkart but an important long-term opportunity.
In late 2016, Flipkart re-hired two former executives Manish Kumar and Nitin Rajput to build its grocery business.
Flipkart is betting that sales of everyday household items will keep shoppers coming back to the company's platform.
So far, online grocery sales have taken off slowly.
Market research firm RedSeer Consulting Pvt. Ltd estimated it to be barely $1 billion in 2017.
Overall, online retail grew 23% to $17.8 billion last year, up from $14.5 billion in gross merchandise value (GMV) in 2016.
But, given the high order volumes and repeat purchases of groceries, the sector is expected to be a key battleground for online retailers; the largest internet investors in India are betting that online groceries will turn into a multibillion-dollar category over the next three to five years.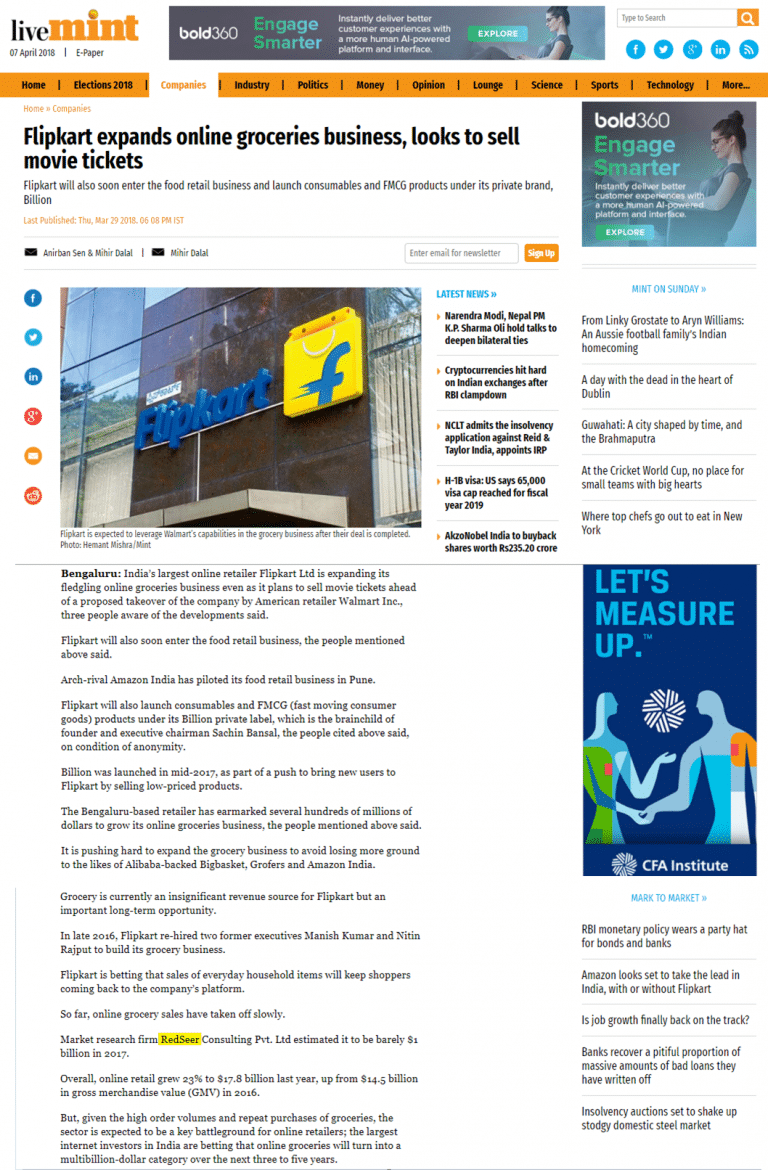 Click Here for the complete Article.