THE ECONOMIC TIMES: Coatue Management, one of the world's top-performing technology hedge funds, is in talks, along with a few other investors, to put in $50-100 million in online food-delivery platform Swiggy, according to three sources familiar with the matter.
Swiggy has so far raised $255.5 million, second only to the $443 million raised by competitor Zomato. The latter had raised $150 million from Ant Financial last month in a round that valued it at $1.1billion.
Swiggy has been leading the online food delivery market so far in India with about 4.5 million monthly orders and has been engaged in a tough battle with Gurugram-based Zomato which recently claimed to have grown its food-ordering business to almost 40% of its revenues.
Zomato has built a much more diversified revenue base with its three-month-old subscription service Gold now contributing to almost 12% of its revenues, as the firm hit an annualised revenue run rate of $100 million in March.
This comes as the market has also seen a significant expansion. Daily order volume in the industry has been increasing from 2 lakh per day at 2016-end to 4.5 lakh per day in 2017, according to data from RedSeer.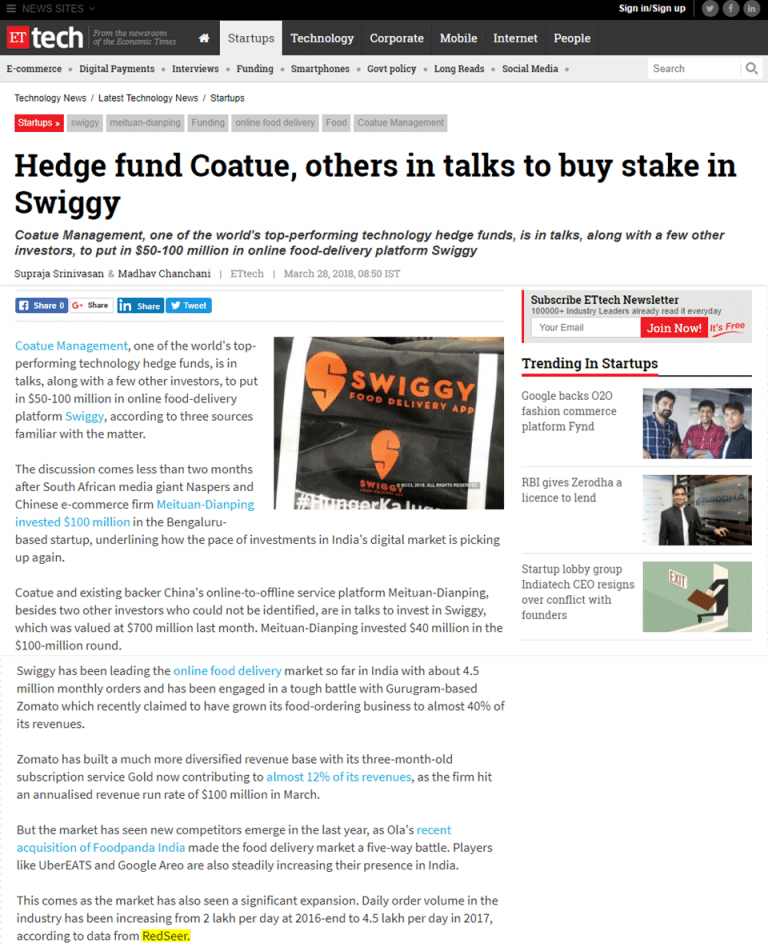 Click Here for the complete Article.