THE HINDU: Walmart has an option to invest an extra $3 billion in e-commerce company Flipkart, according to a regulatory filing by the world's largest retailer with the U.S. Securities and Exchange Commission.
The Bentonville, Arkansas-based company earlier this week said it had agreed to pay $16 billion for about 77% stake in Flipkart, a deal that will help it to take on its arch rival Amazon in India's online retail market.
At any time after the closing of the transactions and on or before the first anniversary of the closing, the purchaser, or any of its affiliates, may "request that Flipkart issue additional ordinary shares with an aggregate purchase price of up to $3 billion," said the SEC filing.
The deal, the biggest ever acquisition for Walmart, had valued Flipkart for more than $20 billion, according to sources. Walmart's investment included $2 billion of new equity funding to help Flipkart accelerate growth, and $14 billion for buying out existing shareholders.
As per SEC filing, Walmart may take Flipkart public in four years. Minority shareholders holding 60% of Flipkart's shares "acting together, may require Flipkart to effect an initial public offering following the fourth anniversary of the closing of the transactions," said the retailer. The IPO should be done at a valuation no less than that paid by Walmart under the share issuance agreement, subject to the satisfaction of other conditions regarding such offering.
'Largest Internet IPO'
"It would be the largest IPO for an Indian Internet company and among the biggest in the world," said Anil Kumar, CEO of RedSeer Consulting. Mr. Kumar said for the next four years, Flipkart would definitely need an additional infusion of money for keeping the "momentum going" and executing the plan. He said Walmart was not interested in operating Flipkart like any other investor would have done, such as 'SoftBank or Tiger Global'. "They [Walmart] are not going to dilute the share for sure," said Mr. Kumar.
Walmart had earlier said some of the existing shareholders include Flipkart co-founder Binny Bansal, China's Tencent Holdings Ltd and software maker Microsoft Corp.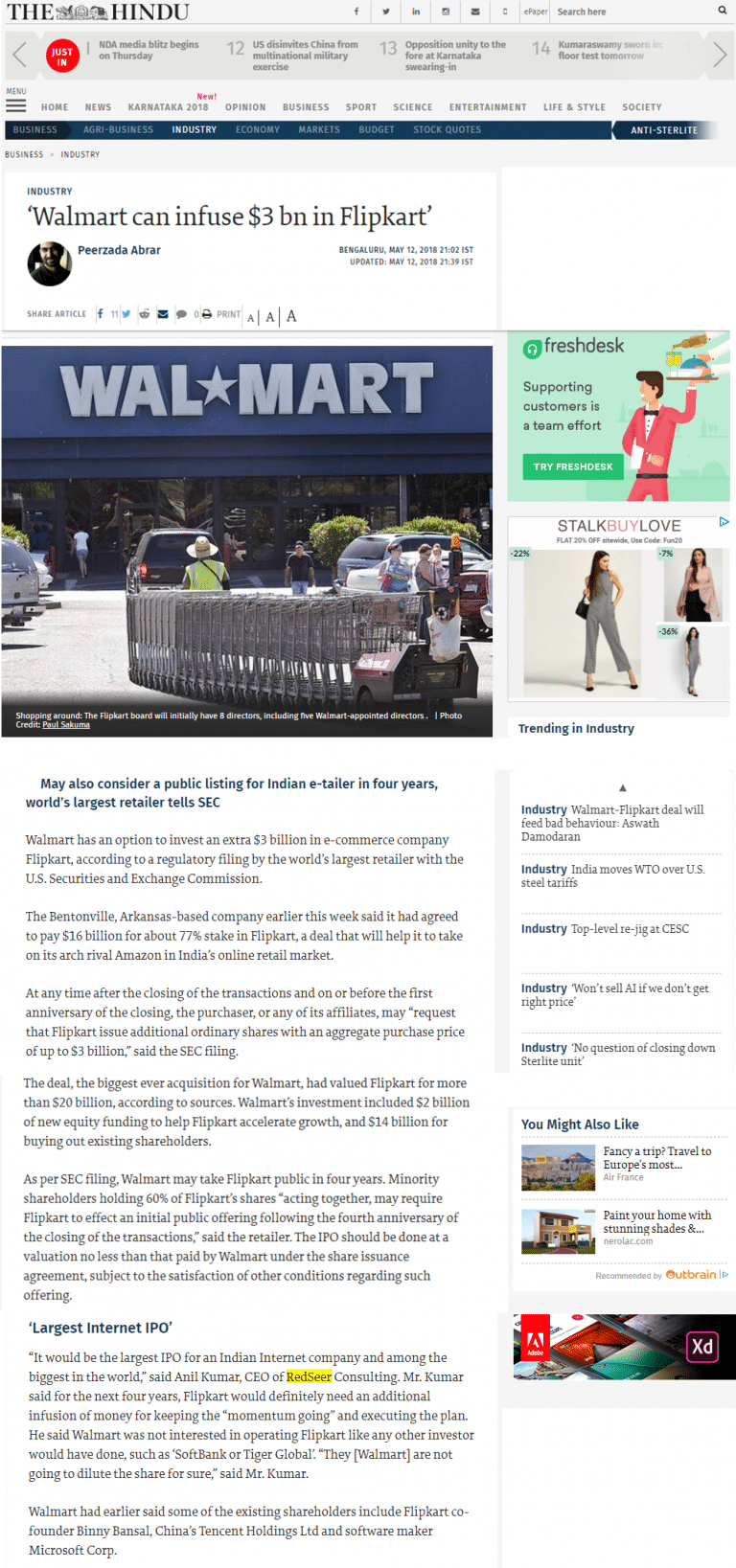 Click Here for the complete Article.