THE INDIAN EXPRESS: In 2016, metro cities had the highest contribution to the total number of unique online shoppers in the country — 33 million out of 74 million, with tier-II and other cities having only 27 million. However, the trend reversed in 2017, when there were 37 million unique shoppers online from the relatively smaller regions out of a total 90 million, with the larger metro areas having 36 million. For the growth in 2017 over 2016, the firm said, the fastest increase in number of shoppers was witnessed in Vadodara, Gujarat, and Guwahati, Assam. Going ahead, RedSeer expects a total of 117 million unique online shoppers in 2018, of which 56 million are estimated to be from tier-II and other smaller towns, whereas 40 million are expected to be from metros and 21 million from tier-I areas.
The Internet and Mobile Association of India (IAMAI) observed in a study earlier this month that in terms of number of internet users, rural India witnessed a faster growth of 14.11 per cent in December 2017 over December 2016, when compared with urban India, which saw a growth of 9.66 per cent. The report said that urban areas are estimated to have around 295 million internet users as of December 2017, whereas rural areas are expected to have around 186 million users.
Experts suggest that apart from the telecom offerings, the increasing aspirations of people in the less densely populated areas of the country are also driving this growth in e-commerce. RedSeer's analyst Vaibhav Arora told The Indian Express that it was categories such as mobile phones and other consumer electronics that were behind this growth in online ordering from tier-II and other smaller towns. "There's a lot of potential in fashion goods also but there's a certain element of trust that needs to be dealt with by the e-retailers before that category picks up, which is why fashion as a category, while growing rapidly will lag other categories such as mobiles and other electronics," Arora said.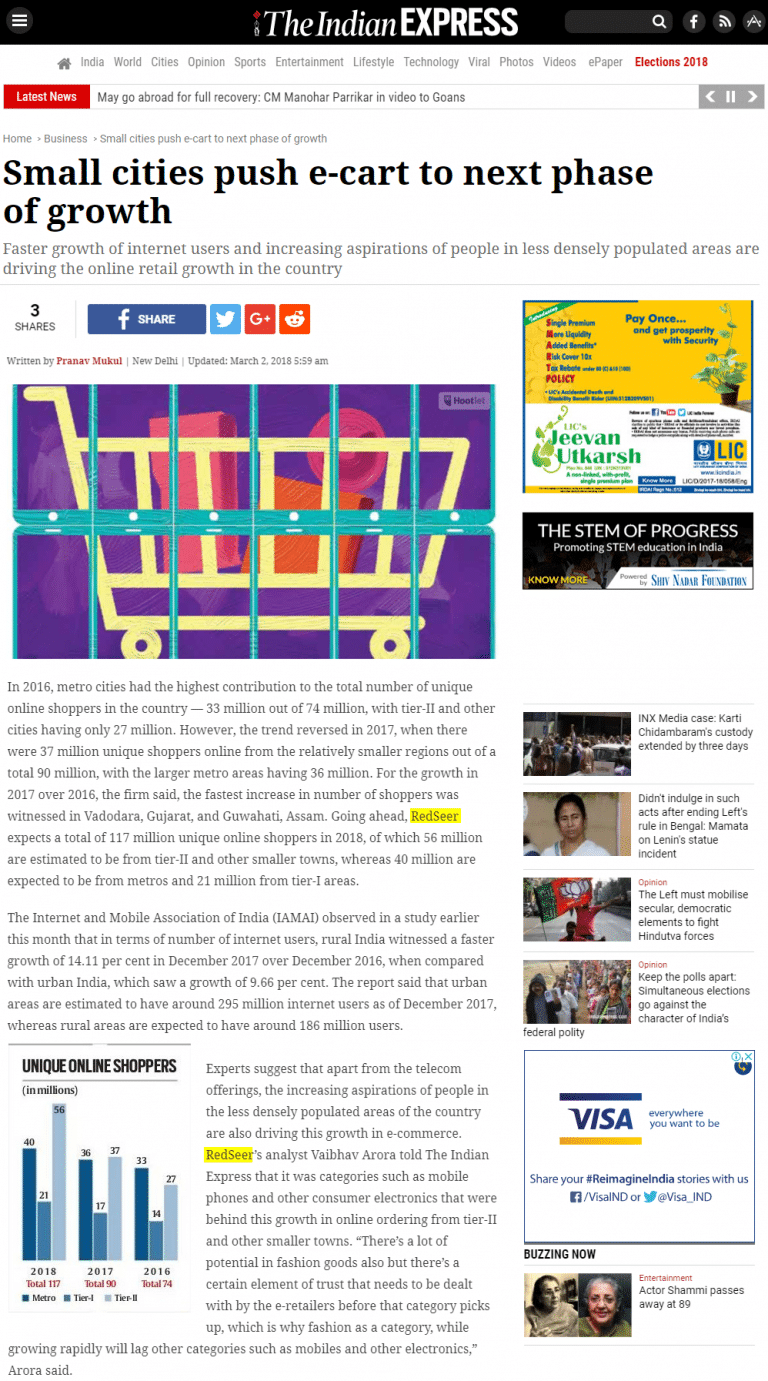 Click Here for the complete Article.