YOURSTORY: Bengaluru-based food ordering and delivery platform Swiggy has launched a new service that enables users to plan and order their meals in advance. Named 'Swiggy Scheduled', this service lets you place orders at least two hours and maximum 48 hours in advance, with no extra costs as there will be no delivery charges on the service. Cancellation can be done any time before the order becomes live. Anuj Rathi, VP, Products at Swiggy, has said in the statement,
Sometimes convenience means being able to plan ahead, especially when order delivery time is crucial. We've introduced Swiggy Scheduled for those who not only love a great meal but also want the assurance that it will reach their tables on time.
'Swiggy Scheduled' has already been launched in Hyderabad and Chennai and would be rolled out in other cities by the end of March. This move comes after tech-based cab aggregator platform Uber launched 'Uber Eats,' a similar food delivery service which charges only Rs 1 as delivery fee while Swiggy charges Rs 35 (for regular deliveries with bill amount under Rs 250). Uber's rival Ola had also acquired Gurugram-based food delivery platform Food Panda India recently.
According to RedSeer Consulting, the food delivery sector is set to hit $1.5 billion by the end of 2018 and touch $2.5-3.5 billion by 2021 in GMV terms. The sector, which is valued at $750 million, is growing at a 15 percent quarter-on-quarter rate. Founded by Nandan Reddy, Rahul Jaimini, and Sriharsha Majety in 2014, Swiggy claims that more than 25,000 restaurants across 11 cities have partnered with them.
Backed by SAIF Partners, Bessemer Ventures, Naspers and Accel Partners among others, Swiggy has raised more than $250 million by now. In the most recent Series F funding round, Swiggy had raised $100 million a few weeks ago, while its major rival Zomato raised $200 million from Chinese e-tail conglomerate Alibaba around the same time. Swiggy is now valued at $650 million while Zomato is valued at $1.1 billion with total funding having crossed $400 million.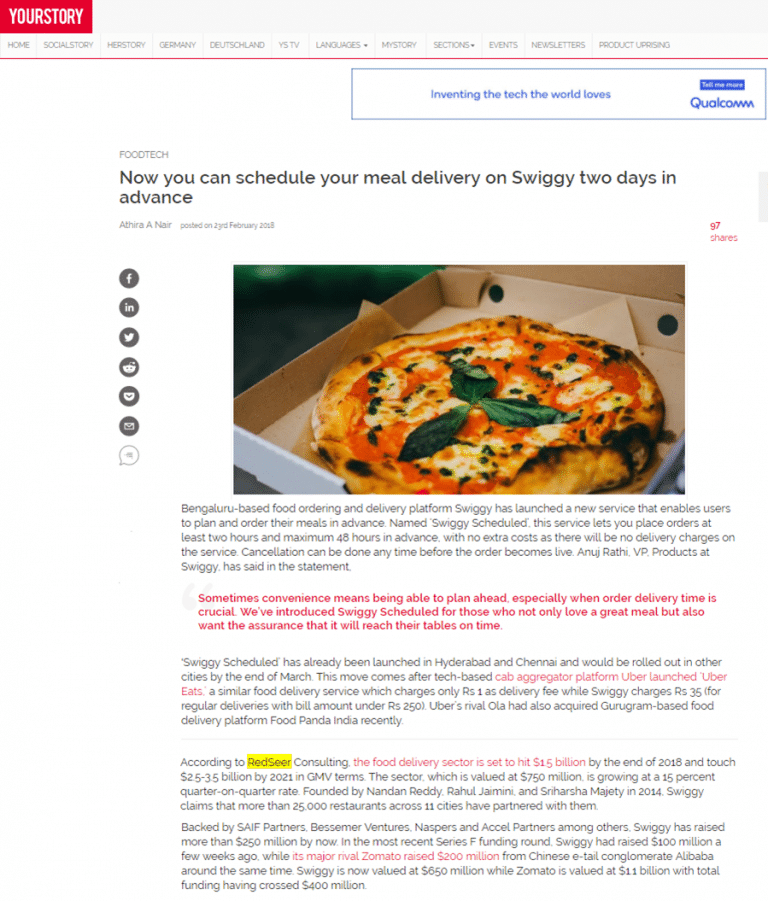 Click Here for the complete Article.