Black Friday has emerged as one of the most important events in retail in the Middle East and North Africa (MENA), owing to the wide array of deals and discounts, spread out over the 5–6 week festive period. As retail traffic is set to be high; retailers in the region need to be cognizant of the emerging trends and clear shifts in consumer demand patterns to fully cash-in the massive purchase intent.
Read on as Akshay Jayaprakasan and his team share their insights
1. Black Friday Alert! – Retailers need to buckle up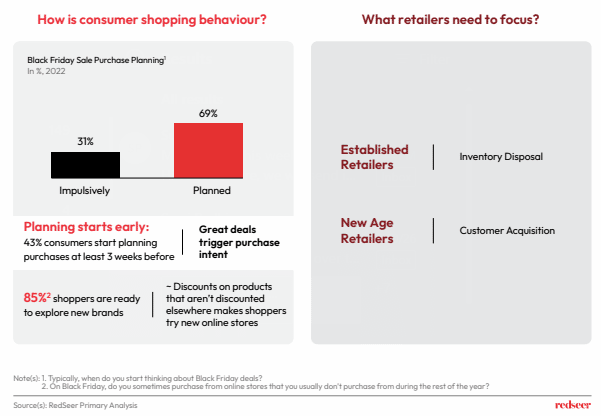 Historically, Black Friday shopping extravaganza marks a critical moment for consumers and retailers. Consumers have been trained to explore during this period and therefore we expect majority of the consumers to explore new products and new retail platforms during this period. Thus, it is the perfect opportunity for both new and existing retailers.
However, retailers need to be cognizant of the fact that Black Friday shoppers start planning their Black Friday purchases in advance and are not necessarily impulsive buyers. Almost half of consumers start thinking about Black Friday deals at least three weeks before Black Friday.
Consumer purchase intent is expected to be triggered by attractive deals, quality product, service experiences, and trendy products during the same period. Customer are expected to not only try established and well-known retailers, but also inclined to explore new retailers this year. 85% of consumers agreed that they purchase from online stores that they usually do not purchase from during the rest of the year. The intent of trying out newer retailers is more pronounced in younger generations.
This clearly makes Black Friday the perfect time for brands to go direct to consumers or for retailers to improve their position in the market. However, new-age retailers need to look beyond discounts and ensure superior experience in terms of delivery, product availability, customer support, etc.
Established retailers should take advantage of economies of scale and provide competitive deals especially for piled-up inventory. To achieve this, they should focus on an inventory led fulfilment model to offer better prices and to solve non-product availability issues. Also, product bundling, dynamic product recommendations, and quick delivery will ensure a sticky consumer base and drive the frequency of purchase.
Furthermore, the importance of digital media channels for discovery and influence cannot be overlooked. Retailers need to leverage digital media channels and build dynamic brand perception.