Black Friday is the most anticipated online shopping event of the year, owing to the wide array of deals and discounts spread out over the 5–6-week festive period. This year promises to be no different, with consumer purchase intent peaking in anticipation of this sales extravaganza. With interesting price drops and high consumer purchase intent, we expect online sales to reach ~$8.5 Bn in MENA during the upcoming festive season.
Here's a deeper understanding of expected consumer and sector trends during Black Friday.
1. The upcoming Black Friday season is expecting a whopping 40 Mn online shoppers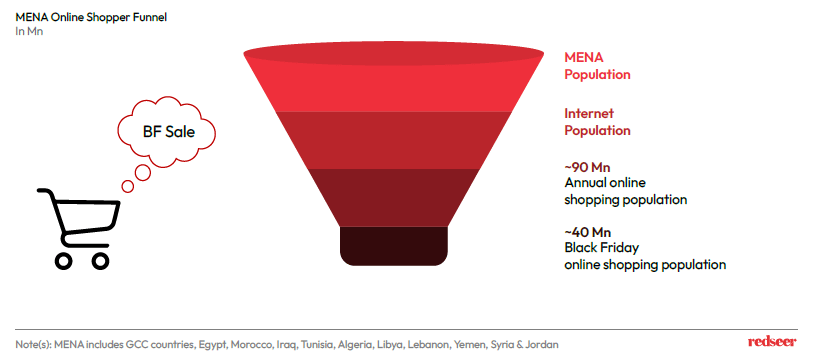 Black Friday sales have seen sustained growth in the past few years and this year we expect the trend to continue. Around 40 Mn shoppers will be hooked to online channels to take advantage of attractive deals and price drops. While Black Friday was traditionally associated with high discounts, consumers decision criteria will also be heavily influenced by large product variety, trendy products, and fast delivery this season.
2. The shoppers are expected to contribute ~$8.5 Bn to the e-tailing market in MENA
3. Electronics and fashion categories are expected to see the highest spike