GCC online retail sector has witnessed a rampant expansion, leapfrogging from 10 Bn USD in 2019 to 30 Bn USD in 2022. A strong digital enabler ecosystem, proactive policymaking coupled with a digital-ready population of 54 Mn, GCC ecommerce boom is unravelling.
1. GCC Online retail is sizable: ~$30bn in GMV and has been growing at a CAGR of >40%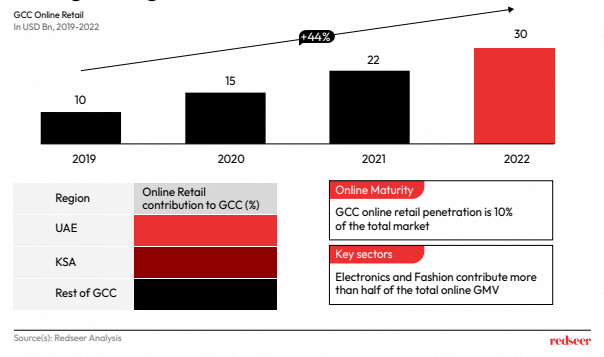 Triggered in part by the pandemic, retail landscape in the region has accelerated towards digital; Online retail in the region has spurred growth at a swift CAGR of +44%.
2. However, GCC market structure is distinctive; Conglomerates are critical in GCC online retail as they contribute 3x more than other regions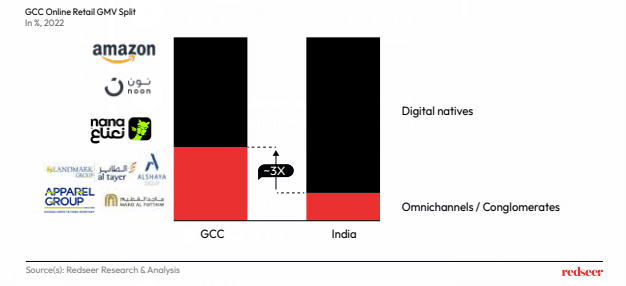 Well-established multichannel conglomerates influence the e-commerce expansion in the GCC market with a significant offline and online presence. The business houses have captured ~40% of the online retail market, 3X compared to emerging economies like India, where digital natives rule about 80-90% of the market.
3. These conglomerates are more capital efficient because of high synergies with existing operations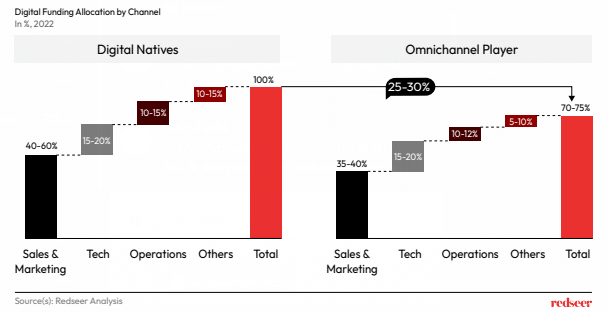 Enterprises with established brand image, increased efficiency, and an expanded customer base, can grow quicker. When backed with robust talent base and supply chain partnerships, the trust, reputation, and successful loyalty programs allow conglomerates to harness the opulence of synergies and capital deployment for digital assets through omnichannel. Higher synergies allow conglomerates to be 25% to 30% more efficient in their funding allocation
4. However to unlock market potential, solving the growth profitability paradox remains crucial
Traditionally, conglomerates are inclined towards profitability, while the organizational DNA for digital natives is slanted towards growth. The slowdown in start-up funding has created a disciplined and cautious environment, and digital natives are recalibrating their goals from growth at all costs to profitable growth.
While the digital natives are still navigating the road to profitability, omnichannel conglomerates cracked the code decades ago to maintain a growth/profitability spectrum balance.
This climate offers conglomerates the perfect chance to strategically use their profitability to further strengthen their grasp on the market.