1. The Indian e-tailing sector is mostly led by horizontals, but the share of verticals is expected to increase
Published on: Dec 2019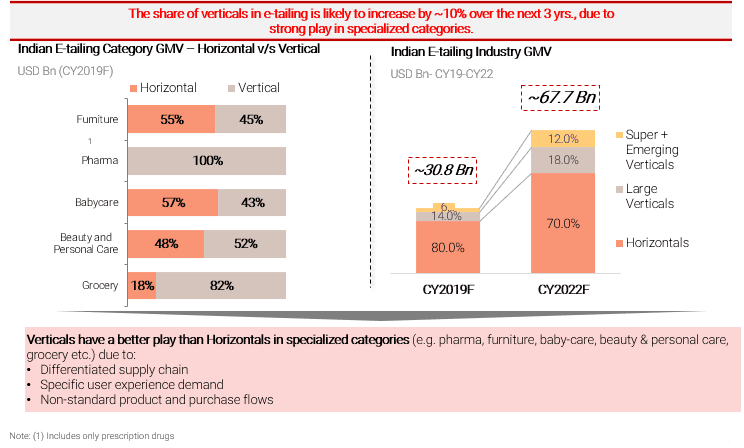 Indian e-tailing market is currently led by horizontals, whereas verticals only constitute ~20% of the market. However, the vertical share is expected to rise to ~30% over the next 3 years.

This increase is primarily driven by success of verticals in specialized e-tailing categories (like pharma, furniture, baby care, beauty & personal care and grocery), which require e-marketplaces to have specific & focused play. Across all these categories, verticals account for more than 50% of the market – furniture category is 60% vertical-led, while in case of prescription drugs (e-pharma category), verticals lead the entire market with 100% presence.
---
2. In E-pharma, verticals will continue to dominate the e-pharma sector over the next few years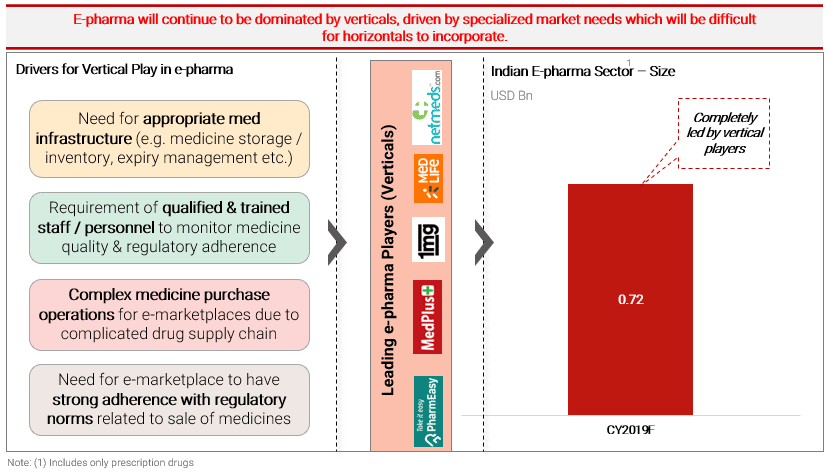 E-pharma has a unique supply chain and user experience demand, due to which, e-pharma marketplaces are required to have very differentiated operations and infrastructure. This includes having proper medical storage/inventory & expiry management systems, dealing with purchase complexities, having the right staff/personnel expertise and ensuring adherence to regulatory norms.
As a result, vertical players, with their expertise-driven & focused approach, are successful in the field of prescription medicine delivery and drive the ~$720 Mn market. This domination of the e-pharma market by verticals is expected to continue over the next few years as well.
---