India has come a long way, from the poor economic state post-independence, to becoming an attractive destination for investors today. Through the last several years, there have been numerous structural changes in the economy. Over time, India has emerged to be among the fastest-growing major economies in the world. In the current context of down-cycles globally, here are a few factors that work in India's favour. 
1. India is a stable democracy with successive governments sticking to materially positive reform agenda, despite
ideological differences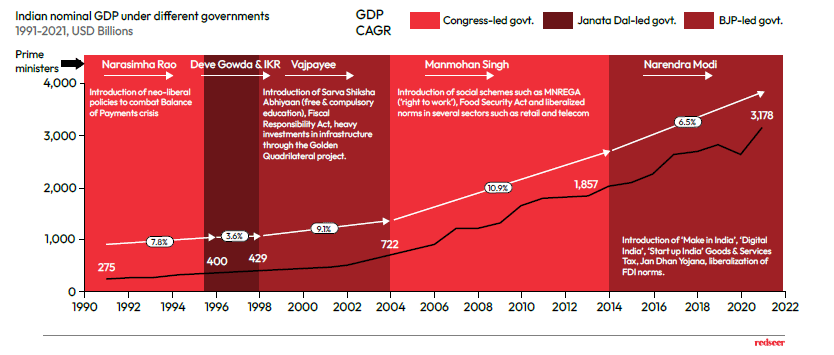 Successive Indian governments across the political spectrum have been committed to economic reform to propel economic growth. So, India's GDP has grown from ~USD 275 billion to ~USD 3.1 Trillion in 30 years. In fact, many of the policies in ideation stage of a particular government are, in fact, implemented by the next government. For instance, policies such as Goods & Services Tax (GST), Jan Dhan Yojana, and Make in India were initially conceived by the Congress-led UPA government but implemented by the BJP-led NDA government.
2. India's debt-to-GDP is far lower than developed economies such as UK, USA, and Japan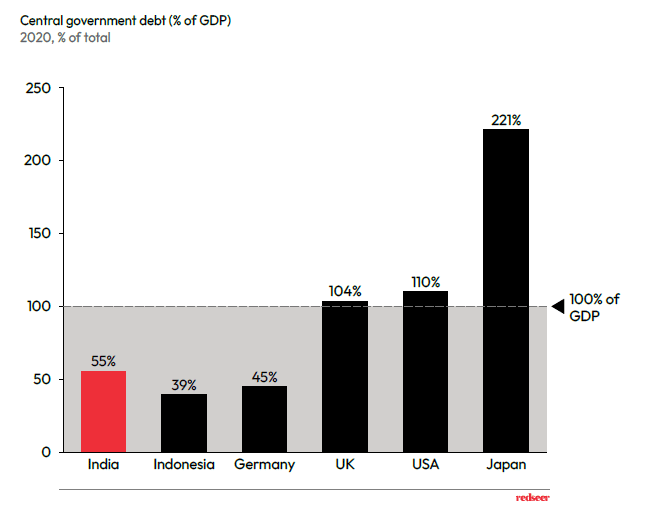 When benchmarked against the leading developing countries, India's low debt-to-GDP indicates
resilience – ability to support the economy in not-so-favourable times without burdening it with
excessive debt. India's debt-to-GDP ratio levels have been under the acceptable rate of 60% as
proposed by the NK Singh Committee on Fiscal Responsibility and Budget Management (2017).
3. The Indian Rupee has performed better than currencies of both emerging and developed economies
Despite the depreciation witnessed in the Indian Rupee against the US Dollar, the RBI's interventions to stem volatility, India's prudent energy dependency decisions, better control on inflation, amongst other factors, have led to the Rupee still performing better than most prominent currencies.
4. Inflation in India has been relatively under control through fiscal and monetary prudence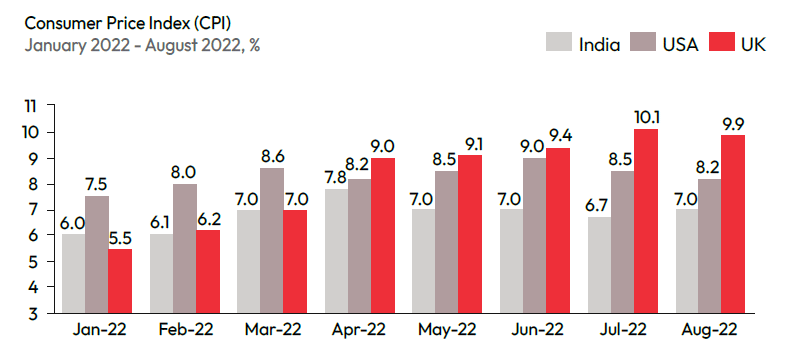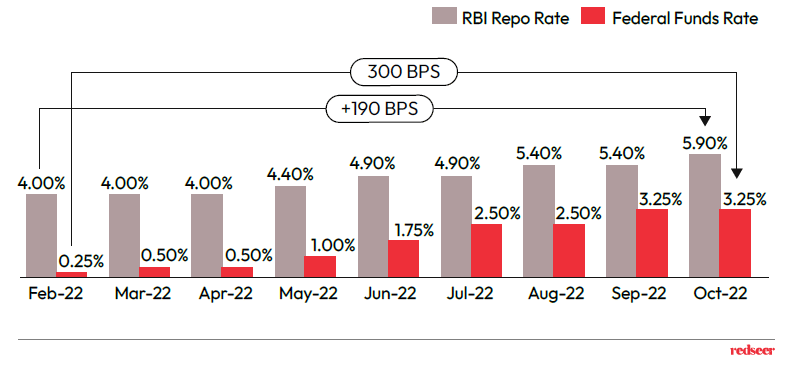 While inflation in India is still materially high, it's much more under control compared to other economies like that of the US and the UK. India adopted significantly more prudent liquidity infusion during COVID. The RBI also didn't follow significant easing in the preceding years. These, along with timely interventions through the appropriate tools such as tweaks on Cash Reserve Ratio, Statutory Liquidity Ratio, Open Market Operations, apart from the rate changes, have helped kept inflation from spiraling out of control.
5. India is expected to have the largest working-age population by 2030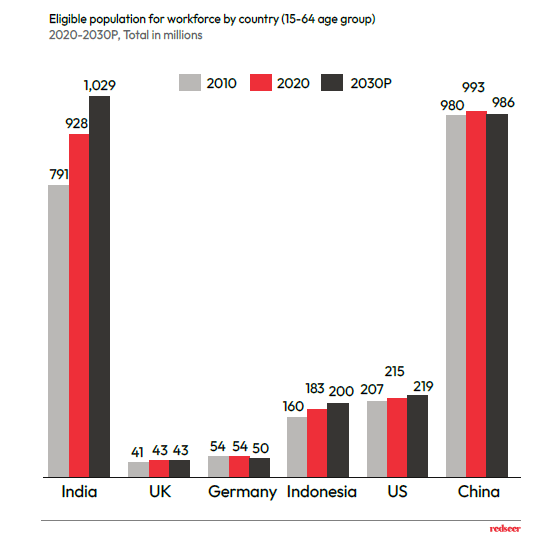 India is one of the youngest nations in the world, with a median age of 28 compared to 38 in China and the USA in 2021. It is expected to add 12 million people to the working population yearly. This segment not only drives productivity and the nation's output, but also is the most significant segment of consumption. As per a World Economic Forum report named ("Future of Consumption in Fast-Growth Consumer Markets: INDIA) released in 2019, India's millennials and Generation Z will become a major consumption pool and spend more than their predecessors. This underscores India's consumption tailwinds.
6. India has more than 120 million English-speakers, second only to the USA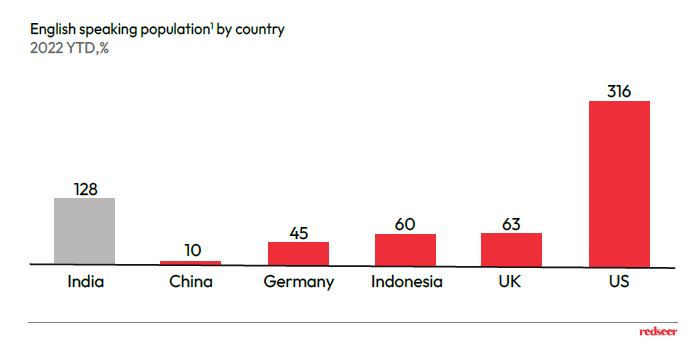 7. India is extremely cost competitive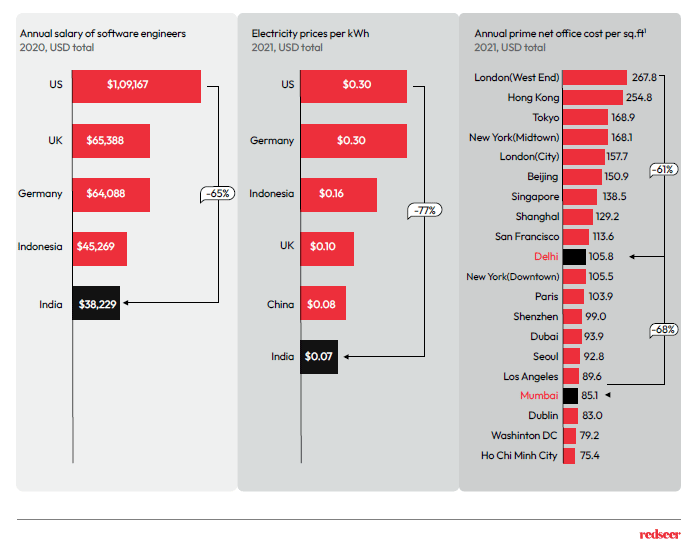 The cost of doing business in India is very low, Not only are the wages competitive, the costs of utility and real estate are also lower. With highly skilled resources available at relatively lower wages, along with lower costs of running the businesses, India is one of the most attractive destinations for offices.
8. Beyond services, India is making rapid progress on manufacturing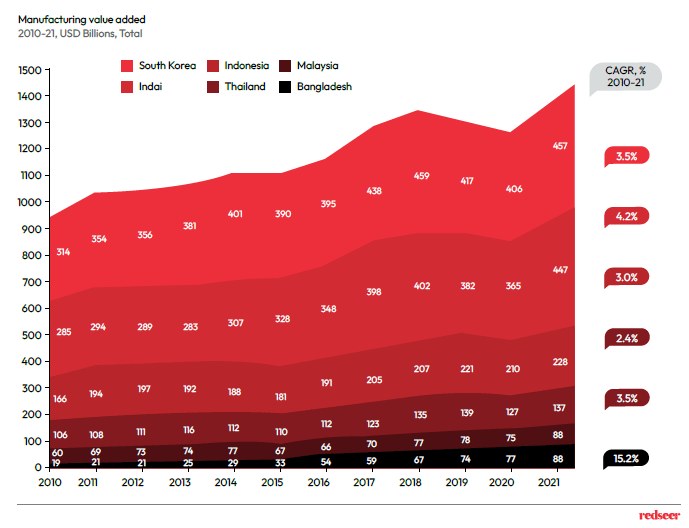 Among its Asian peers, India has been the second-best performing country in terms of manufacturing value added. Government interventions specifically Make in India and the Production-Linked Incentives (PLI) scheme have augmented Indian manufacturing. Owing to these policies, along with opportunities arising from businesses looking beyond China, manufacturing GVA surge between 2020 and 2021 was 22% for India – highest among the Asian peers.
India has surpassed the UK and has now become the fifth-largest economy in the world. With the increasing working population and emerging job opportunities, it is rapidly becoming be the world's talent factory with limitless potential across manufacturing and services. This not only positively impacts the economy's overall output but also leads to increasing opportunity, living standards and consumption trends. This is especially significant as India's economy is largely domestic consumption driven. This is why, even as opportunity costs of investing/parking money outside India are distorted in the short-term, India's medium to long-term potential remains extremely attractive for businesses as well as investors.