Over the last decade, advertising in India experienced significant disruption, with structural changes happening from both the demand and supply sides. Catalyzed by the proliferation of high-speed internet and an explosion in the number of smartphone users, ad spending saw a substantial shift towards digital media channels. However, with increased focus on advertising ROI and technology intervention, brands are wary of ballooning digital ad spends and high cost of customer acquisition. Leveraging influencer marketing for the niche audience with its higher power of advocacy can be a viable alternative.
Based on a recent case study on India's creator marketplace, here's a birds-eye view of influencer marketing, user-generated content and how the creator marketplaces are bridging the gap between brands and influencers.
1. Digital ad expenditure in India will witness a steep climb after a lull throughout 2023
The economic headwinds since 2022 are expected to create a period of stalled growth in India's digital ad spending. In order to optimize costs, several key sectors have cut down budgets for search advertising, but increased spend on performance marketing. Beyond 2023, we expect digital ad spending to increase as macro environment improves and consumers continue to use digital channels for decision-making and purchasing.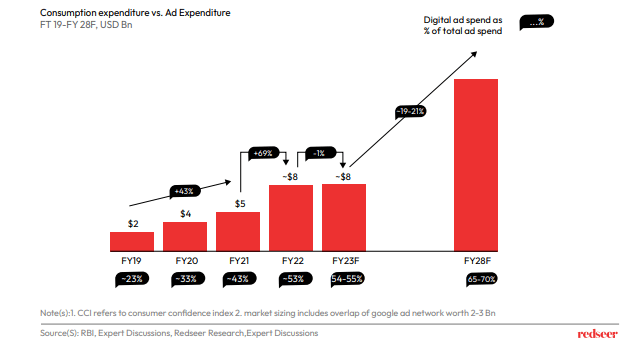 2. Alternate platforms have emerged as the fastest-growing digital ad platforms
Incumbents such as Alphabet and Meta Ecosystem continue to take up the lion's share of the digital advertising spend. However, alternate platforms for content, gaming, and eCommerce have experienced the fastest growth. Content such as short-form video is most popular with the average consumer and is a segment dominated by social media influencers. As online shopping has grown in popularity since the pandemic, eCommerce platforms have come to lead all others in terms of ad revenue. Trailing behind eCommerce is the gaming industry, with its steadily growing base of followers.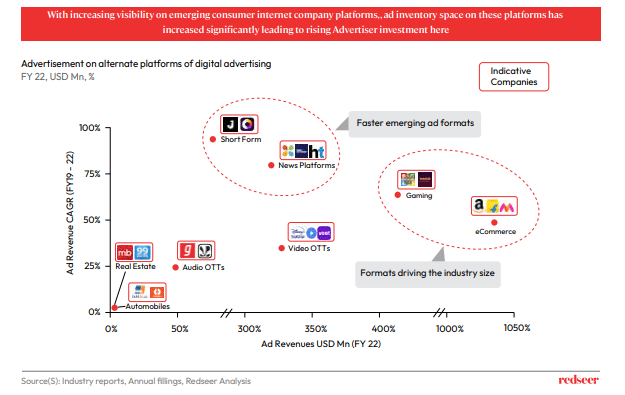 3. Influencer led user generated content (UGC) has overtaken platform generated content (PGC) in popularity
The rise of social media led to the creation of user-generated content (UGC), which is characterized by relatability and authenticity. Not surprisingly, UGC is more popular than platform-generated content (PGC) and garners 2X more engagement. As more people get on board different social media platforms, UGC will continue to be the most consumed type of content.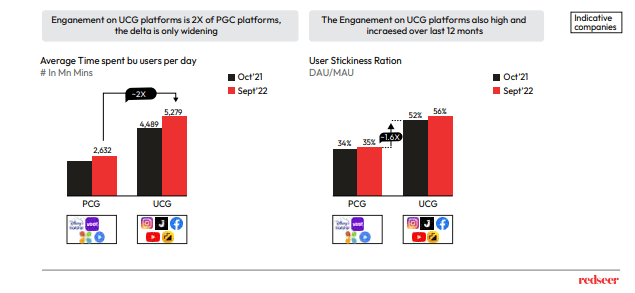 4. UGC consumption is empowering individual creators and influencers to build niche following
Individual creators and influencers with sizable followers create and share consumable content such as posts, memes, videos, vlogs, product reviews, and live streams. These attract a niche audience who relate to the content and interact with it regularly. Brands often find that content generated by micro and macro influencers gives the biggest ROI on advertising.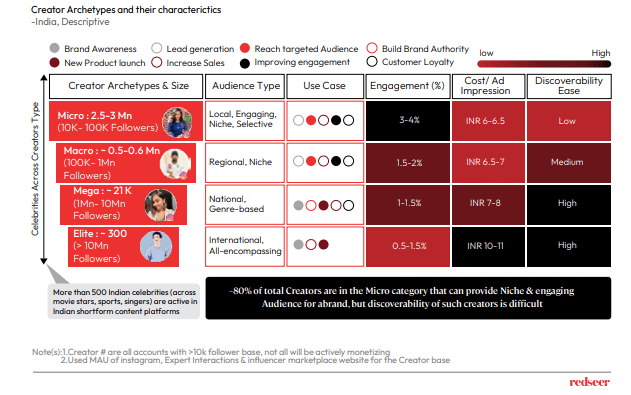 5. Creator marketplaces can also solve the challenges of influencer-brand engagement, as witnessed in China market
Intermediaries are often bridging between brands and influencers online. Working with agencies comes with numerous challenges for brands and influencers because of the lack of transparency and agency bias towards favored influencers. However, as the creator marketplace opens up, it will lead to a transparent engagement of influencers by brands. China, the leader in influencer marketing, saw a CAGR of about 50% from CY 16 to CY 20. With a similar landscape and underlying drivers emerging in the market, influencer-led live commerce in India can grow to $8 Bn by 2030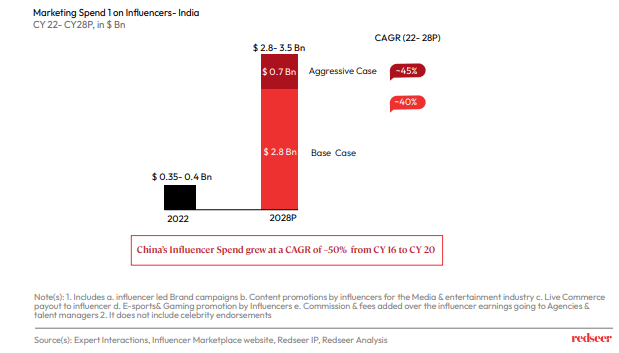 The Creator Marketplace, a self-serve model, creates a more level playing field that will support growth of influencer marketing for digital advertisers in India. Globally, TikTok has shown success in the creator marketplace for its stakeholders, paving the way for similar models to emerge in India.