Diwali is an occasion when growth, prosperity and togetherness are celebrated across the world. This celebration comes with people exchanging gifts and sweets and the elderly blessing the younger ones with the joy of success. And when it comes to business, consumers' happiness and appreciation are a true blessing. Well, thanks to the dynamic continuous technological innovation which has delivered the joy of urban convenience to the smaller cities. No wonder Tier 2+ cities witnessed the highest Y-o-Y growth in online shoppers this year.
1. This year saw a shopper base increase by 24%, who largely came from tier II and beyond cities
As eCommerce is penetrating deeper into small cities, tier II and beyond cities were at par with metros and Tier I cities. Around 75-80 Mn shoppers placed orders across platforms in festive week. It is to be highlighted that the shopper base increased by 24% Y-o-Y from festive sale Week 1 of CY21.
Further, financial constructs and tech innovations (like live commerce, social commerce, video commerce etc.) added excitement to the shopping experience.
2. Speaking of phones, iPhones, OnePlus registered record sales. 56,000 mobiles sold per hour!
Mobile phone sales dominated the market with 41 per cent contribution in GMV. The average daily GMV for mobile devices increased ten times over regular business days. Large e-commerce players sold mobiles for an estimated Rs 11,000 crore during the first four days. During the first four days, mobile phones were sold in 6-7 million units. For the first four days, high-end smartphones, including the iPhone 12, iPhone 13, and OnePlus led mobile sales. Customers are upgrading to new phones, and better deals in the premium and mid-priced segments fuel this category.
Notably, E-commerce platforms were able to move the aspirational brands (Apple and OnePlus) to affordable pricing points with the help of their partners. As a result, the typical client could afford them. Further, buy-now-pay-later alternatives were available on the platforms and provided additional savings. Well, thanks to banking alliances with luxury brands like Apple and Samsung.

3. As customers continued to scroll on mobile phones, the online festive sale navigated to tick ~ INR 40,000 crore sale. Well, we told you so!
eCommerce firms witnessed the most sales volume as projected by earlier Redseer report. For the first four days (22nd Sept- 25th Sept), e-commerce platforms clocked in a sale of INR 24.5k Crores, contributing to 60% of the projected GMV for festive sale 1. While last year, the first four days of
the contributed to 59%. Well, this is a sign of a better-than-anticipated kick-off to the festive season this year.
Redseer had earlier projected a GMV of USD 5.9 Bn (~INR 41k Cr) for festive sale one, and as expected, the sales run is on track to achieve this figure. Furthermore, it is noted that 60% of Redseer's forecast is already completed in the first four days of the sale.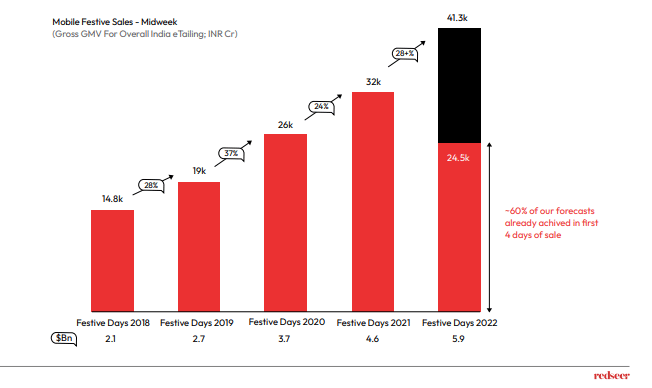 The data showcases a promising and bright year for the eCommerce sector. As we step into the Diwali festive mood, we expect to witness an increased demand in consumer sentiment & consumption patterns. In short, consumers bless those businesses that understand them! Hope you got your blessings this year.