The Indian Premiere League has a massive following which has grown every year since its inception in 2008. While it was mostly television entertainment for the majority of the audience, newer avenues of engagement since the proliferation of the internet, such as OTT platforms and fantasy leagues, are driving the growth in the IPL economy. Gamers and cricket fans from Tier 2 cities and beyond are significant drivers of the industry compared to users from the big cities. As IPL season 16 kicks off this week, here we lay out the details of past IPL trends and what can be expected this year.
1. As more avenues of engagement with IPL open for users, the IPL economy is expected to see significant growth in 2023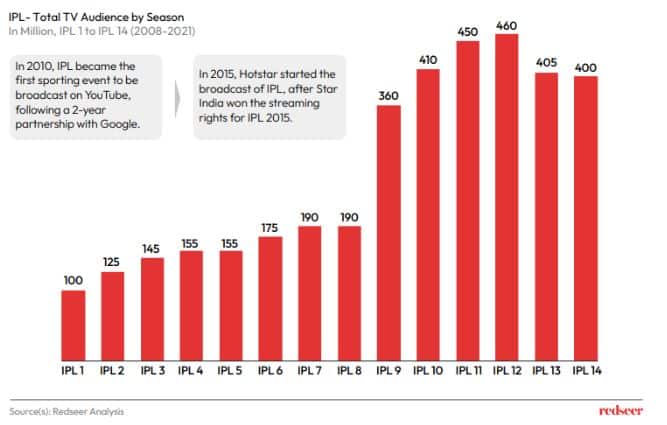 While IPL recorded steady growth in the TV audience, the first COVID lockdown disrupted the industry through cancellations and postponement. The lack of live sporting events also prompted sports viewers to migrate from television to OTT platforms leading to a drop in IPL viewership on TV by 10% from 2019 to 2020. During the 2021 wave of the pandemic, more users dropped TV viewership in favor of OTT platforms as the internet services got wider accessibility. In 2023 JioCinema live streaming IPL for free will further drive users to OTT while also increasing the total viewership.
2. Increasing adoption of fantasy platforms by users is leading to greater engagement which will boost IPL revenue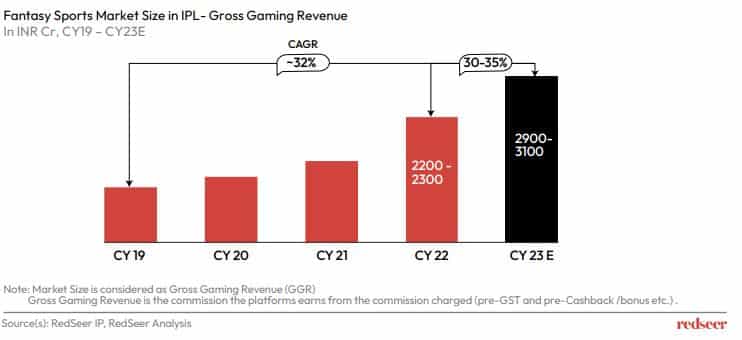 Most fans these days show a high awareness of fantasy gaming which is tied to the IPL season every year. With more platforms entering the market in the last couple of years, such as Crickpe, Gamezy, and Howzatt, users have easy access to fantasy games. Added to that, cross migration of users from other game types to fantasy will also give a strong boost to the IPL economy as these gamers tend to migrate during the game season. With 2023 being a cricketing year, the varied factors will converge and contribute to growth of fantasy sports market during IPL by ~ 30-35% to reach revenue of INR 2900-3100 Cr in 2023.
3. Transacting users are also expected to increase this season by 25 – 30%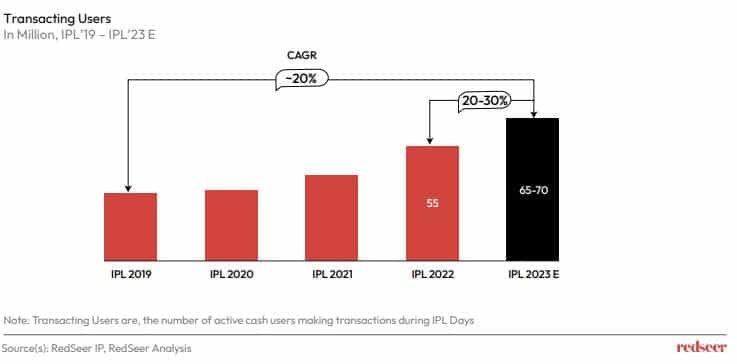 Government support for real money gaming in the form of a dedicated oversight ministry, along with formalized rules and regulations, is a strong facilitator for the industry. Added to that, Google has also allowed fantasy platforms in its Play Store. These measures will further encourage transacting users to participate and spend more in the game.
Finally, the proliferation of the internet across the country makes it easier for more enthusiasts to jump in on the action. It is expected that about 60-65% of users will come from Tier 2 and beyond cities. With the IPL season around the corner, platforms have already kickstarted their marketing efforts to acquire and convert more users.
4. And the average supervenes per user expected to grow by 5-10% this season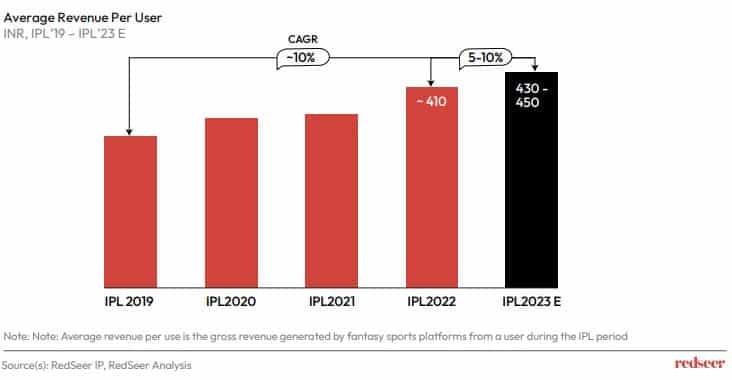 Fantasy platforms offer a variety of tournaments and table sizes in order to attract different categories of users and gamers and promote spending. With fantasy platforms, users have the opportunity to win prizes by participating with their fantasy teams. While the entertainment value of fantasy IPL by itself is a strong driver, the grand prizes are a massive bonus. The opportunity to win grand prizes and unlocking premium features is a strong incentive for users to spend more on the platforms.
Increased efforts to make the platforms more secure through measures such as RNG Certification, Secure payment gateways, and fraud security increase user trust in the platforms. Being confident about security is a big factor that encourages users to spend higher amounts on the platforms.