Insurtech has all the makings of the long-awaited fulcrum that pioneers MENA's insurance market level with that of developed economies, starting with the GCC. In this article, we deep-dive into MENA's booming Fintech landscape and highlight a rapidly evolving segment within it – Insurtech.
1. Insurance penetration in GCC economies is still nascent– leaving significant headroom for growth compared to global standards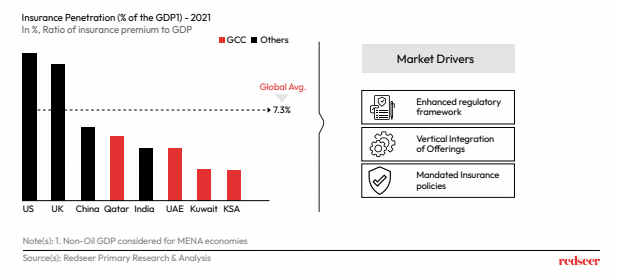 GCC economies fall short of the global average of the GWP/GDP ratio which indicates that fair share within these markets is yet to be realised. Thereby, the insurance market has ample opportunity to tap-into. Furthermore, it is propelled by government legislation making medical & car insurance compulsory while establishing a proper operational framework for existing insurance companies.
2. Insurtech to drive insurance market growth by addressing key industry gaps across the value chain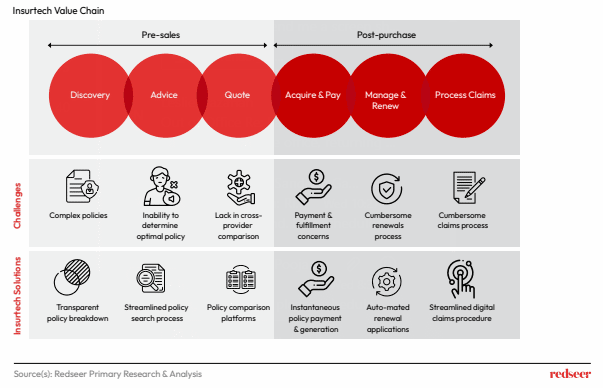 Insurtech has a strong value proposition as the digital solution to key gaps in the current conventional insurance value chain. Insurtech affords consumers & businesses clarity & reduces friction within processes – reducing the number of acquisition steps, comparing services across multiple providers, digitizing renewals & claims.
3. Consumer adoption already exceeds 30%; Health & Car insurance dominate the space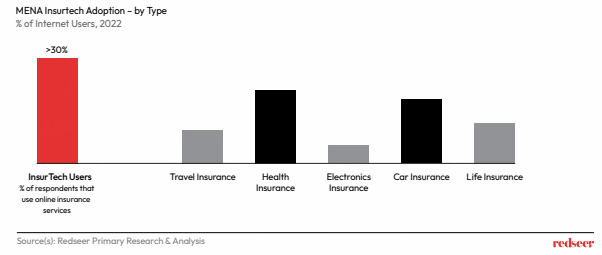 Insurtech's surge into prominence comes at a time when adoption of such services is already at 30%. The market is driven by car & health insurance which are the key revenue drivers given GCC regulations. This sets the bedrock for a strong growth trajectory within an already thriving fintech domain.
4. However, shoppers are still unhappy with existing solutions leaving significant room for growth & market penetration
When examining consumer satisfaction with existing Insurtech solutions across key decision parameters, the most important dimensions, availability & quality, are the least satisfied. This status-quo is why we see several existing players drive-up innovation within the market through new business models, B2B tech & operations enablement, as well as partnerships with legacy insurance providers to bolster offerings for both parties.
We hope you found these insights helpful. For a more detailed discussion on Insurtech, feel free to reach out to us at mea@redseer.com