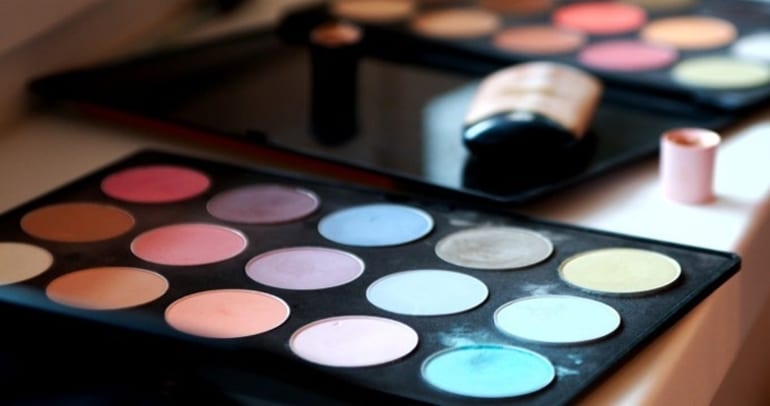 Organized channel will drive the growth in the market,especially the super verticals within online channel
Published on: Feb 2019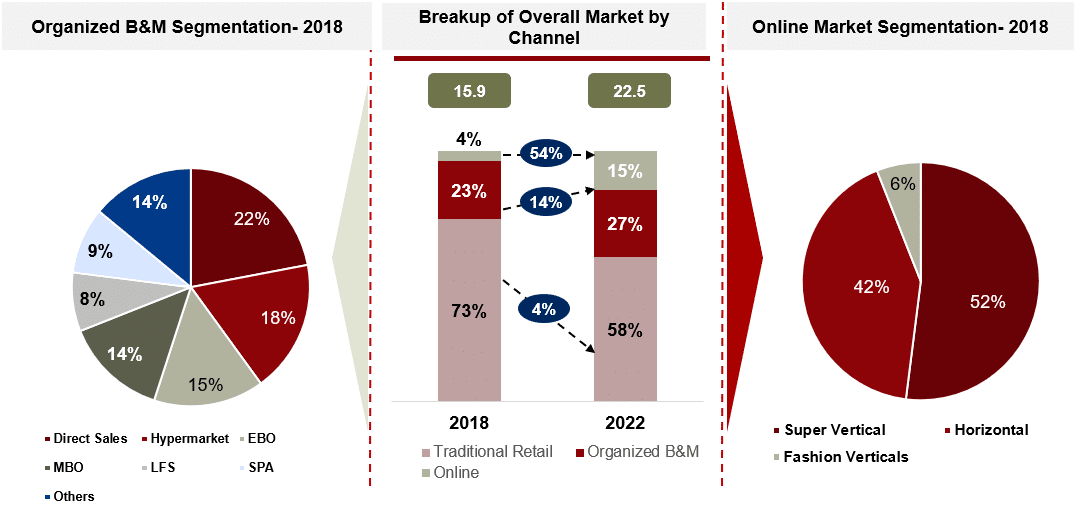 Customers prefer LFS for brand discovery, Hypermarket for cross category shopping and EBO for existing loyal brands.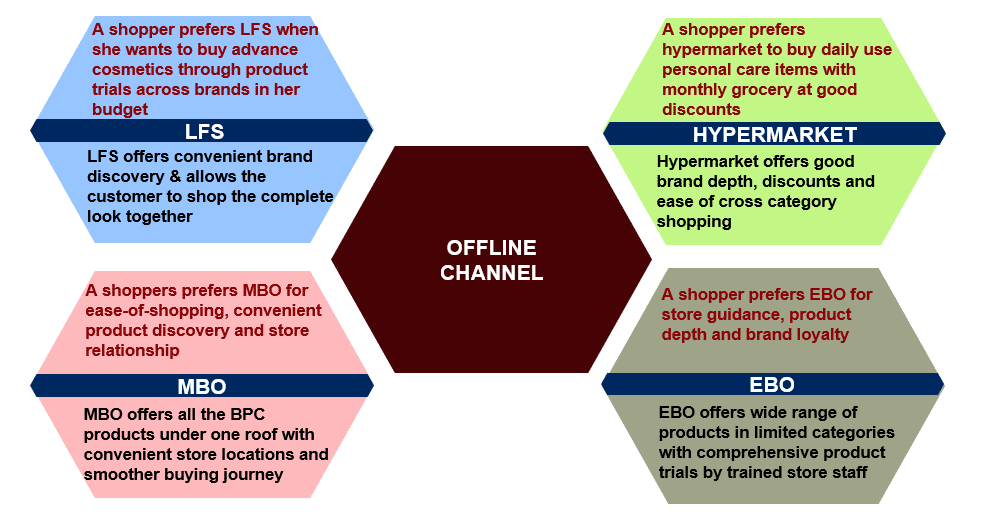 Customers prefer super verticals for premium range products, horizontals for cross-category shopping with discounts and verticals for combine look shopping experience
The value proposition of organized online formats
---
Online BPC category saw steady growth in private label business in 2018, with 2019 poised to see further expansion
Published on: Jan 2019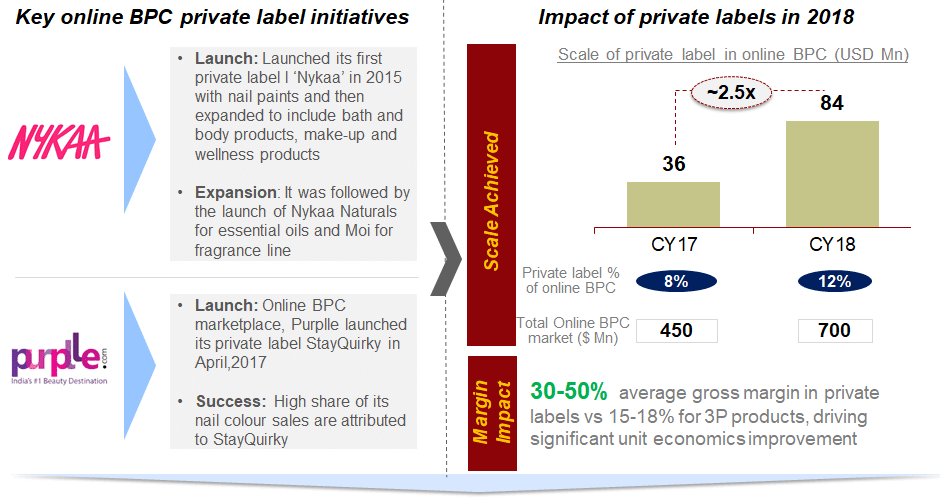 What does 2019 have in store ?
Private labels to continue growing and breach 15% share of overall market.

Two big themes to be category wise expansion for smaller labels and widespread offline distribution for the proven and larger labels.
---
BPC market in India stands at USD ~16 Bn in 2018 and is expected to grow to USD 22.5 Bn by 2022
Published on: Jan 2019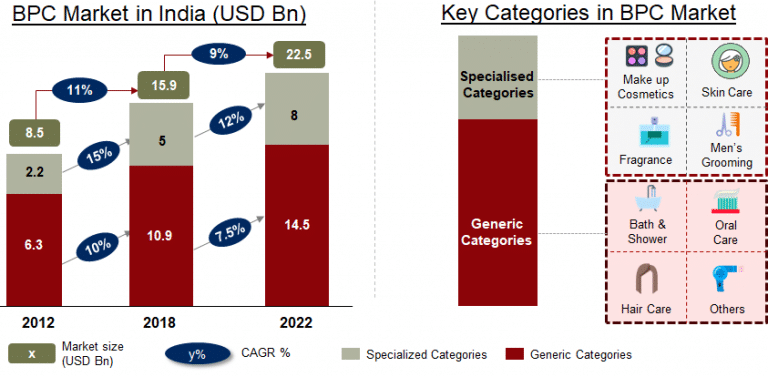 Specialized categories
Expected to outpace the market growth in coming years, owing to higher disposable income, social media influence, increased adoption of products, latent demand fulfillment and high acceptance of beauty & cosmetic variants being offered

Entry of international brands with aspirational values that demonstrate high price propensity
Generic categories
Generic category will grow slowly & steadily. Brands with functional benefits & value-for-money products will dominate the category
---
High indulgence categories like Cosmetics & Fragrance are driving the growth of the BPC market
Published on: Jan 2019
Specialized categories will outpace the industry growth, accounting for ~35% of BPC market
Published on: Jan 2019.
Cosmetics emerges as a star category within Beauty & Personal Care vertical reflecting ~15% CAGR

Skin care, albeit the largest base within specialized category, reflects steady growth over next few years driven primarily by the Face care sub-category
---
The Indian online Beauty and Personal Care (BPC) market is growing at ~100% CAGR
Published on: Jun 2018
The online BPC market is currently a $450 mn market and is growing at ~100% CAGR. The industry is equally poised between horizontals and vertical players. Verticals like Nykaa, Purple etc. have been able to provide better assortment by offerings more international brands specially in the specialized category and are thus able to grow at a faster pace than the other players.
---
Offers & discounts is the top reason for buying beauty products online followed by wide selection and trust
Published on: May 2018
The key reasons for which consumers buy beauty products online are offers & discounts, wide selection, trust on the seller and web/app experience. Consumers in metros and T1 cities want a good web/app experience and availability of the top brands they seek. While those in T2+ cities give more importance to the trust on the seller and customer support.
65% of the customers know which product and which brand to buy while purchasing the beauty and personal care products
Published on: May 2018
About 2/3rd of the consumers of beauty products know which brand and which product they want to buy. The online beauty players who able to bring in international/national brands and get them delivered to such consumers are hence seeing rapid adoption. The online beauty market grew by 70% in the last one year and we expect it to continue the growth trajectory.
Online Fashion is largely dominated by apparel and footwear but online beauty products is growing fast
Published on: May 2018
The online fashion in India is under penetrated with the online penetration of the sub-categories being less than 5%. Online beauty products is the fastest growing sub-category with more than 70% annual growth rate. It is the only category where the verticals are out performing the horizontals. With the share of verticals being close to 55% this is one category where the verticals have proven their value to the consumers.
---
Online sales in beauty/cosmetic products account for ~2.5% share of the overall market- with equal share of horizontals and verticals
Published on: Apr 2018
Verticals have been able to do well in makeup/cosmetics categories, owing to a combination of exclusive selection and engaging content, while horizontals are stronger in personal care space
---
Beauty is still underpenetrated online vs other categories in fashion and vs global benchmarks – representing a large growth opportunity
Published on: Apr 2018
Beauty as a category has lagged others owing to limited selection, supply chain hurdles and risk of fake/fraud products (authenticity issues). However, the category has a large headroom for growth when compared to other fashion segments as well as to beauty penetration in other markets
---
We expect the online beauty market to reach USD ~1.5 Bn mark by 2020, and reach ~USD 3.3 Bn by 2022
Published on: Apr 2018
Growing demand for exclusive beauty products coupled with attractive offers, greater product authenticity and supply chain reliability should drive rapid growth in online beauty over next few years
---
Online Beauty and Personal Care — A super vertical play Buy Full Report
Premiumisation: The Game Changer for the Online Makeup Industry Buy Full Report