1. OTT Audio platforms in India are typically operating on three monetization models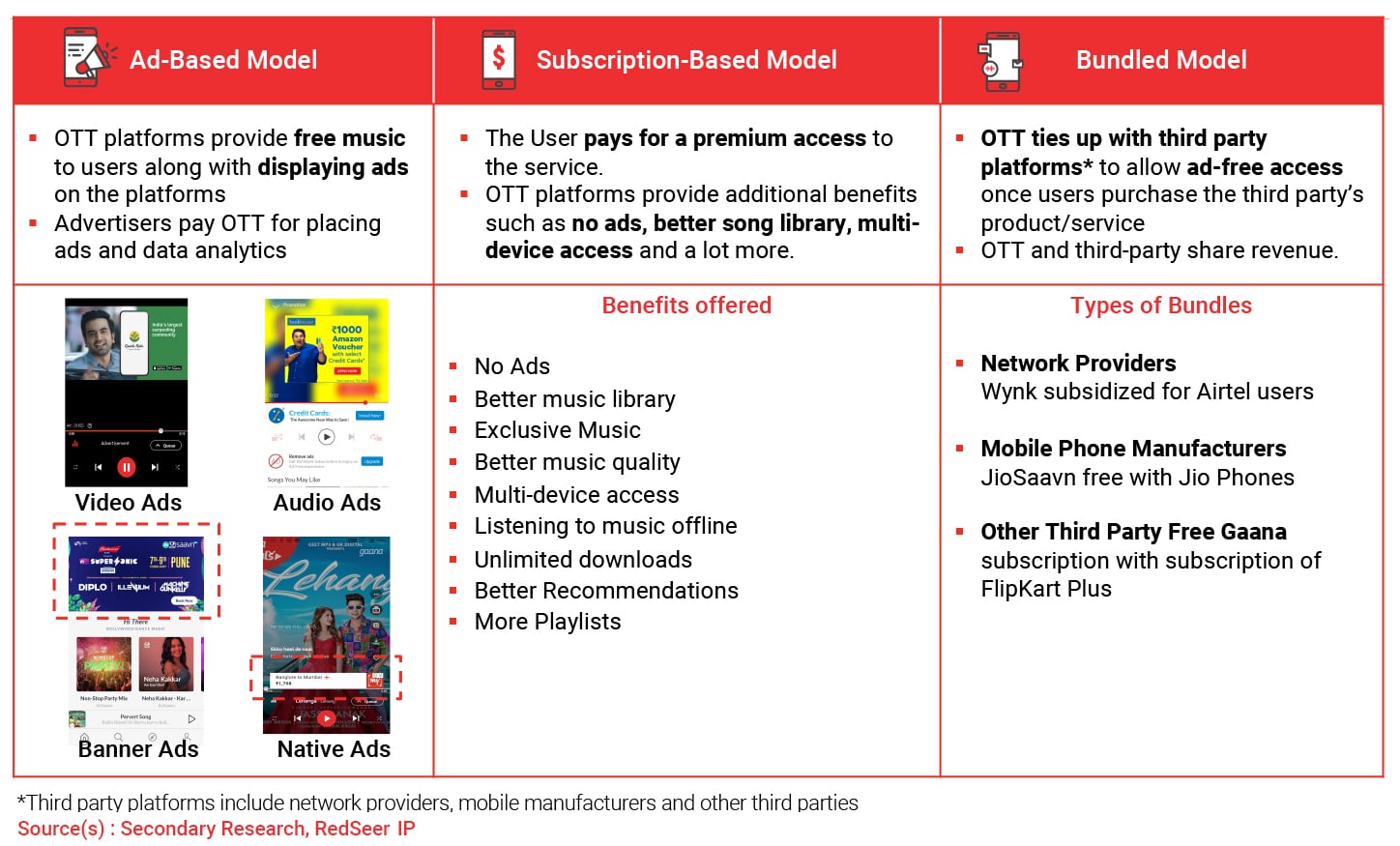 Currently, ad-based model and bundled model are the major source of revenue for OTT audio players. However, there is increasing focus on subscription-based model for better monetization.
---
2.To become profitable, OTT audio platforms will need paid subscribers to increase from 1% of total users currently to ~6% in future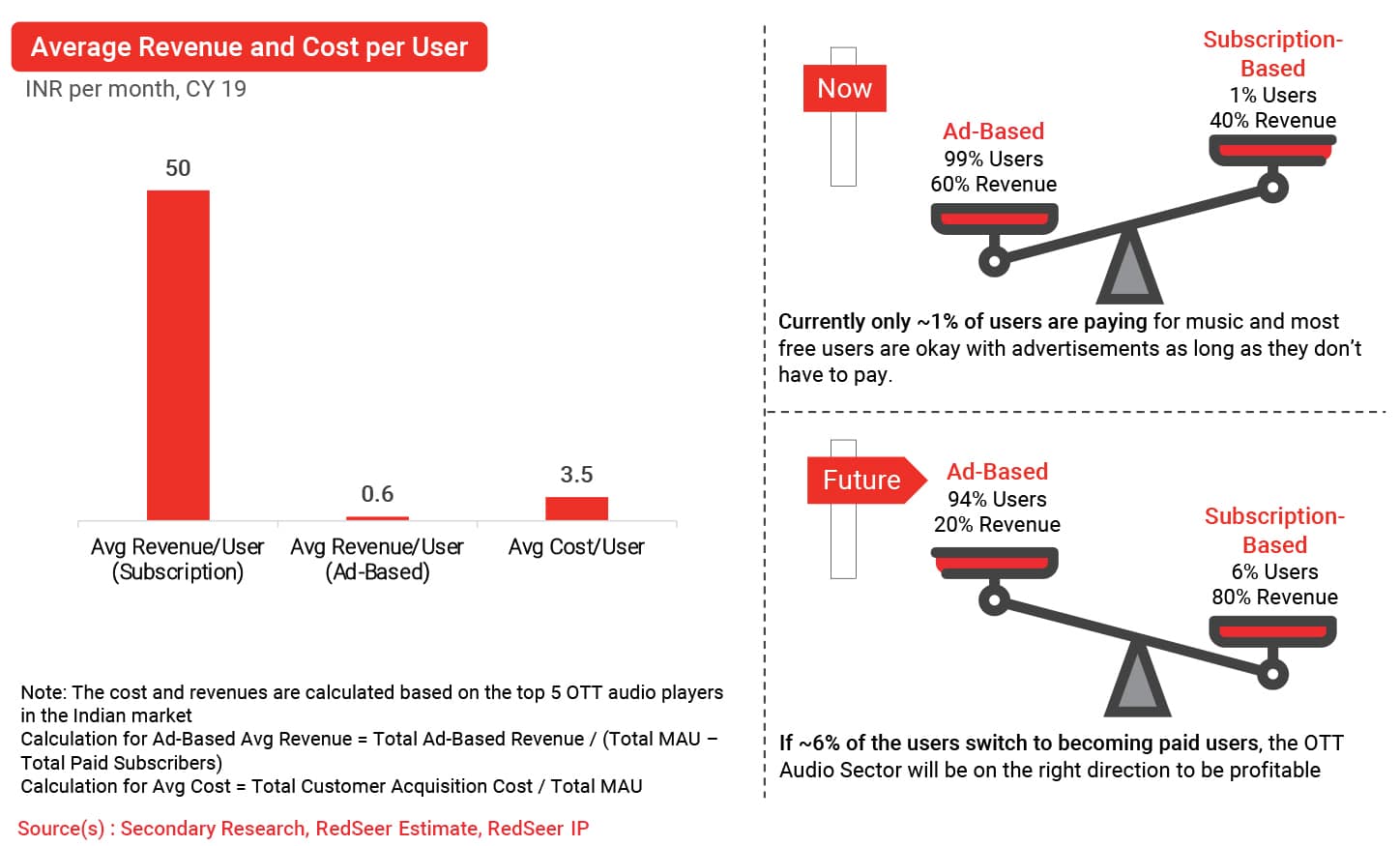 Currently, subscription-based users constitute only `1% of total user base and majority of revenue is driven by in-app advertisement.
However, average revenue from subscription/user is almost 80x that of revenue from advertisement per users. Thus, players are focusing on increasing their subscription user base to achieve profitability.
We expect that the current covid-19 scenario will lead to a massive spike in usage of these platforms which will also likely give a strong one-time boost to subscriber addition as well.
---
3. For increasing % paid subscribers and differentiating from rivals, players are focusing on originals content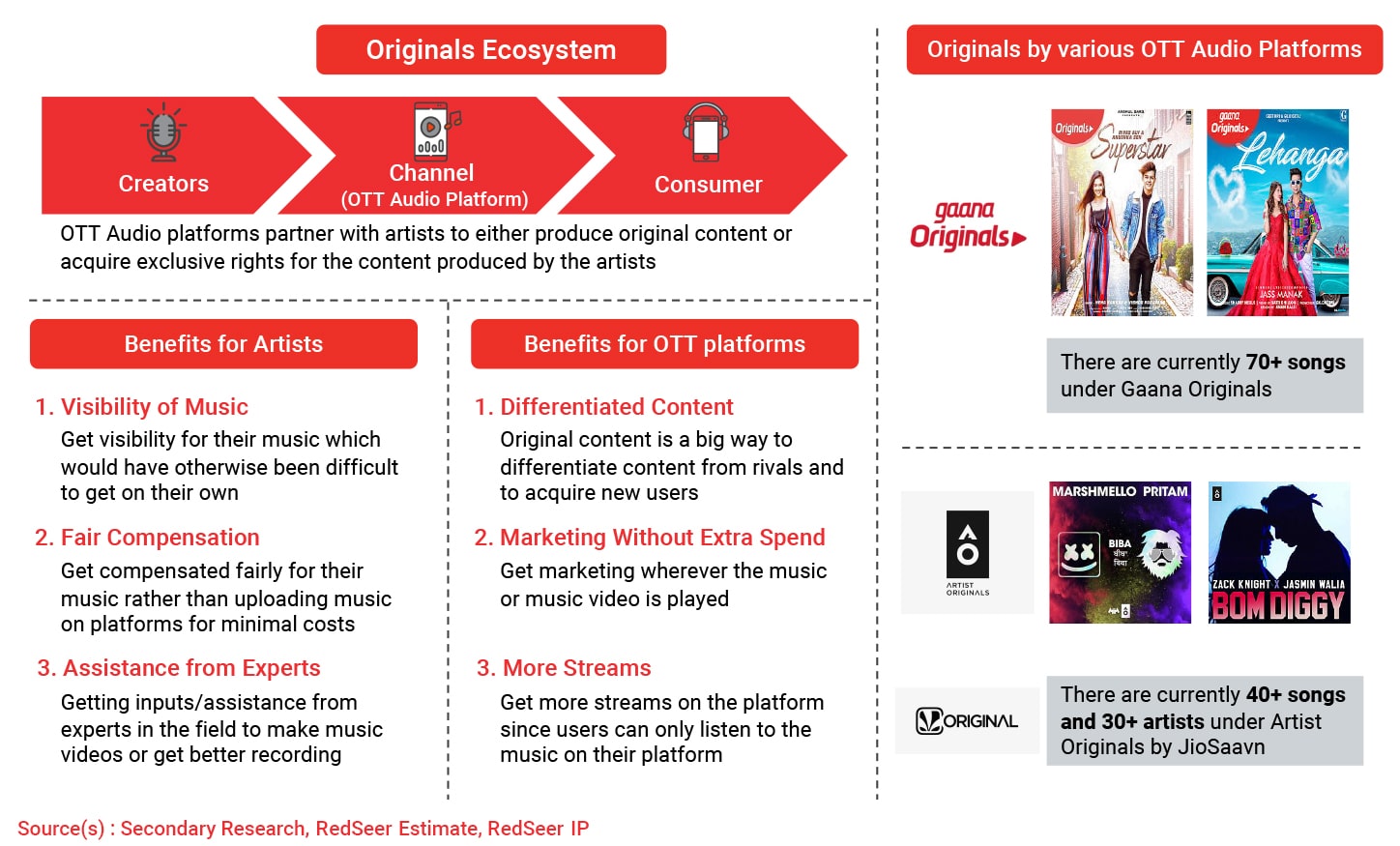 OTT Audio platforms have started focusing on originals content similar to their video counterparts.
Increasing focus on Originals by OTT Audio platforms has manifold benefits as it helps platforms to acquire new users, differentiate itself from rivals and increase share of subscription user base.
OTT originals also provide effective platforms for budding artists to showcase their content at minimal cost.
---
4. In India most users are likely to switch to a paid OTT audio subscription, only if the charges are ~INR 25 per month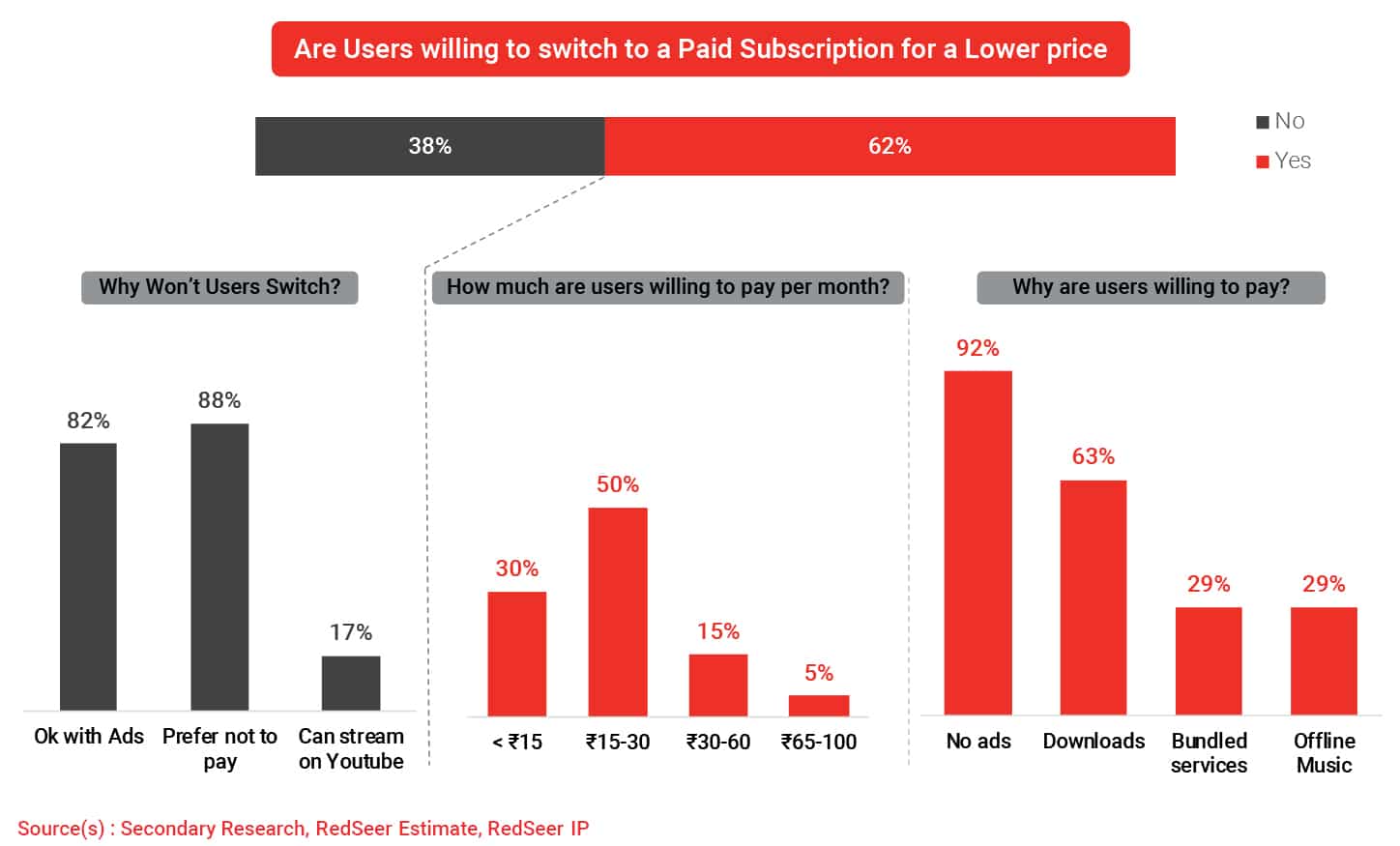 Interestingly, 62% of the consumer surveyed are willing to switch to paid subscription model and these users are willing to pay ~INR 25 per month as subscription fees.
Additional features provided for subscribed users including No Ads, facility to download content and offline browsing etc. are main motive for switching to paid subscription model.
---
5. Besides Originals, there is a possibility for OTT audio platforms to tap into other sources of revenue including selling merchandise or tickets via their platforms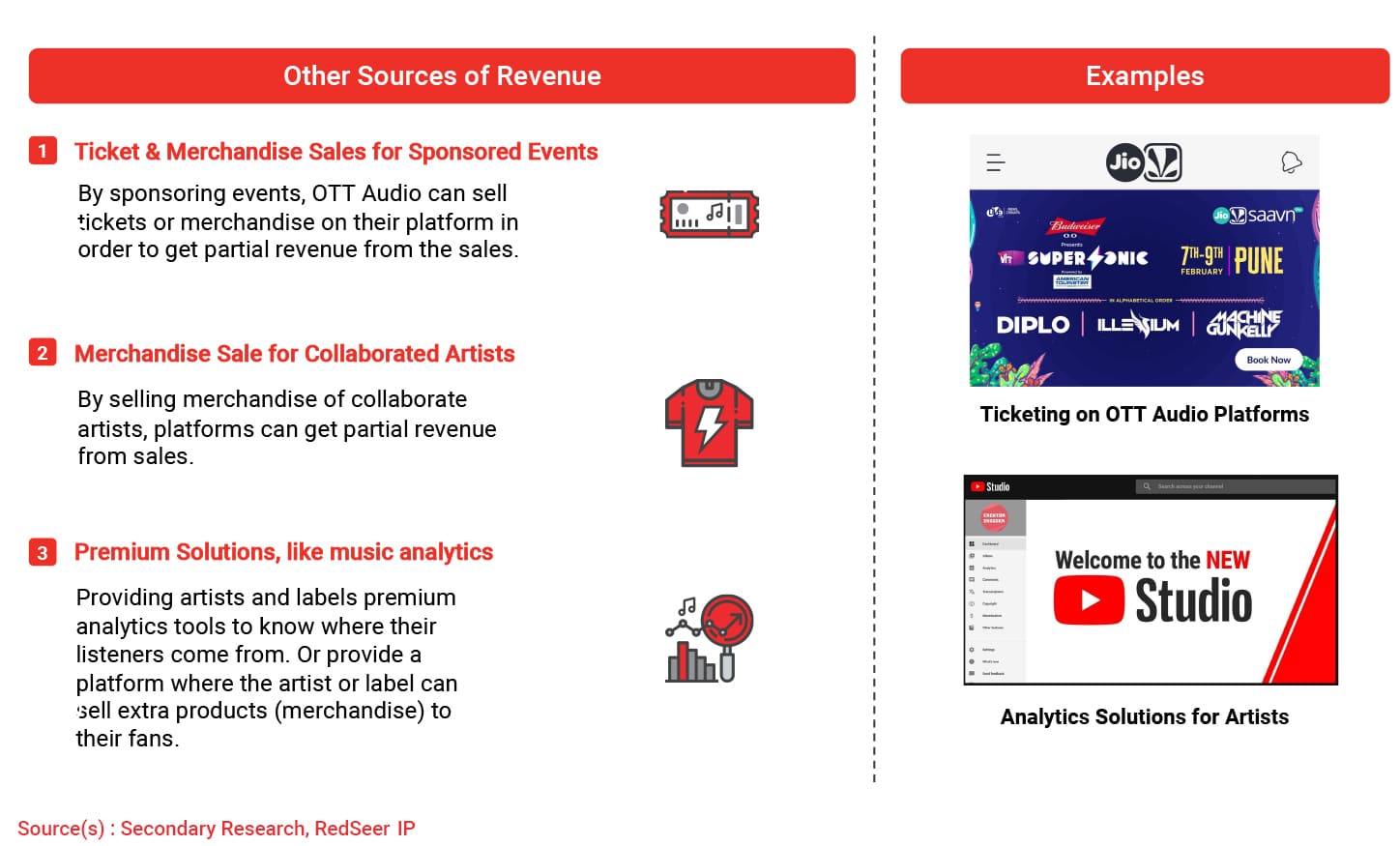 In the race to become profitable at the earliest, OTT audio players are also exploring additional sources of revenue besides Advertisement and Subscription based revenue.
Thus, these platforms have started offering complimentary services like sales of tickets & merchandise and data analytics to grow their revenue at a faster pace.
---