The digital economy went through a disruption and high growth phase over the last few years, aided by the pandemic. While most sectors are still in nascency in terms of online penetration, a few sectors, like FoodTech, are more evolved in the region, with penetration levels higher than most other global benchmarks. And in such sectors, we have witnessed consolidations taking place which benefit the market as a whole and other key stakeholder, including customers, partners etc.
Here's a deep understanding associated with major Food-Tech mergers in recent years.
1. Globally, food delivery players have consolidated to gain scale and same is observed in MENA as well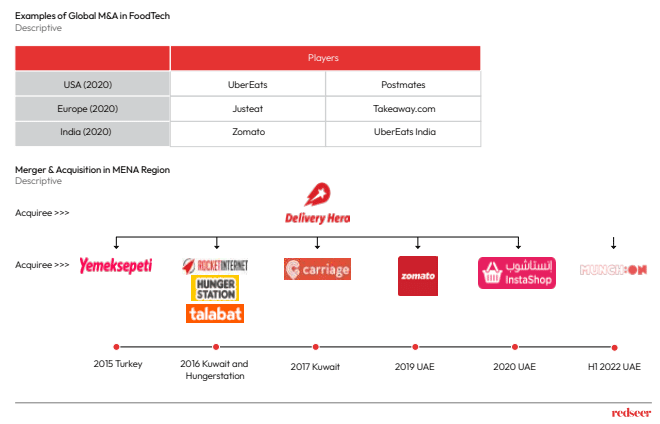 Recently, the MENA region has witnessed a series of consolidation in the FoodTech industry. In a bid to derive more value, major brands have expanded across categories, geographies, and enhanced capabilities through consolidation. Complementary consumer cohorts, assets and enhanced capabilities have helped realise strong revenue and cost synergies.
2. Effectively addressing potential risks is critical to realize the full potential of such mergers

Irrespecitve of the objective of the integration, there are certain key risks which need to be mitigated to fully realise potential of the mergers. Unexpected costs incurred during the integration phase is a key issue with early stage mergers aimed at capability enhancement. Hasty integration of apps often leads to disruption of the user experience leading to churn of captive userbase. Firms with very different service offerings often struggle to cross sell products/services as consumers are not easily sold on the combined positioning of the two firms.
3. Identifying and eliminating redundancies, phased integration and exchanging best practices in Tech is key to realize maximum synergies

For M&A's taking place in the same geographical region, there often exist numerous redundancies which need to be identified and eliminated. Operational integration should be phased out. For e.g., in the case of delivery fleet integration, a pilot testing should be carried out in select clusters to ensure smooth operation, before expanding and applying the changes at scale. Technology is the cornerstone for success in the FoodTech space. Organisations should actively exchange best practices and retain top talent in Tech to be able to create a differentiated offering anchored on a strong technology practice.