Last Sunday, I chanced upon an episode of Krishi Darshan on YouTube, which brought back many fond memories of my childhood. I'm sure this would ring a bell for anyone who grew up in the 80s or 90s. Whether it was the format of the show or the lack of many entertainment options, Krishi Darshan was part of our lives. This Doordarshan classic, launched in 1967, provided us and lakhs of farmers with surplus knowledge about farming.
When I shared this nostalgia with my colleague Mrigank Gutgutia he told me about the rise of a similar trend in today's digital world. India's AgriTech businesses are offering farm advisory across the value chain, along with other services like credit, market linkage, farming-as-a-service, among others.
Here he shares more insights on this with you all.
1. Minimal usage of farm inputs and unreliable advisory across the farming cycle has resulted in low agricultural output as compared to other countries
Indian economy is predominantly agrarian. However, agriculture growth across many segments has not been impressive. India exhibits low yields as compared to peers including China, Brazil and USA. A large number of farmers thus live in poverty, and this has been a cause of concern. Therefore, the focus should be on enhancing productivity in agriculture and allied sectors.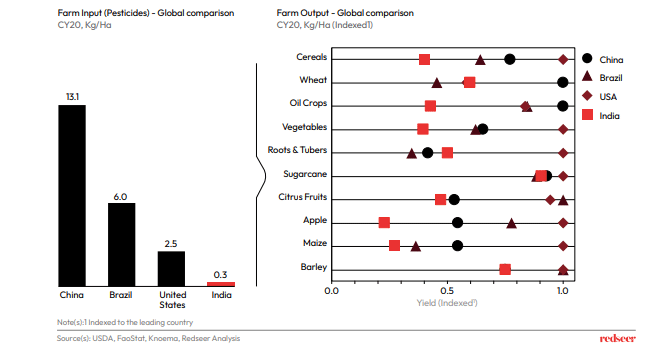 2. Timely and relevant advisory is key to addressing the root cause of problems and creating higher yields and price realisation
The challenges faced by the farmers today are multi-fold. They are interlinked across the agri value chain. For instance, poor quality inputs leading to reduced yield and poor output quality with lower price realisation are some of the key challenge areas. Thus, there is an immediate need for an integrated solution which combines online and physical modes to deliver efficient yet convenient solutions to the farmers.
The total addressable market for AgriTech is ~$400 Bn+ which covers both farm inputs and outputs. It is estimated that 6–7 Mn farmers are already using AgriTech apps for advisory, community engagement, inputs buying and output selling as of H1 2022.
Some of the new-age prominent models include advisory, market landscape, inputs/raw materials, credit and price realisation, among others. Most of these AgriTech companies have offerings across the farmer journey/stages, but with varying focus.
3. Margin structures vary significantly for these models based on where they are playing and the level of integration
Increased smartphone penetration has led to rural India using the internet for communicating, consuming content and shopping. The time is thus right for the AgriTech platforms to digitize India's agri economy. However, margin structures vary significantly for different business models depending upon their play in the value chain and the extent of integration of their solution. For instance, a private label or a modern trade play offers a lesser profit margin as compared to connecting farmers to the exports market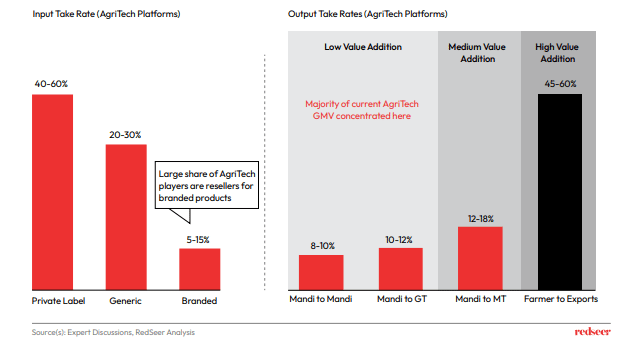 4. Robust advisory, omnichannel presence with private label offerings, and farmer trust are the key winning levers for AgriTech
While offline stores are being used by super users to fulfil immediate needs, a digital presence is highly scalable. Thus, an omnichannel approach in agriculture has many advantages today such as efficient last-mile delivery by leveraging partner stores as distribution centres, lower logistics costs and a reduced turnaround time. Additionally, an omnichannel approach allows advisory services to be centrally managed with efficient unit economics, making it scalable. Overall, an omnichannel presence, a robust digital advisory, private label offering and output sourcing, are the key winning levers for AgriTech. To enable these, creating trust is critical as it's the biggest driver for farmers' decision-making.

5. Interestingly, these players have also been able to engage farmers at mass level; clocking in 110Mn+ Views of advisory videos on YouTube.
Increased adoption of smartphones and digital services in rural India is setting the stage for AgriTech players by which are they are able to engage farmers through advisory videos on Youtube clocking in 110Mn + views. This will surely help AgriTech players to build trust at mass levels.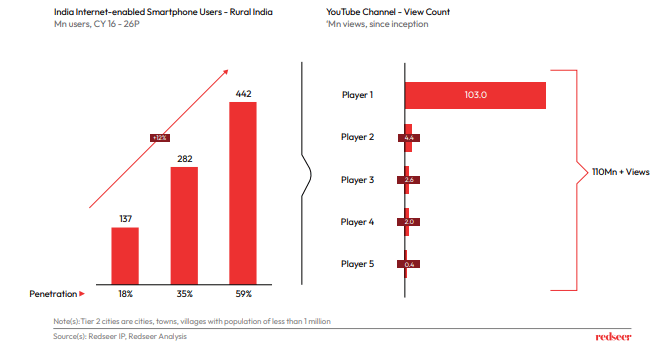 I believe that technology can make India a global agricultural powerhouse. An omnichannel approach coupled with advisory by India's AgriTech businesses can boost adoption across demographics, including early adopters, fence-sitters and traditional users. It is the need of the hour to