Digital Media has revolutionized how we experience sports events; its impact on World Cups has historically been massive and is expected to increase with the current edition of the Qatar World Cup. World Cup will drive audience engagement whose interest is directed not only to the 90 minutes of the game but also to behind-the-scenes digital media content.
Here's a deeper insight into the impact of the World Cup on the Digital Media industry.
1. Digital media is projected to flex its prowess in this edition…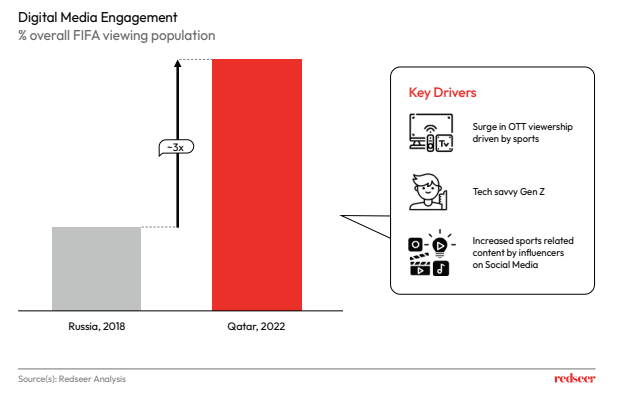 Compared to the 2018 Russia World Cup, digital media viewership is expected to increase by almost 3x. Rising internet and smartphone penetration has enabled the proliferation of digital media across the globe, allowing a much wider audience to benefit from the action that is set to unfold. Tech savvy and content-driven population have caused OTT viewership and digital media influencers to gain momentum.
2. …creating a massive 1.5Bn hours of additional daily Digital Engagement…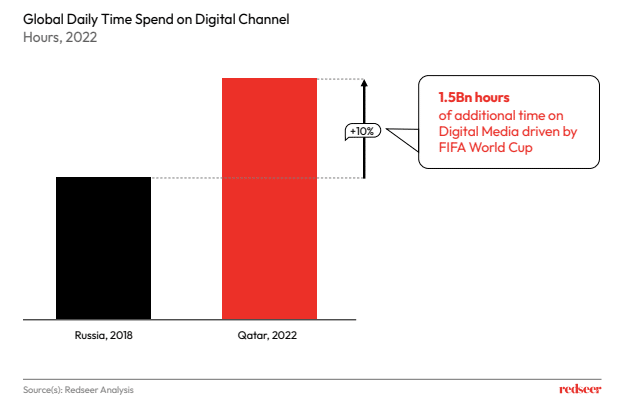 The proliferation of digital channels has provided fans will a second screen to engage with World Cup-driven content leading to a 10% increase in average daily time spent on Digital channels. This is expected to bring in 1.5Bn hours of extra time on Digital Channels driven by FIFA World Cup, giving an unprecedented window for brands to reach consumers.
3. …providing a global advertising opportunity of $ 4Bn for digital media platforms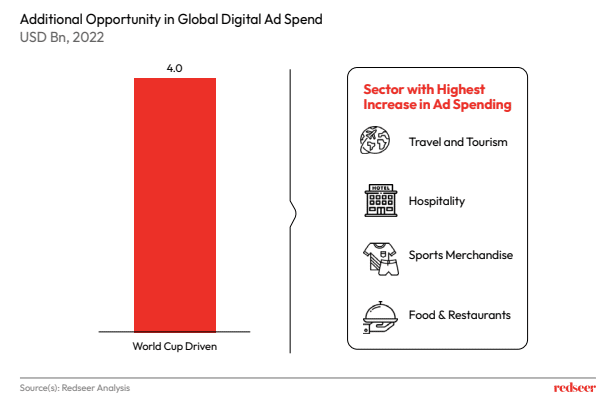 The marketing landscape has evolved materially over the last 4-5 years. Broadcast channels like TV, Radio & print media have been losing share to digital media channels as marketing budgets moved towards more personalized advertisements. The sheer size of the audience that will engage with the event presents an opportunity for multiple sectors. However, the digital ad space promises to be cluttered, with numerous players vying to grab attention. The brands can tell their stories in innovative ways, at the right occasion, to the right audience, who will reign supreme and dominate this period of celebration.