The world of consumer brands is undergoing a significant shift as online retail grows in popularity every day. While the 'Digital First' brands built and scaled their businesses online, traditional brands are playing catch-up. Together they constitute an assortment of digital brands serving the online retail market. We conducted extensive research and analysis of over 1000 consumer product players with 2000 brands across 50 sub-categories to sift the 'Digital Disruptors' who have been most successful in building a strong eCommerce presence. The companies researched were segregated into three categories: Electronics & Appliances, Fashion & Home, and Grocery & Personal care. The elements considered for the ranking of companies included their online market share in the category, the per cent sales they derive from eCommerce, and their growth and performance on eCommerce platforms.
Here we offer insights into our latest finds and what makes these digital disruptors unique.
1. We analyzed 1000+ companies with over 2000+ consumer brands to find the top digital disruptors in 2022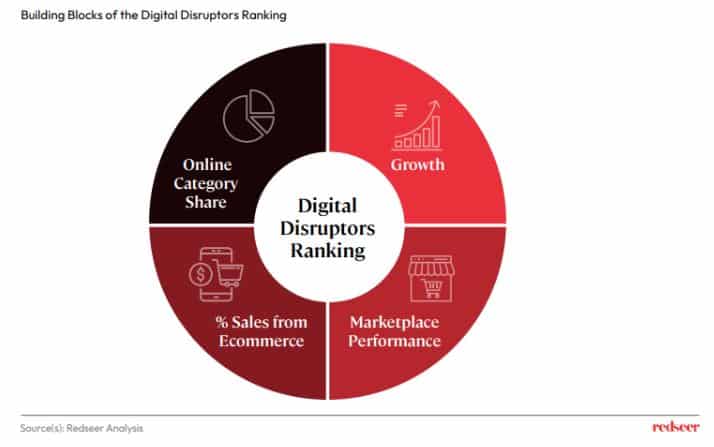 Based on the analysis of 1000+ companies with over 2000+ consumer brands using a customized toolkit, we came up with a ranking for the digital disruptors across three major categories – Electronics & Appliances, Fashion & Home, and Grocery & Personal Care. The rankings were based on how the brands performed across parameters such as online category share, growth, percentage of sales from eCommerce and marketplace performance.
2. And these digital disruptors are leading India's digital revolution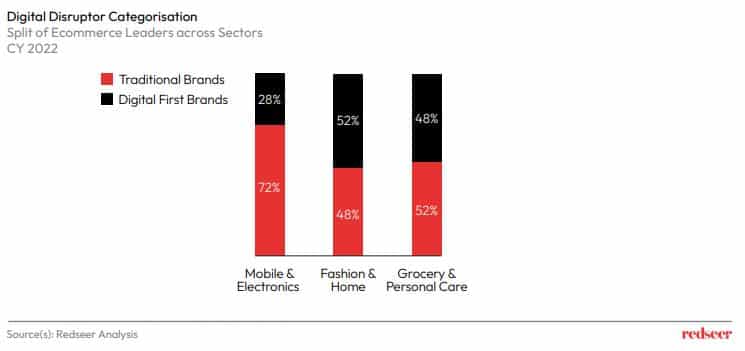 Indian online retail market, which currently stands at $ 63 Bn, is expected to grow at a CAGR of +27% to $ 163 Bn by 2026. eCommerce is expected to drive growth in retail in the coming years, with digital disruptors leading India's digital revolution. What's essential to understand is that over 45% of Digital Disruptors are 'Digital –First' companies. Digital First companies account for ~25% of all online sales. This poses a substantial challenge to traditional players who need to increase focus on digital-first strategies while the digital-first brands are starting to expand offline.
3. Brands, be it digital-first or traditional are racing for category dominance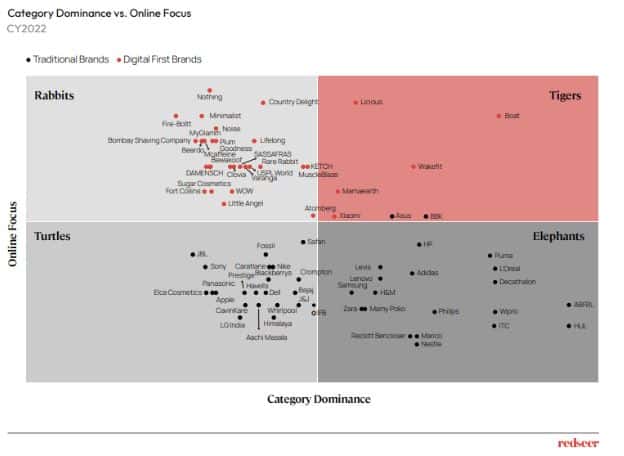 The differentiation between digital-first brands and traditional brands becomes quite clear when they are represented for categorical dominance with an online focus. The brands that have scaled rapidly in the eCommerce space while still having a strong offline footprint are mostly the digital firsts (Tigers). Moving forward, it can be expected that players in the top quadrant will work on entering the offline space, while traditional heavyweights in the bottom quadrant will strongly push for eCommerce.
4. Here's the top 25 digital disruptors of 2022 in three major categories
The total of 75 digital disruptors ranked in the list represents the most innovative and successful companies in the Indian eCommerce market. Together they account for ~$ 15 Bn in online sales, indicating their influence in the eCommerce space. The digital-first players constitute 28% of the top disruptors in Electronics & Appliances, 52% in Fashion & Home, and 48% in Grocery & Personal Care. The digital-first players also rank higher in every category showcasing their strong online presence.
The research highlighted common success factors for Digital Disruptors to achieve the right balance. Leadership Commitment, Brand & Product Portfolio, Dynamic Pricing, Best-in-class Digital Marketing, and an Agile Organization are the primary strategic drivers. These need to be backed by an execution approach that can rapidly adapt to market changes.