May, 2022
UAE Luxury Retail – Strong Tailwinds at play
Online channel has increased in prominence and now makes up ~20% of luxury sales in UAE currently influencing more than 90%
---
1. Luxury retail suffered during the onset of the pandemic but saw a quicker recovery compared to overall retail as the core consumers were least affected economically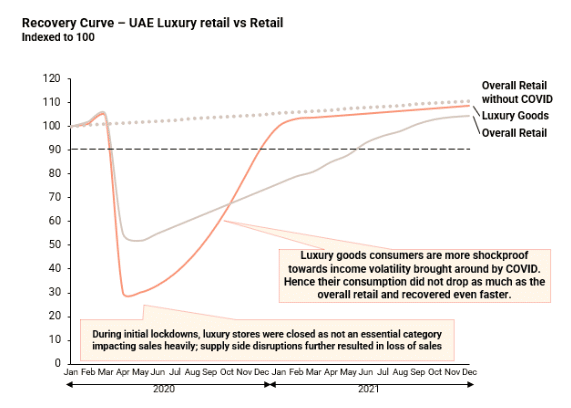 Luxury retail took a heavy blow at the onset of the pandemic due to store closures across the globe. However, the market bounced back sharply and faster than the overall retail market as economies reopened. Luxury good consumers' insulation from income volatility brought around by COVID, helped drive the resurgence. Brands developed strong online strategies to capitalize on this opportunity. Potential consumers were connected to offline stores via video calls and WhatsApp to browse merchandise with assisted human aid, enabling discovery and purchase via online channels. Furthermore, pop-up stores were launched in strategic locations including private airports to tap into consumers.
2. However, the dip during the initial months was steep implying a 26% fall in the market in 2020; Strong recovery seen in 2021 resulted in a $ 5 Bn market in UAE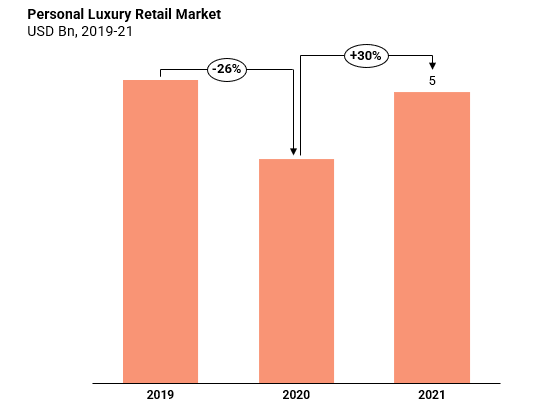 The drop in tourists heavily impacted luxury retail, particularly for the Fashion category as these categories were heavily dependent on tourism. Movement restrictions along with the fear of contracting the virus discouraged customers from purchasing via offline stores, which constituted ~90% of luxury goods purchase.
Brands pivoted to establishing a strong online presence post the pandemic, identifying the value in having online platforms as the initial touchpoint for consumers. Brands revamped their websites and leveraged marketing features offered by digital media platforms to promote customer engagement virtually. The omnichannel strategy supported the strong resurgence in 2021 and the market recovered to the USD 5 Bn mark.
3. Online channel has increased in prominence and now makes up ~20% of luxury sales in UAE currently influencing more than 90%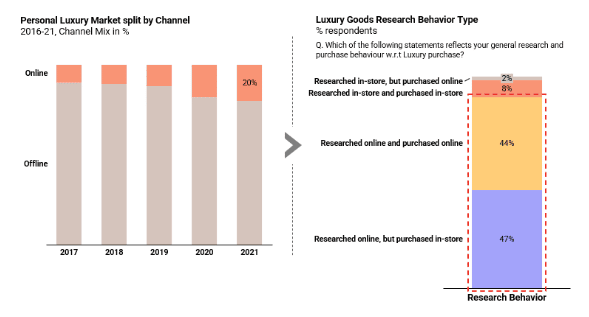 The revamped online strategy adopted by luxury brands in the initial months of the pandemic, resulted in a significant surge in the share of online channel in the personal luxury market and has reached 20% in 2021. Furthermore, >90% of consumers now research online before making a purchase. The online penetration of luxury retail is now above overall retail figures despite it being an experience driven segment, highlighting the strong impact that online channel has made. While offering high level of convenience, the online channels have also been successful in maintaining the required experience levels in a segment like luxury.
4. Tourists (who drive majority of luxury sales) contribution to the market reduced in 2020 but rebounded in 2021 aided by the resurgence in tourism, driving the strong recovery for the market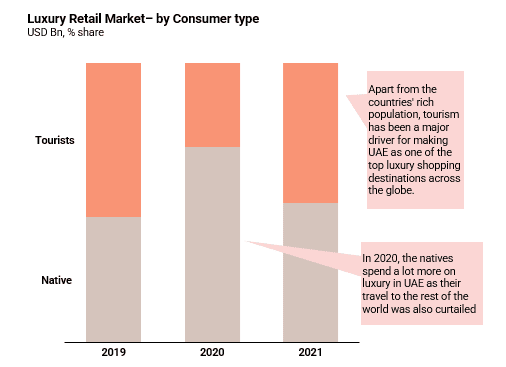 Tourism is a heavy contributor to UAE's GDP, accounting for ~12%. Tourists typically account for more than half the luxury retail market in the UAE. As the tourist inflow drastically reduced in 2020, the native population, consisting of a high number of HNIs, increased their spend on luxury as their travel to other locations were also curtailed. Jewelry and Fragrances experienced strong demand, as these product categories are popular amongst the native population. The resurgence in tourism by 2021 restored tourists' share in the luxury retail market and drove demand for Handbags, Cosmetics and Apparels.
INSIGHTS
Talk To Our Expert