May, 2019
| By Sandeep Ganediwalla, Anuj Kumar and Vijay Kumar
How consumers in MENA are planning their Electronics shopping this Ramadan
Preparation for Ramadan starts one month in advance and celebration continues 2 weeks post Eid, making it the longest celebrated festival globally
---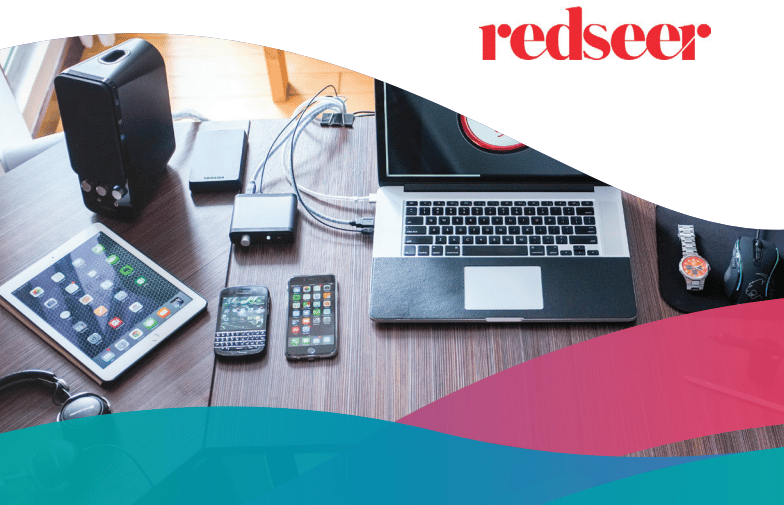 Ramadan is a global event; celebrated by ~2BN people globally, 450+ Mn people in MENA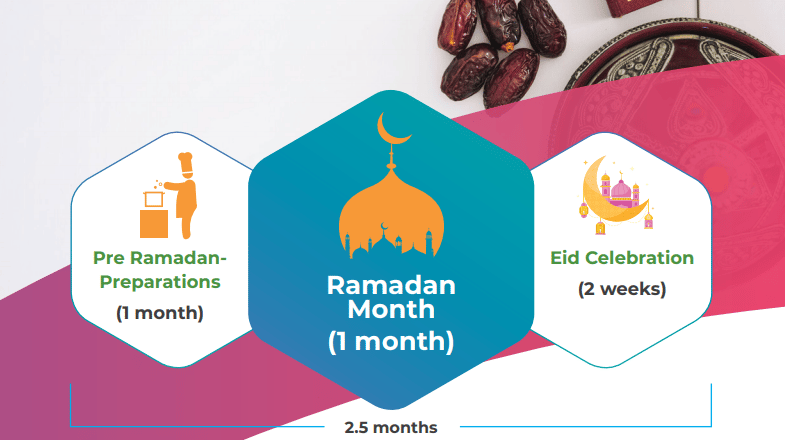 Preparation for Ramadan starts one month in advance and celebration continues 2 weeks post Eid, making it the longest celebrated festival globally
Ramadan is the longest global festival where 1.9Bn people observe Ramadan & Eid annually translating to a quarter of the world population. The festival is highly popular in the MENA region (Middle East and North Africa Region) where 95% of its population fast in the holy month (463 Mn). In other parts of the world – 24% of APAC (1,057 Mn), 7% of Europe (50 Mn), 1% of North America (5 Mn) and 19% of rest of the world (331 Mn) celebrate the holy festival of Ramadan.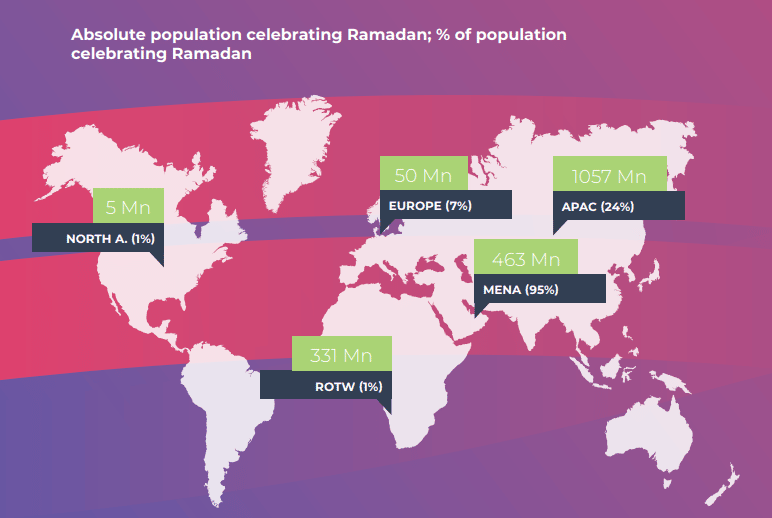 Consumption behaviour of products among people shifts drastically during this holy period
With ~75 days of celebration, huge shift in consumer consumption behaviour is seen during the festival. While most of the consumers might fast the whole day spending time in spiritual reflection, families and friends often come together for Iftar, breaking the fast at dusk. The build up to Iftar is marked by women cooking traditional meals at home, which augments the demand for certain food and beverage categories.
On the trade front, marketers respond to increased consumption habits with a range of Ramadancentric marketing communications. As meet and greet happens in this festival all along, categories such as Media & Entertainment, Beauty and Personal care, Fashion, Footwear, Furniture and home essentials, Telecom, Travel, Automotive and Tech also see a surge in demand. People also start engaging in planning for this shopping much in advance.
Overall, Ramadan plays a key role in defining the economy of the region. Since the festival is celebrated by 95% of the population, some countries have laws that amend work schedules during Ramadan. Like, under UAE labour law, the maximum working hours are to be six hours per day and 36 hours per week. Qatar, Oman, Bahrain and Kuwait have similar laws, giving them more time with family and community.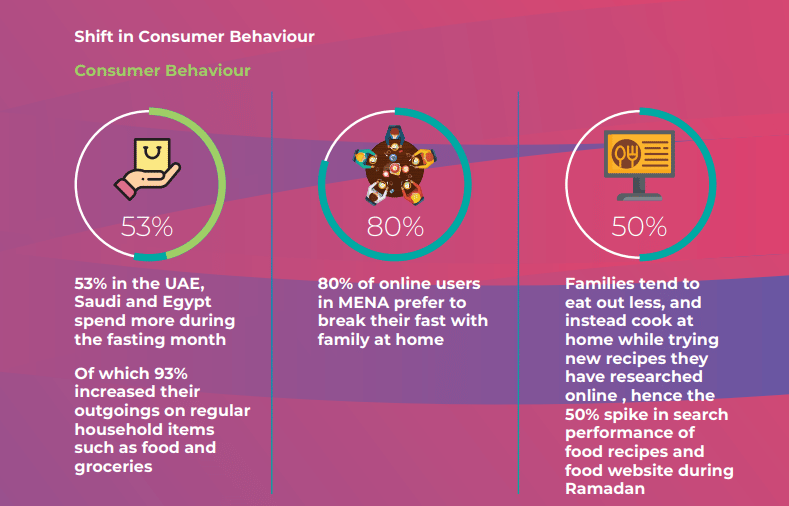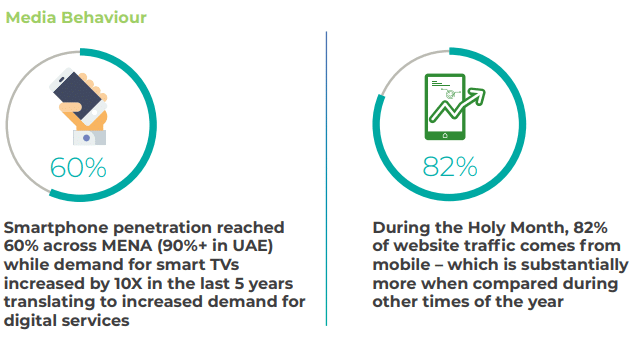 UAE, KSA and Egypt driving retail in MENA
The three countries UAE, KSA and Egypt collectively represent a retail market size of ~330Bn which is a 70%+ share of the USD 450 Bn retail market of MENA. Key performance indicators driving consumer behaviour in these three countries will drive the retail performance in the region which gets detailed out in this report.
MENA Retail market size (USD Billion) – 2018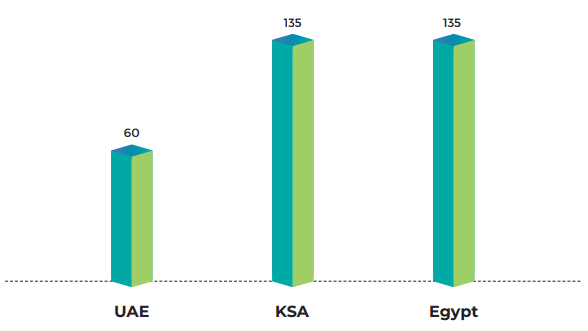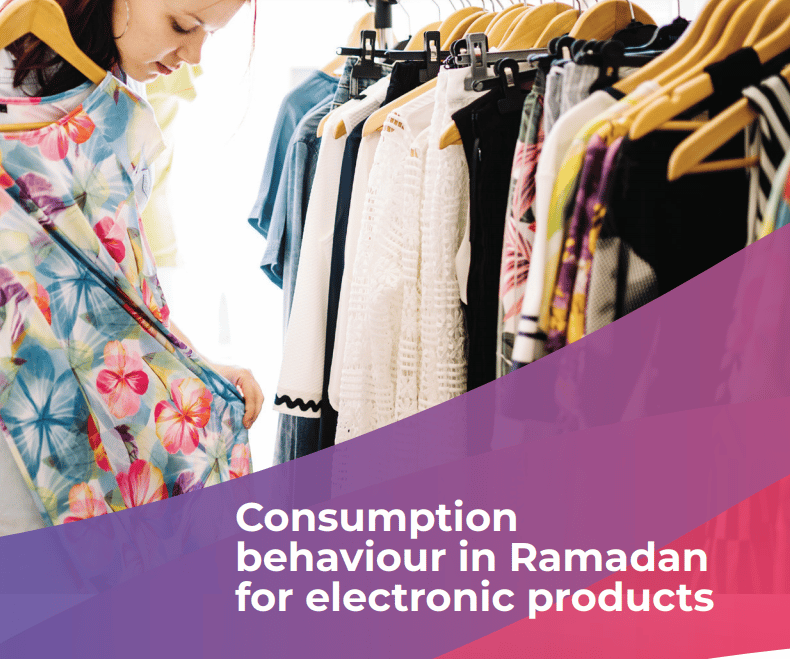 Consumption behaviour in Ramadan for electronic products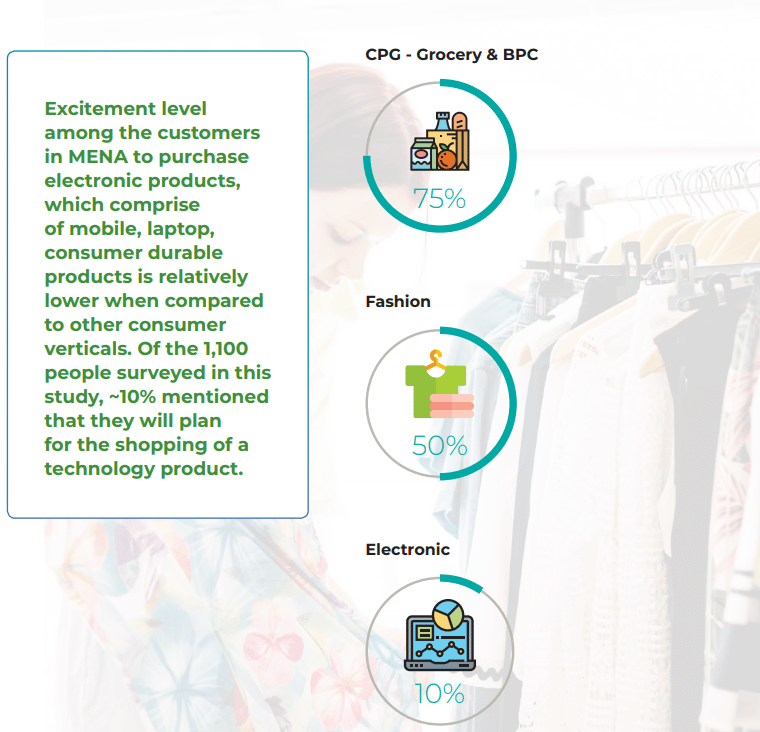 In the last quarter of the year brands across the world launch latest electronics models which is coupled with retailers offering heavy discounts. White Friday by Souq and yellow Friday by Noon are the two popular discount driven events, to which people look forward to in the region. Electronics is the most popular category during these events. Since the purchase cycle for electronic products is once in a year, the need for new technology product is slowly coming down during Ramadan.
The excitement to purchase a tech product this Ramadan is highest in KSA where the disposable income is high followed by UAE. This drops to ~16% in Egypt. However, a huge population base still ensures a good volume for the country
Technology purchase among consumers is expected to peak up during the Eid week, driven by smartphones
Consumers in all the three countries, UAE, KSA and Egypt are planning for their technology shopping in the Eid week. However, it is interesting to observe that spikes are expected in different countries in different seasons. Egypt is expected to lead in technology shopping, one month before Ramadan, KSA in the Ramadan month and UAE in the Eid week.
The excitement level among different age groups and genders in the three countries is similar, where 75%+ people purchasing technology products mentioned thy will shop for smartphones. 35%+ people are planning to purchase a consumer durable product.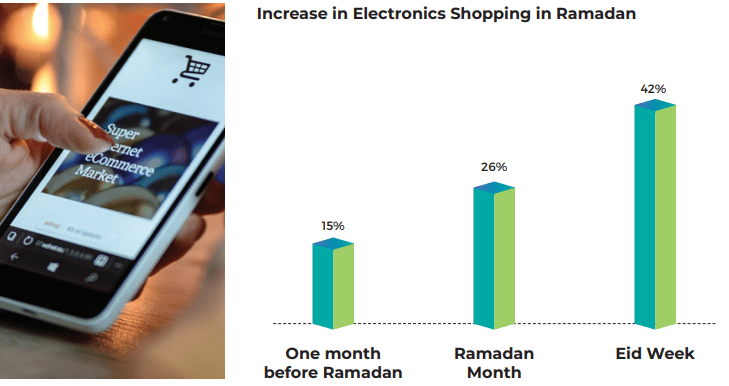 20% people plan to buy electronic items items one month before Ramadan however the excitement levels grow when people start preparing for festivities.
The excitement levels among the people in Egypt was found to be highest where 29% of the consumers mentioned that there will be increase in electronics. Upper age segment (Gen x) leads among the age group because of higher disposable income and gifting tendency
Increase in Electronics Shopping – 1 Month Before Ramadan Month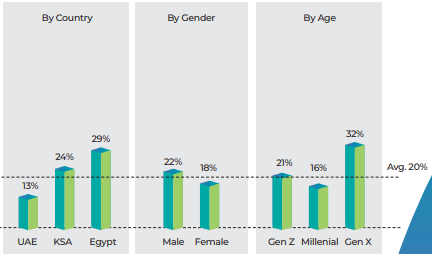 In the month of Ramadan, ~35% of people plan to buy electronic products.
The excitement levels in KSA can be expected to be highest in this period. Also, GenX leads among the different age group 35% categories.
Increase in Electronics Shopping – Ramadan Month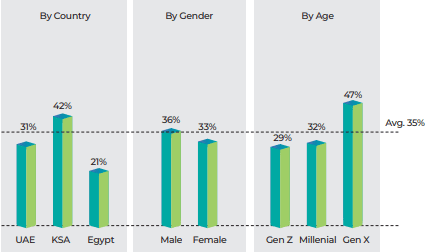 Post the month of fasting the world celebrates Eid which brings families and communities together in meet and greet sessions. This is the time when electronics purchase can be expected to be highest with ~56% of those interviewed planning electronic product purchases.
UAE can be expected to showcase steep rise in electronics shopping in Eid-week as most of its customers are planning shopping around this time, while in other countries like KSA and Egypt, this is the peak time for electronics shopping. Males can be expected to lead females significantly, while millennials can be expected to lead other age groups for electronics shopping in Eid-week.
Increase in Electronics Shopping – Eid Week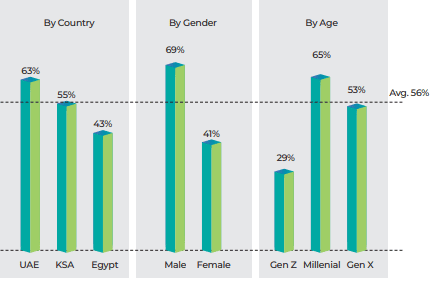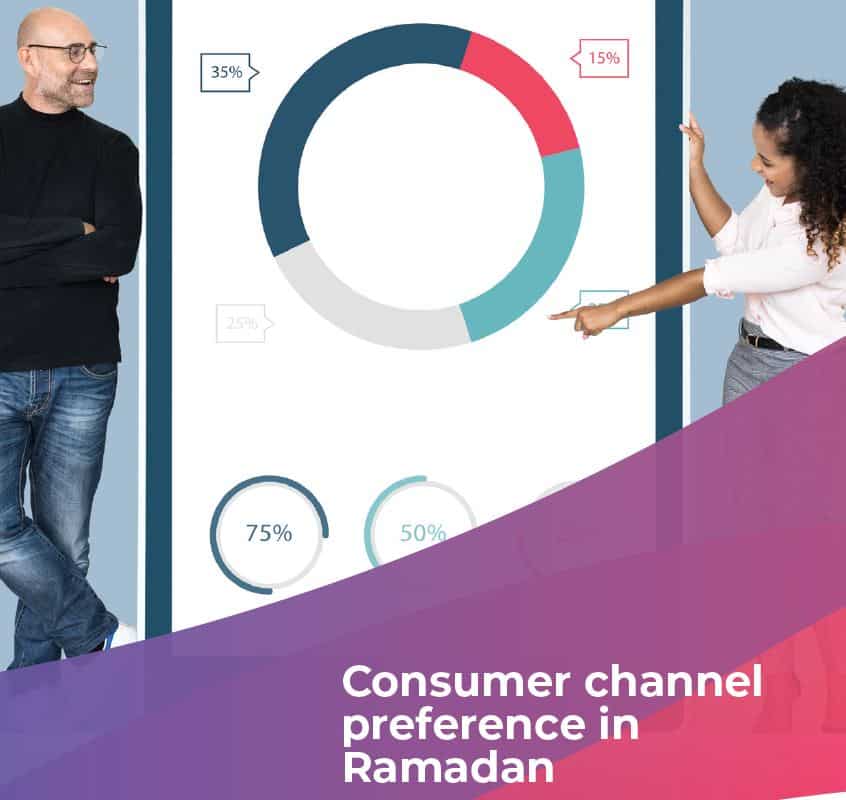 Consumer channel preference in Ramadan
Customers in MENA are looking at both offline and online & omnichannel with similar preference for the electronics shopping this Ramadan; KSA and UAE are more open to online and omnichannel while in Egypt offline dominates.
The retail network in the three countries is evolved and consumers are used to shop products from the offline channel. However, the emergence of e-tail and great support from private equity funds have helped the sector establish in the region. Currently the e-tail market in MENA stands at USD 8 Bn which is expected to reach USD 25 Bn by 2022, at a growth rate (CAGR) of 30%+.
Electronics as a category currently represents ~60% share of the MENA e-tail market. High average transaction value among electronic products ensures that the category takes the biggest pie of the e-tail market. The standardization of product, established brands and heavy discounts offers by retailers have helped high acceptance of online channels among customers.
The e-tail firms in the region started with a horizontal journey where they were offering products across sectors with focus on electronics which gave volume to the e-tailers. However, the margins offered in the category are low (2-5%), hence retailers started focussing at other categories and fashion was the first choice which offers margins in the 20% range. Fashion has already captured ~25% of the e-tail market share in MENA. E-tailers are now looking at newer verticals and grocery appears to be the preferred choice, growing at a CAGR of 65%.
Channel Preference for Electronic Shopping in Ramadan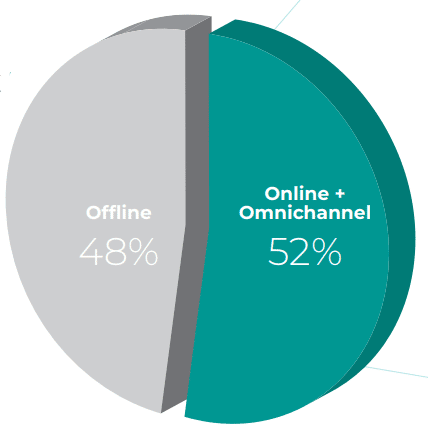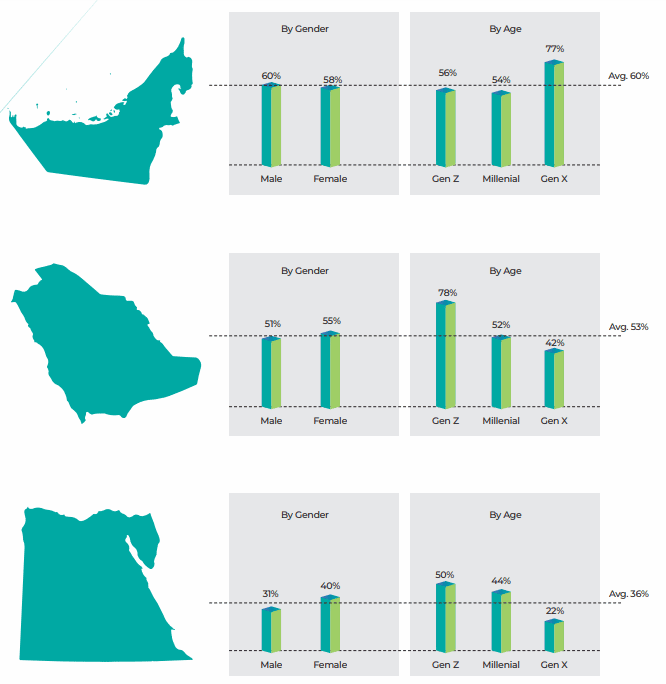 When asked, consumers communicated a high acceptance to the purchase of electronic products from online and omnichannel networks, especially in UAE and KSA where the acceptance levels are highest 50%+. Among people in Egypt, however, offline dominates but there is a healthy acceptance for online and omnichannel. When online and omnichannel preference behaviour was studied for smaller cohorts, it was observed that customers from Generation Z are most open to try online channels in UAE while Generation X dominate in KSA. Both male and female consumers are equally open to use online channel for electronics shopping.
Customers are increasingly using both online and offline channels to gather information and make purchase decisions. This is the trend which is expected to pickup in the region where both online and offline channel will be dependent on each other for information seeking and purchase transaction execution.
Omnichannel Behaviour in Electronics Shopping among MENA Consumers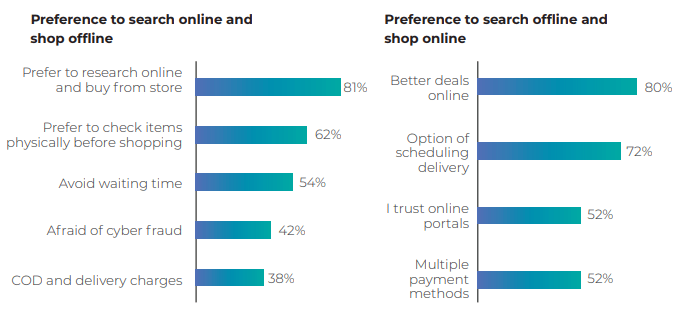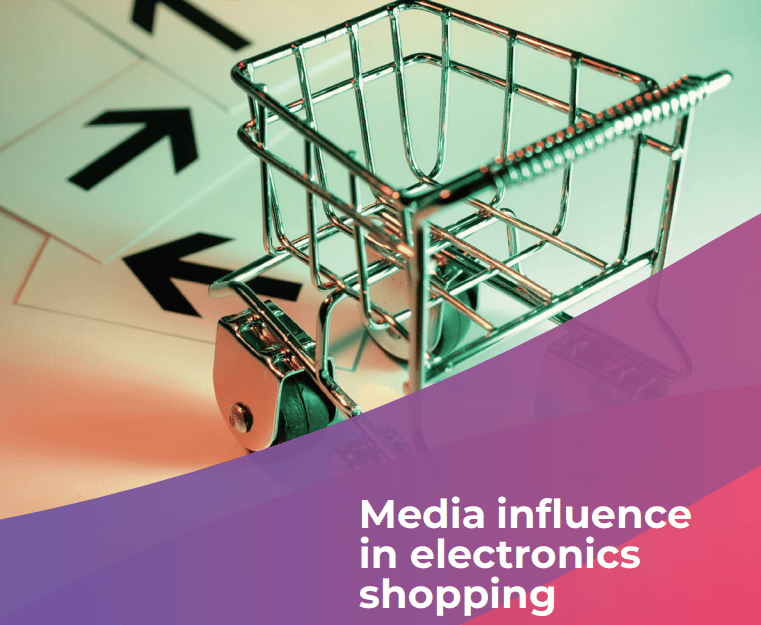 Social media is rated as the most influential channel in helping with electronics shopping by people across MENA. Within Social media Facebook, Instagram and YouTube were rated highest.
During Ramadan people spend more time on Facebook and Instagram, watch more YouTube, perform more searches and access the internet on their mobile devices more frequently. Digital media consumption has risen in the last few years.
Across the Arab world, Ramadan is treated as a time to reconnect with one's faith and spend time with family and friends, which generally entails working less and resting more. This combination of free time and a celebratory atmosphere in turn means that time spent online is higher during Ramadan than any other period.
When the people in MENA were asked to identify the media channel which influence their electronics shopping most, social media was ranked as highest. This was followed by product reviews on online blogs, company website and TV
'Media influence in Electronics shopping among MENA customers in Ramadan'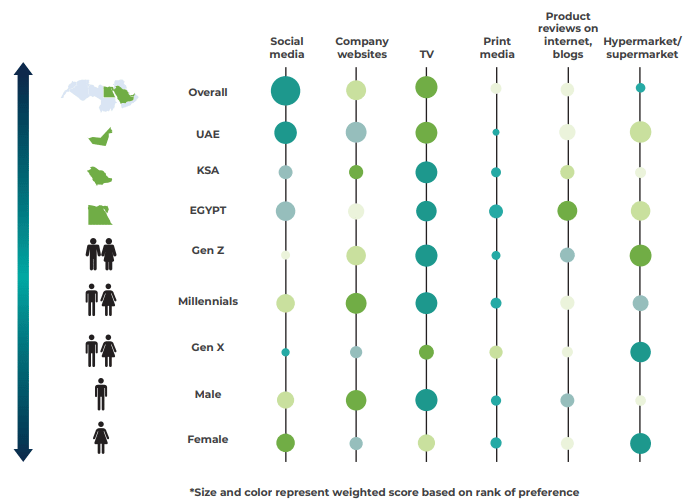 When we deep dive to understand the people preference among the social media platforms Facebook, followed by Instagram and YouTube were rated highest. The social media platforms have also become a platform for people to share review of products and product experience, which customers take seriously to make electronics purchases.
'Social Media influence in Electronics shopping among MENA customers in Ramadan'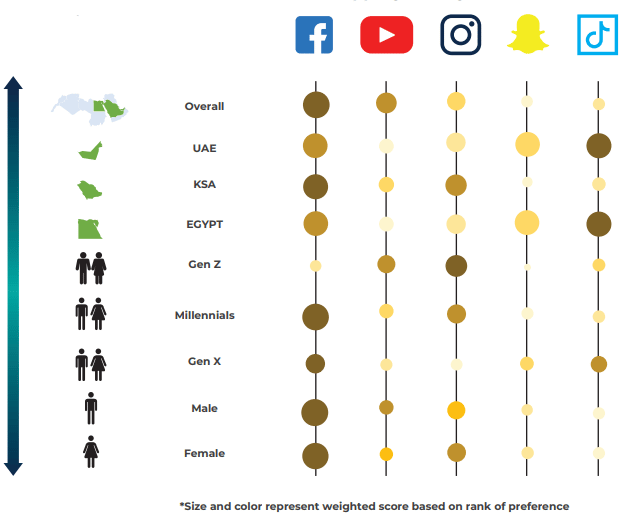 There exists opportunity for brands to align its marketing strategy to gain maximum advantage

There exists an opportunity for electronics players to take a customized strategy for different product categories in different MENA countries to create the maximum buzz among its target groups.
UAE, KSA and Egypt, all three countries have high acceptance of online and omnichannel for electronics shopping and these channels can be extensively targeted by brands to reach out to people
One month before Ramadan larger efforts can be dedicated for Egypt while in the Ramadan month focus can be more on KSA and in Eid-week, brands can shift focus to UAE to gain maximum from the market
Brands should give the highest preference to social media platforms led by Facebook, Instagram, and YouTube for marketing, as these are the platforms where consumers would be looking for information to make the purchases
INSIGHTS
Talk To Our Expert