Oct, 2018
| By Pakhi Saxena, Shubham Anand, Mukesh Kumar, Raveen Kaur Anand, Saurabh Joshi & Sumit Kumar
Kitchen Appliances Market
The kitchen appliances market in India is estimated to be at INR 21,500 Crores in 2018
---
Overall, the kitchen appliances market in India is estimated at INR 21,500 Cr in 2018 of which 45-50% is contributed by large kitchen appliances.
The market is expected to grow at a CAGR of ~12% largely driven by the high growth in the large kitchen appliances segment. The large kitchen appliance market is expected to witness a CAGR of ~15% for next 5 years whereas food preparation and cooking appliance market will grow at a CAGR of ~8% and ~9% respectively. Mixer grinders contributes to 60-65% of food preparation market whereas water purifier is the largest category in large kitchen appliance with 50-55% of the market.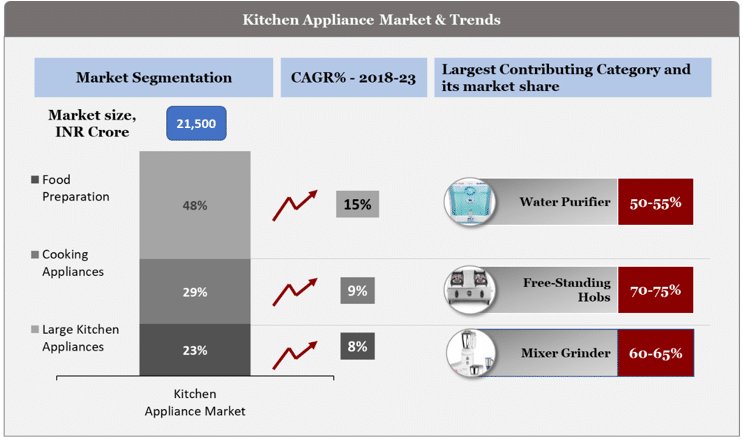 Among all the kitchen appliances considered, water purifier is expected to witness the highest market growth of ~20% whereas microwave oven and induction cooktop is expected to witness the least growth of 4-5% and 5% respectively.
Rising number of nuclear families, rapid urbanization, increasing number of women in the urban workforce, upcoming trend of open kitchens as well as increasing penetration of online channel in Tier 2+ cities are the drivers for growth of the kitchen appliances market in India.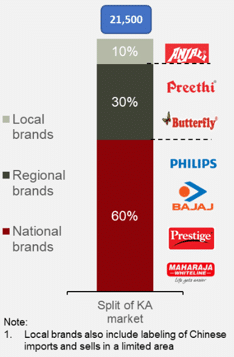 Even with the presence of 4-5 national players in the market, kitchen appliances is still characterized by fragmented play.
Kitchen appliances market in India sees appliance offerings from across a spectrum of brands – large multinationals like Philips,Black+Decker, Morphy Richards etc.; national brands like Bajaj,Prestige,Maharaja etc.; large regional players like Preethi,Butterfly, Inalsa, and a plethora of local brands.
Market for highly penetrated categories like Mixer-grinder is highly fragmented and local brands contributes significant share of the market. High value appliance categories like food processor, air fryer and water purifier have offerings from a handful of national brands. South India, being the largest market for kitchen appliances sees the presence of some of the largest regional brands like Preethi and Butterfly which have a significant share in the Mixer grinder and free-standing hobs respectively.
In the food preparation and cooking appliances market, south India contributes 35-30%. This market is expected to grow at a CAGR of 8-9%. North Indian market is expected to grow at a relatively faster than other regions.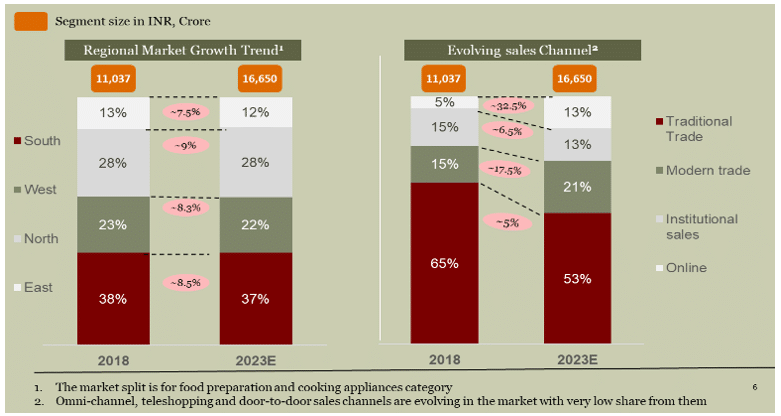 Among the sales channel for Kitchen appliances, Modern trade and online channels are evolving as the fastest growing channels for sales with their expected CAGR of ~17.5% and ~37% respectively for next 5 years. Online platforms have brought the brands closer to the consumers by fulfilment to Tier-II plus cities in India where brands were not present earlier. With discounts/ offers, options to choose from, product reviews and easy fulfilment, E-commerce have evolved as the fastest growing sales channel for sales of kitchen appliances in India. With the advent of new age channels like online and modern trade, traditional sales growth will continue to be restricted below 5%.
Growth in kitchen appliances segment is being driven by innovative products in each category of kitchen appliance. Large kitchen appliances are seeing a great traction with products like water purifier and electric chimney seeing high growth. The water purifier market is expected to grow at a CAGR of ~20% as the consumer preference is shifting towards RO/UV based purifier from gravity-based water purifier which in turn increases the "Average Selling Price". Increasing advertisement by players coupled with increasing competition clutter in turn improving options for consumers.
With rapid urbanization, shrinking ventilation space in kitchens and rising demand for modular kitchen, the electric chimney market is expected to grow at a CAGR of ~15% till 2020. Increasing tie-ups between company/company distributor & interior designers is also pushing growth.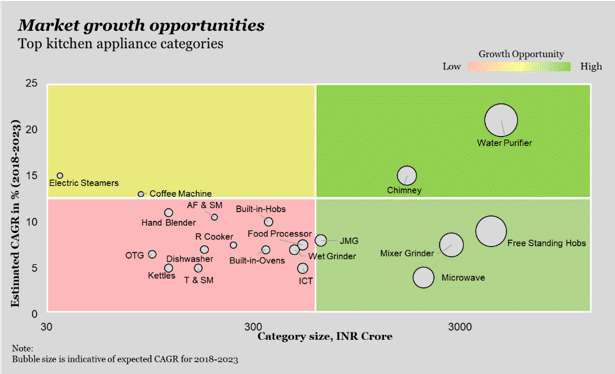 Several products were introduced in the Indian market tocater to the customer demands. Philips introducing air fryer Air Fryer in 2012. Inspired by "Nutri Bullet", Wonderchef launched "Nutri blender" in the Smoothie Mixer category which is at a nascent stage but growing rapidly. Growing influence of the western culture and growing variety of coffee beans, Spice and Coffee-grinder market, although at a very nascent stage, is have seen rising adoption among Indian consumers in South India.
INSIGHTS
Talk To Our Expert