Oct, 2018
| By Pakhi Saxena, Shubham Anand, Mukesh Kumar, Raveen Kaur Anand, Saurabh Joshi & Sumit Kumar
Kitchen Appliances Market
The kitchen appliances market in India is estimated to be at INR 21,500 Crores in 2018
---
The kitchen appliances market in India is estimated at INR 21,500 Crores in 2018. The market is expected to grow at a CAGR of 12% for the next 5 years. Large Kitchen appliances contributes 45-50% of the total market and is fastest growing segment in the market.
Food preparation and small cooking appliances contribute to rest (45-50%) of the market and are expected to grow at a CAGR of 8% and 9% respectively. Socio-economic factors like increasing disposable income, rising nuclear families, changing role of women, evolution of kitchen as part of living room and emergence of new sub-segments in the market will drive the growth in the market.The market is largely concentrated in South & West of India with 60-65% of the market coming from these regions. East India has 12-15% of the kitchen appliance market largely due to limited appliance penetration and sales in low price segment, viz. mass and economy products.
With the advent of e-commence platforms like Amazon, Flipkart, Paytm and Snapdealin India, the online channel is evolving as the fastest growing channel for sales of kitchen appliances. This is largely driven by increasing internet & smartphone penetration, heavy discounting of products& availability of options to choose from. Top brands in the market have separate online sales & marketing strategy for their kitchen appliance sales.
Over last 3-5 years, the industry has seen the average retail price of kitchen appliances moving north. This movement has been largely due to replacement sales in mixer-grinder category.For example, 30-32% of the mixer-grinders sold in 2018 have been in the mid-to-premium and premium segments.
Market for high volume categories like Mixer-grinder, Juicer-Mixer-Grinder and Induction Cooktop (ICT)are highly fragmented and see offerings from across type of brands. High competition in the market has resulted in thin margins in these categories. To ensure sustainability and cater to a wider customer segment, brands are increasingly shiftingtheir focus towards lucrative product categories like chimneys, water purifier, cookware and specialty appliances – Air Fryer, Coffee maker etc.
Kitchen appliances are functional appliances, either electrical or mechanical that aid in or simplify the process of cooking or are intended to be used in the kitchen.
In recent time, Kitchen appliances havebecome indispensable in the kitchen for food preparation, cooking and processing of the food. Based on their usage in the kitchen, appliances are segmented into three segments:
Food preparation: Appliances that aid in food preparation – Mixing, Grinding, Chopping, Blending etc.
Small cooking appliances: Appliances that are used for cooking
food – toasting, grilling, heating etc
Large kitchen appliances: Appliances that are fixed or heavy
to move and used in the kitchen – water purifier, chimneys etc.


Overall, the kitchen appliances market in India is estimated at INR 21,500 Crore in 2018 of which 45-50% is contributed by large kitchen appliances. The market is expected to grow at a CAGR of ~12% largely driven by the high growth in the large kitchen appliances segment. The large kitchen appliance market is expected to witness a CAGR of ~15% for next 5 years whereas food preparation and cooking appliance market will grow at a CAGR of ~8% and ~9% respectively. Among the three segments, food preparation with 60-65%of its market contribution from mixer grinder is the highest penetrated category whereas large kitchen appliance with ~50% of its
market contribution from water purifier is the least penetrated segment in the market. Among all the kitchen appliances considered, water purifier is expected to witness the highest market growth of ~20% whereas microwave oven 5 and induction cooktop is expected to witness the least growth of 4-5% and 5% respectively in the market. South India contributes to nearly ~35% of total kitchen appliance market followed by west India. East India has the least penetration of Kitchen appliances with ~10-12% of the market. However, increasing disposable income,

growing awareness & increasing brand penetration will drive the growth of market. In this geography, high value products like food processor, air fryer etc. have negligible sales due to affordability issues which pose a challenge for growth in the region.
1.3 Major industry players
Kitchen appliances market in India sees appliance offerings from across a spectrum of brands – large multinationals
like Philips, Black+Decker, Morphy Richards etc.; national brands like Bajaj, Prestige, Maharaja etc.; large regional players like Preethi, Butterfly, Inalsa, and a plethora of local brands. Categories like Mixer-grinder, Juicer-Mixer-Grinder
and Wet grinder are specific to the Indian market due to their application in grinding and mixing in the Indian households. Among kitchen appliances, Mixer-Grinder the first category that sees adoption. This has almost made it mandatory for a brand to have mixer-grinder in its product portfolio to improve adoption and presence of the brand.
Market for highly penetrated categories like Mixer-grinder is highly fragmented and local brands contributes significant share of the market. However, factors like
increasing brand penetration, offerings across price segments and replacement of mixer grinders are expected to reduce the share of local brands in the Mixer-Grinder market. Early entrants in categories like hand blender and induction cooktops have captured a large share of the market and nearly control the retail price point across mass and economy segments.
High value appliance categories like food processor, air fryer and water purifier have offerings from a handful of national brands.
Some of the regional brands in the market have carved out niche for themselves and
are leading players in those segments. South India, being the largest market for kitchen appliances sees the presence of some of the largest regional brands like Preethi and Butterfly which have a significant share in the Mixer grinder and free-standing hobs respectively.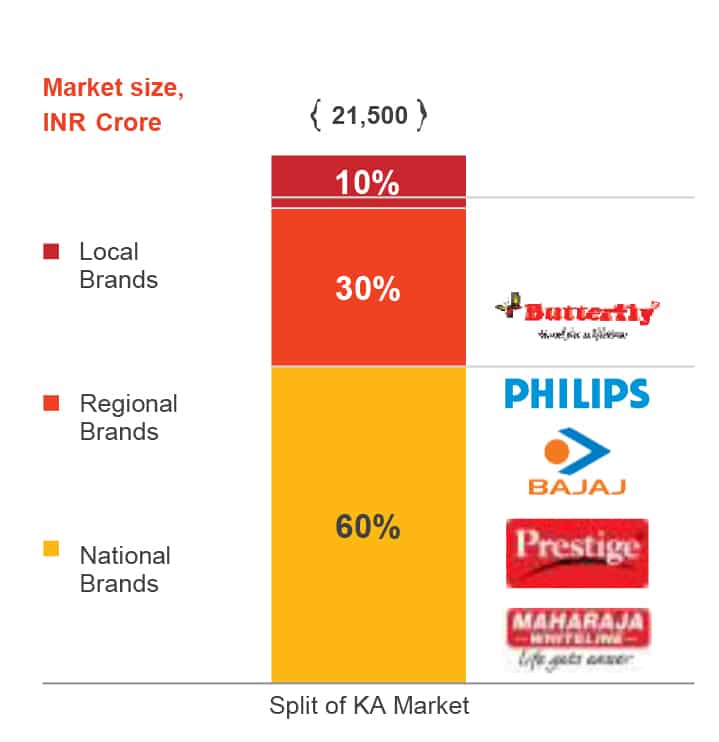 • Local brands also include labeling of chinese imports and sells in a limited area
In the Kitchen Appliance market, food preparation &cooking appliance which together account for ~50-55% of the overall market are expected to grow at CAGR of ~8% and~9% respectively. Food preparation consisting of appliances like mixer grinder, wet grinder, hand blender etc. is relatively more
penetrated than cooking appliances and large kitchen appliances with a majority of the food preparation market comes from mixer grinder. Given an already high penetration, this category is now expected to witness a relatively slow
growth as compared to the other two categories and will primarily be driven by replacements The increasing usage of kitchen appliances in India can be attributed to
various factors. While the rising number of households and urbanization have led to an increase in demand, technological maturity has allowed companies to reduce prices of various products increasing affordability.
Segment Growth (2018-2023)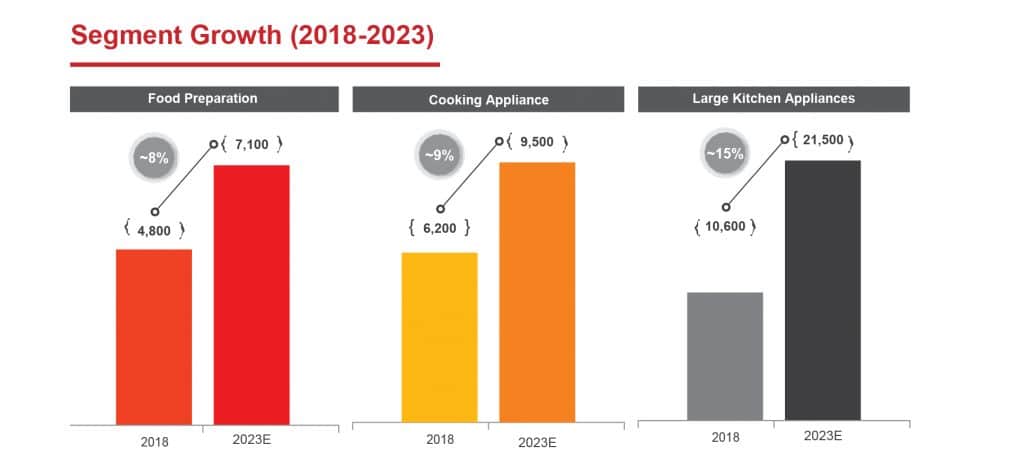 2.2 Demand drivers & trends
Within kitchen appliances space, the highest penetrated appliance is Mixer Grinder. The penetration of mixer grinder in urban households currently ranges between 35-45%. Within food preparation segment, rest of the appliances have a penetration of less than 10%.
Rising number of nuclear families have increased the number of households requiring kitchen appliances. This coupled with a ~12% Y-o-Y growth of Indian household expenditure owing to rising disposable income, has increased penetration of kitchen appliances. Rapid urbanization and an increasing number of women in the urban workforce, estimated at ~40 million in 2018 and growing at 6% per year, has led to lifestyle changes limiting the time available for cooking. Awareness of categories in kitchen appliance like Electric Chimney, Water Purifier, Griller, Soup Maker, Air Fryer etc. are catering to the changing lifestyle and driving the growth of this market.
An upcoming trend of having open kitchen in households has brought kitchen as part of the living room. This trend has been driving the sale of mid-to- premium and premium appliances that are aesthetically designed and are highly functional.
Technological maturity especially in categories like Mixer Grinder, Juicer- Mixer-Grinder has led to the entry of low price variant of products in the market which in turn have brought appliances in the affordability range of consumers. Added features and technological improvements in these appliances are driving the replacement sales. With an
increasing penetration of the online channel, there has been an increase in sales in Tier-II plus cities. Number of
customers shopping online from Tier-II cities have been observed to grow at a CAGR of ~40%. This growth in online shoppers will fuel growth of sales in kitchen appliances from Tier-II cities.

In the food preparation and cooking appliances market,
south India contributes 35-30%. This market is expected to grow at a CAGR of 8-9%. North Indian market is expected to grow at a relatively faster than other regions.
Higher appliances penetration, lower replacement cycle for mixer-grinder (1.5- 2 years) and upgradation to mid- segment and premium segment will
drive the market in South India. West India market is expected to witness ~8% Y-o-Y growth driven by higher
adoption of Food processors and Hand Blenders due to improving lifestyle choices. Rice cookers and Juicer mixer
grinder have ~35% of market from North India. These categories are expected to grow faster than other categories in the
region as they have a high adoption due to their extensive usage in Punjab, J&K and other north Indian states. Toasters as a category has also shown excessive growth in the region and have high adoption in North India (~40% of overall toaster market). Increasing awareness and increasing brand penetration in East India will drive the growth in mass and economy price segment. Local brands dominate the market in this region. Penetration of high
value products like food processor, Air fryers etc. in east India is negligible due to low affordability index posing a growth challenge in the region.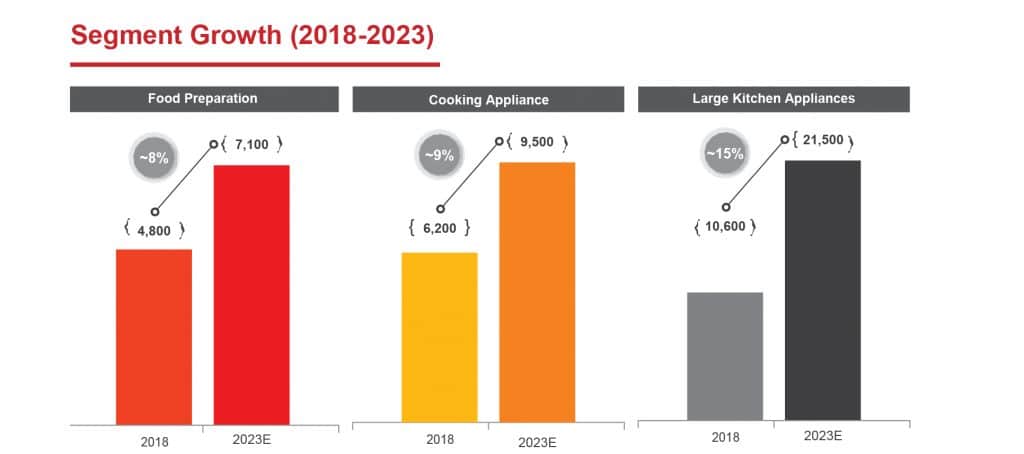 • The market split is for food preparation and cooking appliances category
• Omni-channel, teleshopping and door-to-door sales channels are evolving in the market with very low share from them

Among the sales channel for Kitchen appliances, Modern trade and online channels are evolving as the fastest growing channels for sales with their expected CAGR of ~17.5% and ~37% respectively for next 5 years. In the last 2-3 years, there have been many developments in the market where the new-age channel – E-commerce has disrupted in the way brands reached to consumers of kitchen appliances. These online platforms have brought the brands closer to the consumers by fulfilment to Tier-II plus cities in India where brands were not present earlier. With discounts/ offers, options to choose from, product reviews and easy fulfilment, E-commerce have evolved as the fastest growing sales channel for sales of kitchen appliances in India.
Out of total 90 million online shoppers in India, ~40% shoppers are from Tier- II plus cities and are expected to grow at a CAGR of ~40% till 2023. Increasing smartphone and internet penetration in Tier-II plus cities have fueled the growth
of sales from online platforms.
Hospitality industry along with sales to CSDs and corporate giftings, would continue to drive the growth of institutional sales. However, the growth rate would be less than 5%.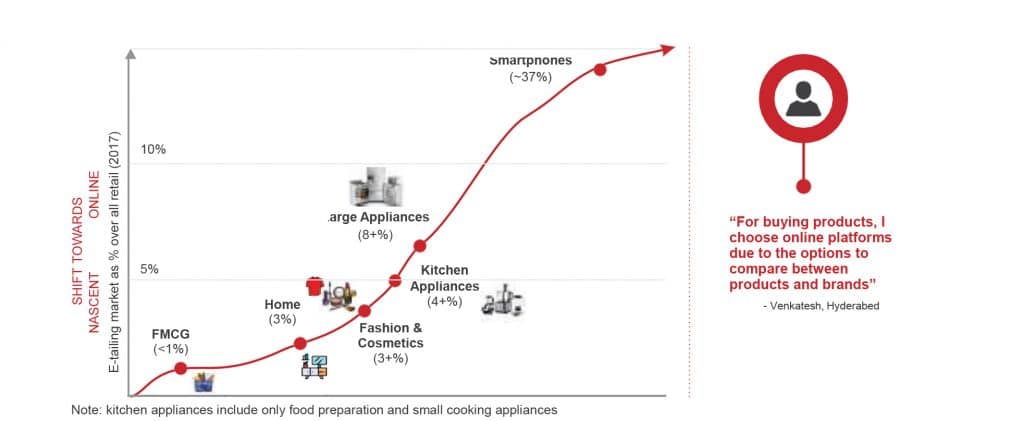 With the advent of new age channels like online and modern trade, traditional sales growth will continue to be restricted below 5%. Brands are vying for a larger share from marketplaces and modern trade to stay ahead of the growth curve. It has been observed that consumers tend to check the prices online before purchasing from retail outlet which forces retailers to give higher discounts & cut on their margins. Consumers preference for discount, high rated product, options to choose from and home delivery shall drive the growth of online channel and restrict the growth of the traditional trade.
'Kitchen appliances brands' dependence on traditional trade is growth limiting, how can they leverage the growth of sales from new-age channels?'
Focused Appliance Categories
From the growth perspective, we classified kitchen appliances into three categories – Growth driving opportunities – Mixer-grinder, food processors, water purifiers, juicer-mixer-grinder etc.; Growth maintaining opportunities –
OTG, Hand Blenders, Built-in hobs etc.; and Innovative categories (Air Fryer,blender, etc.).
Mixer grinder, as a category, accounts for ~60% of the food preparation market and is highly fragmented. The market is dominated by mass & economy segment with premium segment growing at higher rate as this category is highly penetrated, replacement consumers tend to upgrade it with better features and quality.
Juicer Mixer Grinder has limited urban penetration of less than 8%, first time buyers account for majority of the market. This appliance category is often used for gifting purpose, driving higher share of market from Mass & Economy segment.
Wet grinder as a category is limited only to south Indian market due to heavy grinding requirement in the households in the region. Recent shifting trend in consumer behavior from a local brand to branded wet grinder will drive the growth
of its market by more than 10% for next 5 years. Food Processors account for ~12% of the food preparation market with expected growth rate of ~8%, its moderate growth rate is accounted to its limited awareness among customers.
With high penetration, Freestanding hobs account for ~75% of the cooking appliance market. This product category is expected to grow at a CAGR of 9% largely supported by increasing government initiative to provide access  to clean gas in households in rural area. Introduction of glass top hobs by leading brands is expected to drive higher growth in the premium price segment.
Toaster & Sandwich makers which accounts for ~3% of cooking appliances market is expected to witness a slower
growth of ~6% owing to limited usage, innovation and higher competition from local brands.
RO based Water Purifier is among the fast-growing categories of kitchen appliances. Rising awareness of water contamination, innovation & shift in preference of consumer from gravity-based purifier to RO/UV increasing the average selling price, will further help the water purifier market to grow at a CAGR of ~20% for next 5 years.

Though relatively large, the microwave market is expected to slow down from its current growth of 8% to 4% till 2023 largely due to the usage of the appliance limited to reheating food.
'Product replacement will fuel the growth of Mixer Grinder in premium segment'
Segment Growth (2018-2023)

Trend Setting Innovations
There have been several innovations in kitchen appliances market in recent years. Post the introduction of Air Fryer in 2012 the competition intensity in this
category has increased rapidly, reducing the Average Selling Price.
Inspired by 'Nutri Bullet', Wonderchef launched 'Nutri blender' in the Smoothie Mixer category which is at a nascent stage but growing rapidly. With limited competition & high growth opportunity, this product category is meeting the grinding usage requirement for non-South regions in India. The product has seen a rising popularity owing to ease of cleaning options and aesthetically appealing and compact design.
With the growing influence of the western culture and growing variety of coffee beans, Spice and Coffee grinder market, although at a very nascent stage is seeing rising adoption among Indian
consumers mostly in the south of India. 
Vegetable cleaning appliances which were earlier used for commercial purposes have seen adoption in households in recent years although the market growth is restricted due to higher selling price of the product and a currently high preference to use traditional cleaning methods.

Challenges for Incumbents
Each industry faces challenges in their journey to success. With low penetration across appliance categories in India, kitchen appliances have potential for
growth and offer immense opportunity for the brands to grow in the market. Owing to a fragmented market, higher
distribution cost and low gross margins across core appliance categories, brand faces challenges to ensure their sustainability. 
Few brands have even entered the market with their own point of sale to ensure enhanced customer experience and reduce their channel cost. A lower channel cost has direct impact on the gross margin of a brand. Alternatively, brands are focusing on their channel strategy – omni-channel presence, exclusivity with an online platform. High
market fragmentation has diluted the market with appliance offerings across price segments. This has limited the lucrativeness of the category.
Brands are vying for a higher share of the market and in doing so, highly competitive rates are prevailing wherein brands are cutting on their gross margin. Market for categories like Mixer-Grinder,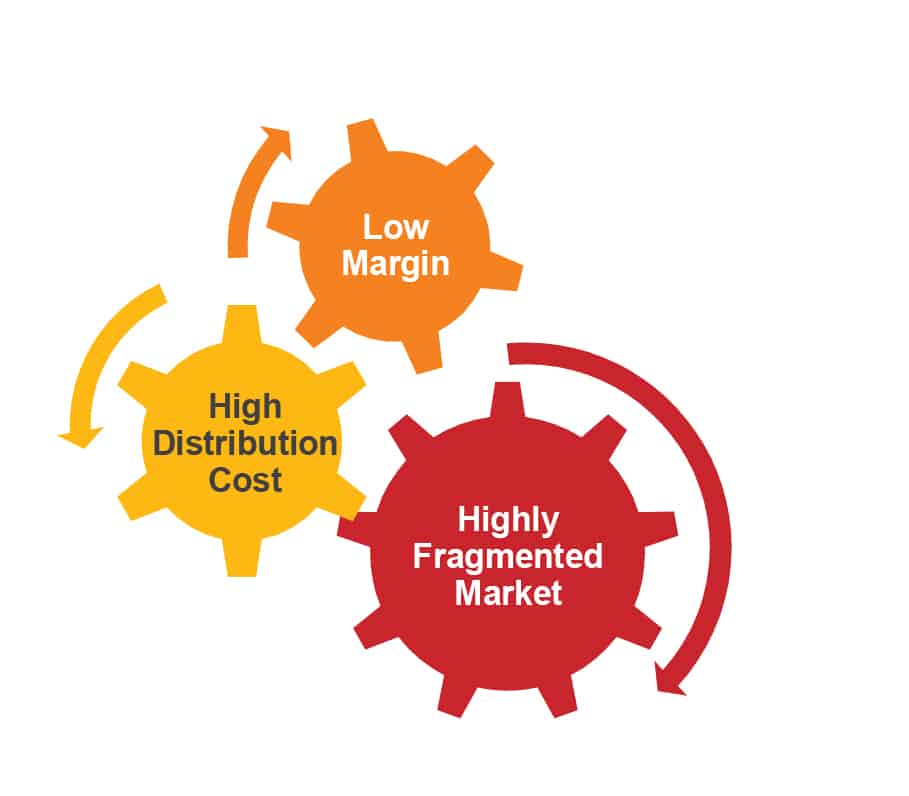 Juicer-Mixer-Grinder and
Induction Cooktop is observed to be so competition intensive and fragmented that the brands are able to make a thin gross margin of 15-20% respectively from these categories. Brands operating
in premium segments can drive a gross margin of 5-10% higher than the brands present in mass and economy segment. Having low margin categories in the portfolio puts pressure on the net margin for the brand. In order to sustain in the market, brands have to be present in categories with aspirational value and high margin categories. In recent years, brands which focus largely on core categories like mixer grinder, juicer mixer grinder and
1 Core appliance groups includes Mixer grinder, juicer mixer grinder,
induction cooktop, hand blender etc.

induction cooktop have introduced cross categories like cookware, large kitchen appliances to provide a comprehensive kitchen appliance solution. These cross categories operate at relatively higher margin and having them in their portfolio, brands are able to increase their overall gross margin.
...fragmented market, higher distribution cost and low gross margin ave identified are major growth inhibitors for brands...
Way Forward in Kitchen Appliances Market
Mixer-grinder is among the first kitchen appliance consumer uses. It is considered mandatory for a brand to have mixer- grinder in its appliances' portfolio. Mixer grinder (and other core
appliances in the kitchen) market is highly fragmented and low margin categories.
With presence of large number of players in core categories, their market has become 'Red Ocean'. Brands in the market have inclined themselves towards extending their product portfolio to adjacent
categories in kitchen appliances which are either high margin product or having higher life time value of the product. 
To sustainably grow, both in top-line and bottom line, brands require an out-of-box thinking to survive the red ocean market. This could be achieved in any of the following four ways:
Key Actionable - Kitchen Appliance Market

Large kitchen appliance category is growing at an increasing pace. With rapid adoption of water purifier and electric chimneys, this market offers better opportunity in the market. Categories like water purifier offer additional revenue from after sales service. These categories
are high gross margin categories (~25-  35%) and having them in the portfolio
supported by effective marketing activities will drive the bottom line growth of a brand
Few of the kitchen appliance brands (Bajaj, TTK Prestige etc.) have forayed into cookware, gas stoves, pressure cooker categories. 
 These categories have significant market and there is a shifting trend from local to branded sales. These categories also have relatively high margin as compared to core kitchen appliance categories.
Introducing products into these categories will not only have a positive impact on the net profit but also increase the customer base for the brand. Once the players in the market have identified
the actionable for growth in the market, they can have several strategies for growth – organic and inorganic growth.
Key Actionable - Kitchen Appliance Market
Introducing products into these categories will not only have a positive impact on the net profit but also increase the customer base for the brand. Once the players in the market have identified
the actionable for growth in the market, they can have several strategies for growth – organic and inorganic growth.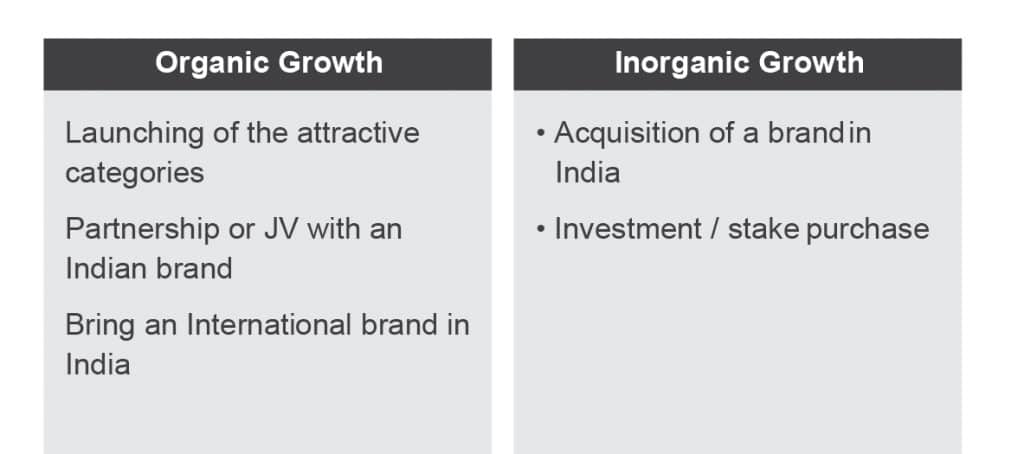 6. 2 Categories for Next Wave of Growth
On considering key growth factors like market size, average gross margin, growth rate, competition and a comprehensive analysis using our proprietary Integrated Research Approach (IRATM) on the key category  in kitchen appliances highlights that water purifier (RO based), Electric chimneys and free – standing hobs are attractive categories in the market
Growth is being driven by innovative products in each category of kitchen appliance. Large kitchen appliances are seeing a great traction with products like water purifier and electric chimney seeing high growth. The water purifier market is expected to grow at a CAGR of ~20% as the consumer preference is shifting towards RO/UV based purifier from
gravity-based water purifier which in turn increases the 'Average Selling Price'. Increasing advertisement by players coupled with increasing competition clutter in turn improving options for consumers.
With rapid urbanization, shrinking ventilation space in kitchens and rising demand for modular kitchen, the electric chimney market is expected to grow at a CAGR of ~15% till 2020. Increasing
tie-ups between company/company distributor & interior designers are also pushing growth.
Market Growth Opportunities
Top Kitchen Appliance Categories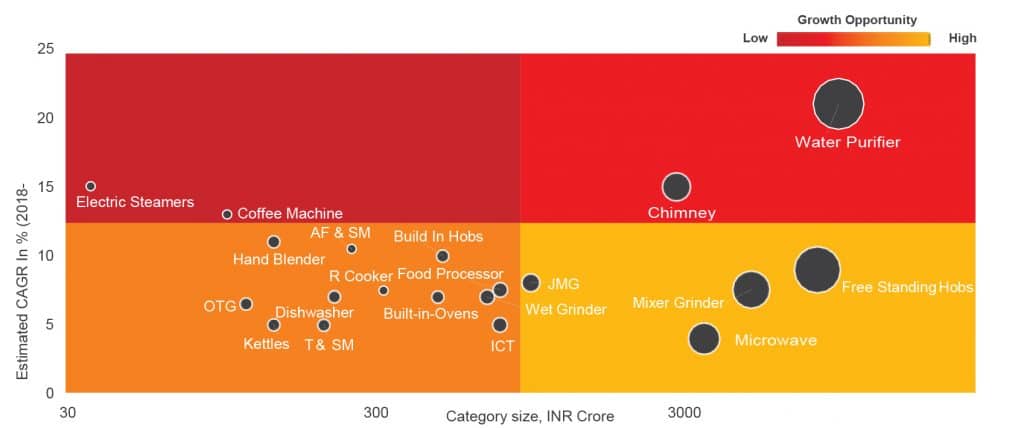 For RedSeer Offerings please write to us at query@redseerconsulting.com
INSIGHTS
Talk To Our Expert