Oct, 2019
| By Sandeep Ganediwalla, Anuj Kumar, Anand Vardhan Verma, Tanmay Parasramka and Chirag Jain
Retail Technology – The Next Frontier
Middle East is a cluster of regions: GCC, Levant and North Africa. This region is bound by a common language but is different demographically and economically
---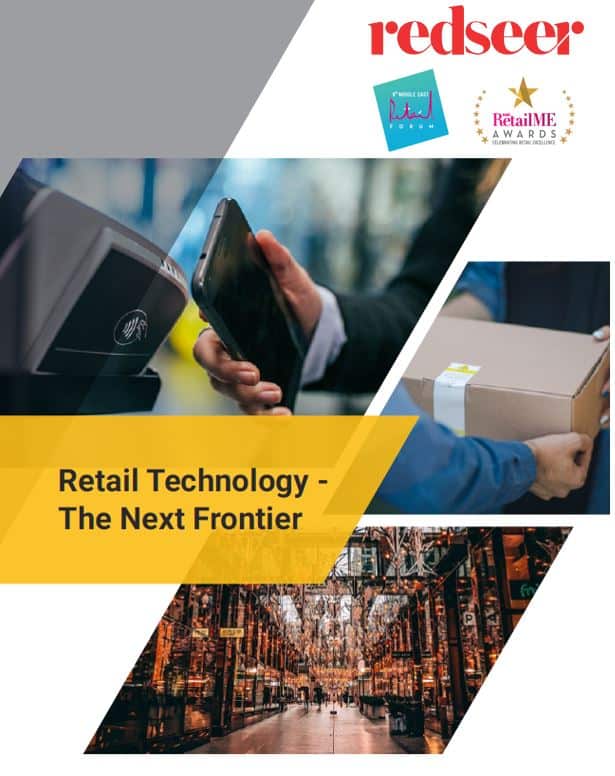 MENA: A Macroeconomic Overview
Middle East is a cluster of regions: GCC, Levant and North Africa. This region is bound by a common language but is different demographically and economically. For example,
UAE is driven by expats while other Middle East countries are majority locals.
GCC's economy is oil-driven with a per capita of USD 55K+ while Levant and North Africa
are more consumer driven economies with North Africa having highly young population.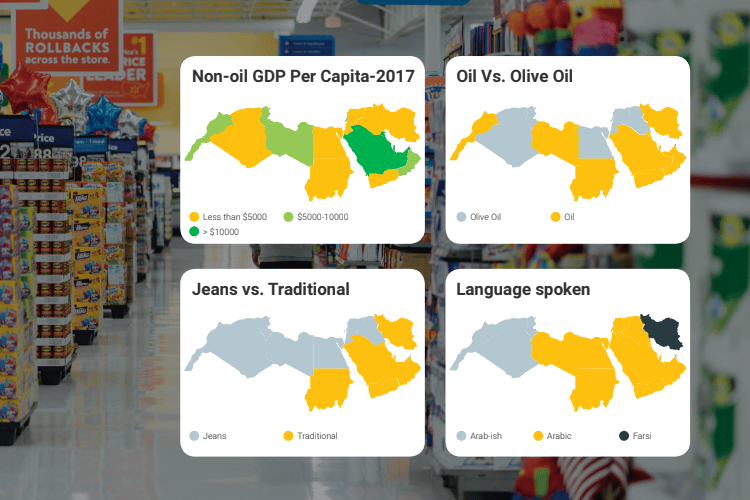 GCC is a key region within MENA. The region in spite of just 1/5th share of region population represents 50%+ retail share and 80%+ technology share of MENA. GCC countries have heavily depended on expat population to drive the economy in past. The current share of expat population is ~50%.1
However, the governments are trying to promote the local population to be a part of their majority workforce to reduce the unemployment rate and increase the purchasing power parity. This can lead to increased monetary supply in the economy in reduction in foreign repatriations.
GCC region, inspite of just 1/5th share of MENA population, represents 50%+ retail share and 80%+ technology share
The region, and its two biggest economies – the Kingdom of Saudi Arabia (KSA) and the United Arab Emirates (UAE) – in particular, also have high internet and smartphone penetration levels. Across the GCC, internet penetration has tripled in the past eight years to 60% (in 2019). Around 95% of individuals in the UAE use mobile phones.2 This population is digitally savvy and consumes thrice the amount of video content compared to the USA. Residents of this region spend on average about 3 hours daily on various social media platforms.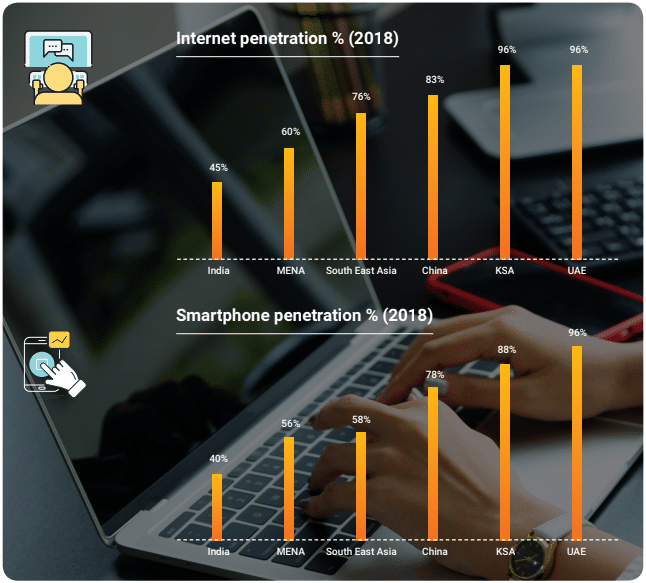 MENA countries' economies are heavily oil dependent. To hedge against the risk of oil dependency, the region has seen diversification to various other industries, especially retail. This increase has ensured a greater household consumption providing an opportunistic platform for sectors like retail and e-tailing.
Specifically, KSA has announced multiple reform programs like Saudization, Guardian Laws, and Saudi Vision 2030 in a bid to position itself as a liberal and open economy.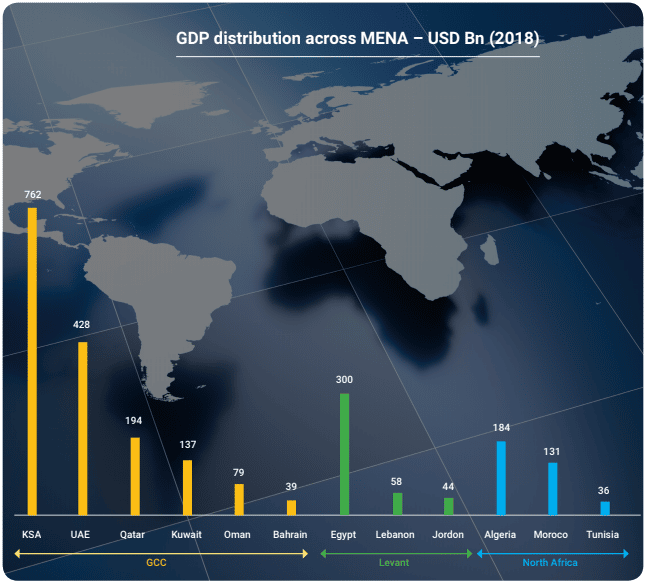 Meanwhile, in the UAE, new regulations and investment policies are driving the consumption story and pushing e-commerce growth. At the same time, the government is investing heavily in retail, infrastructure, and tourism to boost employment as well as per capita income of local players.
Consumption spending as a % of GDP vs. GDP per capita, 2017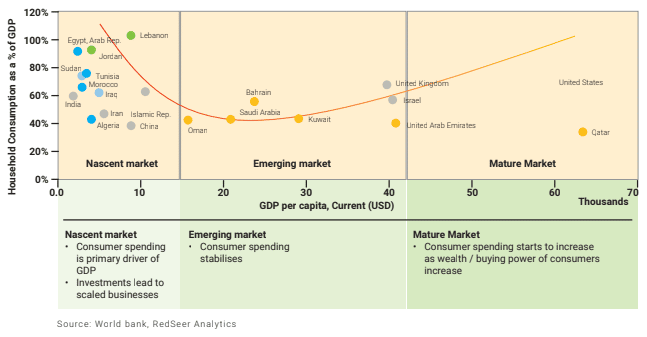 MENA's retail sector is valued at ~USD 400 billion, of which two biggest economies – UAE and KSA together, takeaway ~50% share. In UAE and KSA alone, the respective retail sectors are valued at USD 65 billion and USD 135 billion.
Retail as a percentage of the region's GDP usually varies between 15% and 20%.4
Penetration of organized the retail sector is fairly high when compared to other economies in the world like Indonesia and India. This, combined with government-backed technological advancements, translates into a huge growth potential for the MENA markets in the coming years..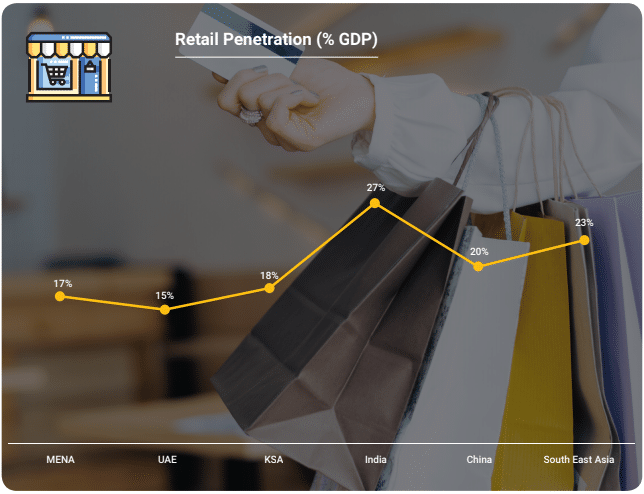 The MENA e-tailing market is valued at USD 8 billion (2019 run rate). In MENA, although the internet penetration is close to 90%, the e-tailing penetration is only about ~2%. However, this gap is expected to reduce.5
Slow and expensive deliveries due to complex supply chains.
Lack of trust in online channels and product quality available online by customer.
Low preference for online payments.
Lack of availability of products on online platforms.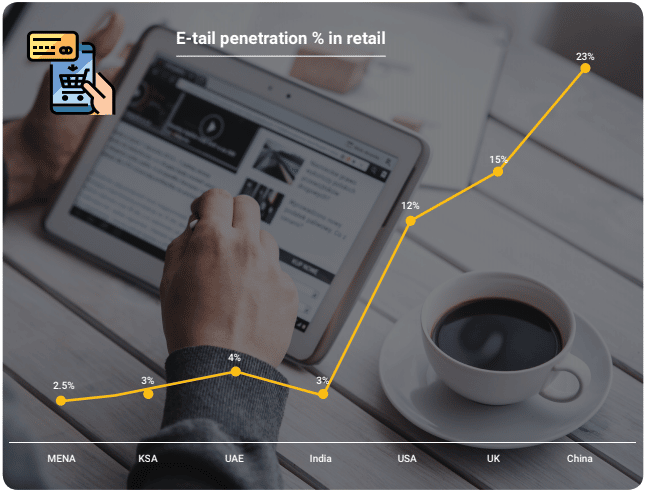 Dissecting retail and e-tailing in MENA
Looking at the four key components of the retail sector, viz. Fashion, Electronics, Grocery and home, we can discern the following trends.6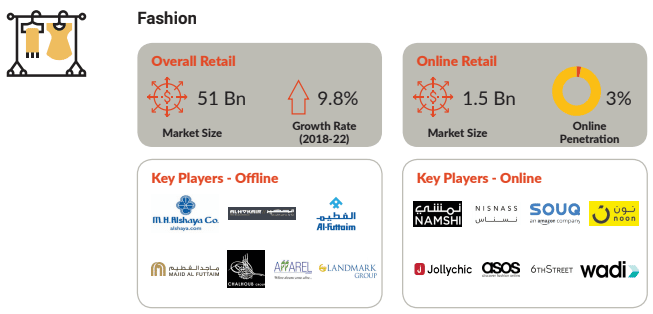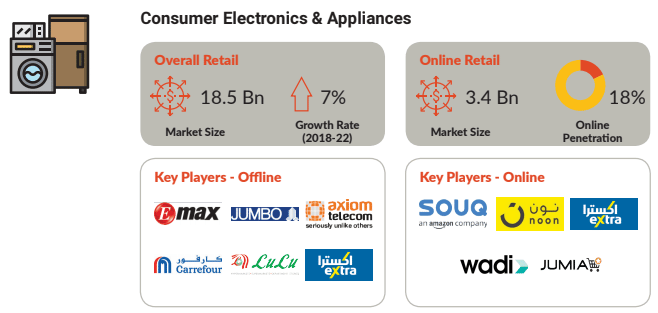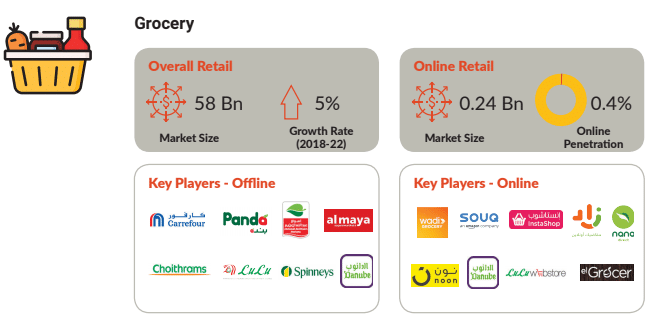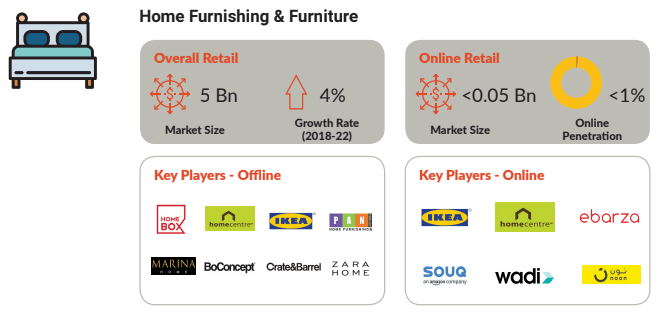 Understanding the current retail scenario and the role of innovations
Changing population dynamics, increasing cost of living, government supporting entrepreneurship and acceptance to ecommerce key trends impacting customer sentiments in the region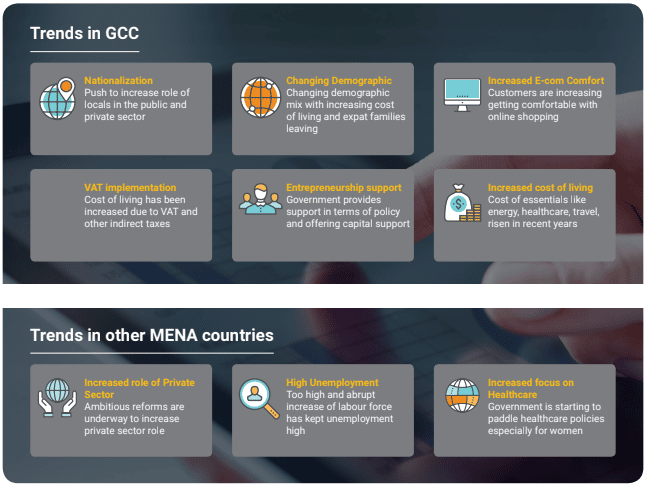 The changing consumer trends are impacting the retail sector more dynamic than ever, consumers are looking out for innovation and not shying away from new concepts.
Retail is evolving towards a symbiotic integration between online & offline channels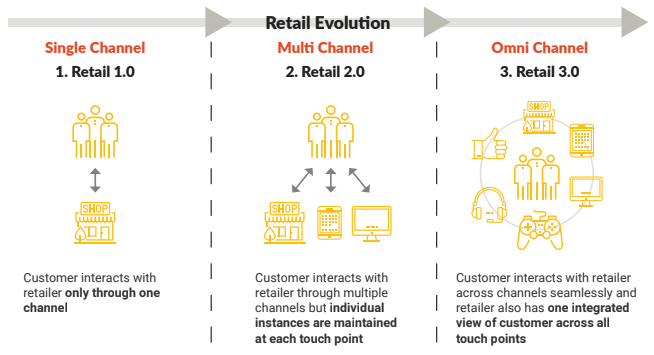 When asked consumers in UAE, KSA and Egypt it was found that ~55% of the customers are accepting omnichannel for shopping7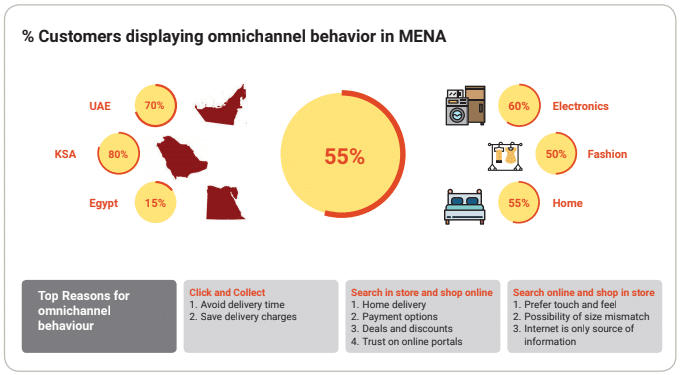 Note:
Based on research conducted on customers shopping online in UAE, KSA and Egypt
However there exist unaddressed pain-points for all stakeholders.
Ever-evolving business models translate into challenges for retailers at both the operational end as well as the customer-facing end. On the operational end, retailers have to deal with inefficiencies in warehousing and inventory management; ineffectiveness of store operations and layout, and the complexities of last-mile delivery. At the customer-facing end, retailers' pain points include cart abandonment, low switching cost, increasing demand for convenience, etc.
On the other hand, customers' pain points are far more experiential in nature as they seek convenience. Experientially, customers are striving for a more enhanced shopping experience and are on the lookout for improvements in such aspects as product trials, personalized offers, etc. At the same time, they also seek far more convenience in aspects like reduced shopping time, ease of payment and credit, getting same-day deliveries, etc.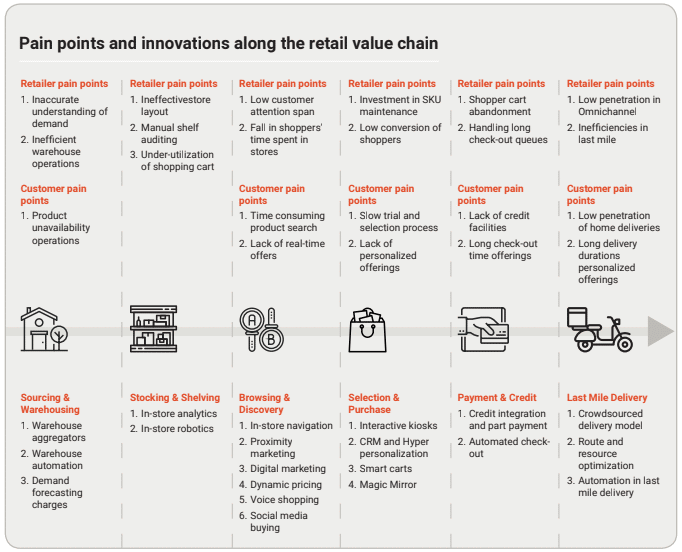 The growth in the omnichannel retail model is blurring the
borders between traditional and online channels. As such,
technological innovations which will not only mitigate the
pain points of both customers and retailers but also make the
customer's buying journey far more fluid and effortless.
Global Trends and Innovations in the Retail Sector
At the global level, the retail sector continues to see innovations along the full spectrum of operations, from warehousing to payment systems. In this section, we look at five aspects of the retail sector, viz. Warehousing, Stocking & Shelving, Browsing and Discovery, Selection & Purchase, and Payments, and how each is impacted by current trends and innovations.
Warehousing is the backbone of the retail value chain and it is critical to ensure that bottlenecks don't appear right at the start of the channel. Warehousing and logistics are becoming even more important as retailers start providing omnichannel solutions. It is no surprise that a recent survey among retail leaders found that more than 85% of them8 were keen on improving warehousing and supply chain operations.
In India, reports indicate that the warehouse lending market has grown rapidly with e-commerce firms, which make up less than 5% of the total retail market, contributing as much as 25% of the total warehouse demand.9 Warehouse aggregation, warehouse automation and demand forecasting are some of the innovations taking place in this domain which can help retailers/distributors optimize their warehousing operations.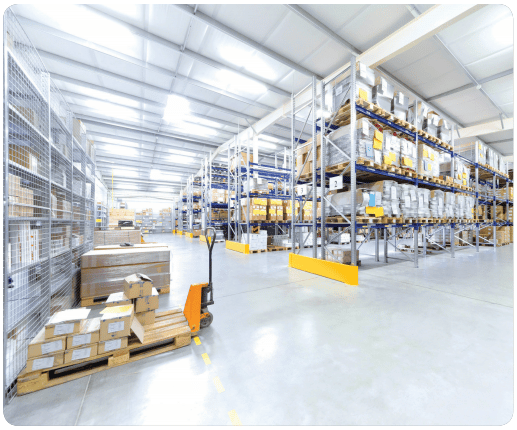 The typical aggregator model pioneered by the likes of Airbnb and Uber has made its appearance in warehousing as well.
This model makes warehousing location agnostic and provides an online platform which lists warehouses at multiple locations. Retailers and distributors can choose a conveniently located warehouse from this list to store his inventory depending upon their requirements.
Traditionally, warehousing expansion was often stymied by the high capital investment required. Shipping from a centrally located warehouse to multiple retail locations also meant a high logistics cost, not to mention delivery time. This constrained the geographic reach of retailers and limited them to areas within which they could cater without adversely affecting profit margins. Now, by adopting the warehouse aggregation model, retailers and distributors can get closer to their customers by finding a nearer warehouse while keeping logistics costs and delivery time low.
The Seattle-based company Flexe is among the first warehouse aggregators. Flexe's model involves helping warehouse operators capitalize on re-purposing unused warehouse space for use by retailers/distributors looking to expand without significant capital expenditure. The company also helps locate warehouses strategically in order to reduce costs.
Lull, a major mattress manufacturer, uses Flexe for its warehousing expansions as well as inventory analytics, which has helped reduce delivery costs by 30% and delivery time by almost 50%.10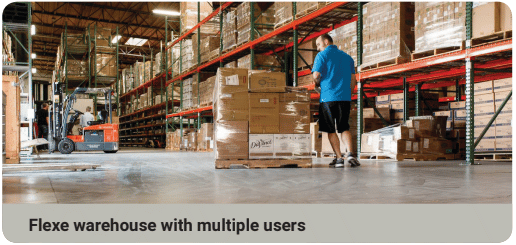 Warehouse aggregation in India: The case of BoxMySpace
Mumbai-based BoxMySpace is one of the biggest on-demand warehousing providers in India, offering over half a million square feet of warehouse space. Its facilities include multi-user shared warehouse spaces and are located in metros as well as Tier 2 and Tier 3 cities. Additionally, BoxMySpace also provides support services such as WMS support, reverse logistics support, etc. It is both asset-heavy and asset-light depending on the regional availability of warehouses.
In places like India, on-demand warehousing is largely used in the following contexts:
Entering or expanding reach into new regions
For non-core business warehousing
Supporting ad hoc requirements such as during the festive seasons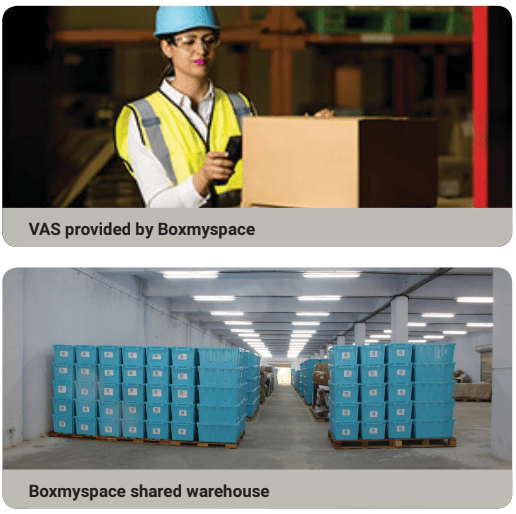 Labor costs can make up as much as 65% of total11 warehousing costs. With omnichannel retailing kicking in, warehousing operations have become more complex and cannot be handled by manual labor alone. Automation in warehousing is thus on the verge of becoming a norm, especially in retail, and aids retailers and distributors by increasing speed of operations within the warehouse; improving efficiency and lowering labor costs; and optimizing available space within the warehouse.
Automation in warehousing is thus on the verge of becoming a norm, especially in retail, and aids retailers and distributors by increasing speed of operations within the warehouse
Nitori Holdings Group, Japan's largest furniture and home furnishing retail chain with more than 400 stores across Japan, has employed GreyOrange's goods-to-person robot Butler, for automation in its 34 warehouse-cum-distribution centres. This has led to an increase in order fulfilment speed and optimization of space for managing higher SKUs.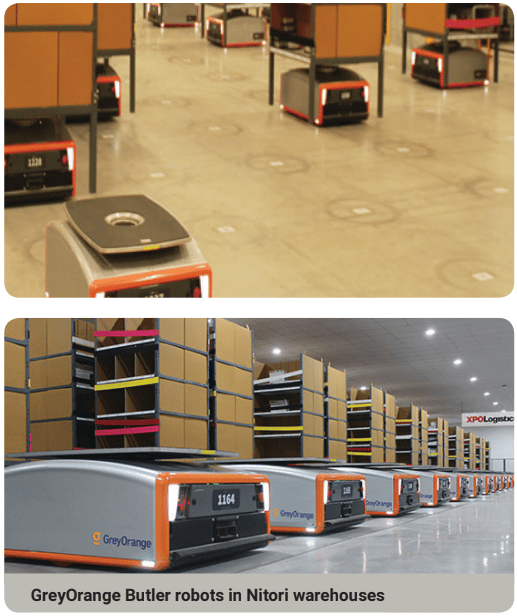 Mai Dubai is a Dubai-based mineral water producer whose two warehouses are automated by robots which stack finished goods and raw materials. At the same time, the production plant is connected to the finished goods warehouse by a 1-kilometre monorail which further facilitates the automation. The two fully automated warehouses have resulted in doubled production due to a threefold increase in storage capacity.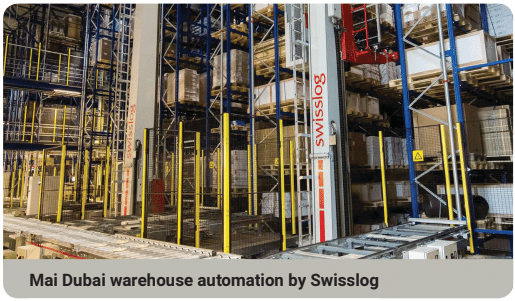 Even as retailers worldwide lose close to USD 1.5 trillion12 annually due to inaccurate inventory management, product availability is becoming a vital criterion for consumers while choosing retail stores. Some surveys rate product availability as the second most important criterion after product price. Demand forecasting is therefore vital to retailers for the following reasons:
Optimizing the supply chain management system
Planning the production and procurement lifecycle
Lowering the chances of dead-stock or over-stocking
Traditionally, demand forecasting involved using statistical tools processing historical data, which resulted in wide scope for error. Using Artificial Intelligence (AI) and Machine Learning (ML), allows integrating real-time market variables with historical data analysis. Experts suggest that ML technologies can improve the accuracy of demand forecasts by up to 7% as long13 as there are algorithms available to account for the changes in data.
Increff, an Indian retail analytics firm, goes a step further and uses forecasting and analytics to provide specifically for retail merchandise planning via its IRIS platform. The platform helps predicting demand for every SKU type and variant on the by computing 20+ attributes. It then suggests on aspects like optimum SKU width and depth, size-sets, etc. It then helps in creating a purchase plan and the right store allocation based on existing inventory.
Retailer which has pioneered the use of AI based demand forecasting – Norway's largest online grocery retailer – Kolonial
Sephora Middle East, one of the largest retailers of personal care and beauty products, recently revamped its demand forecasting methods using automated forecast and demand planning tools that utilize multiple algorithms to ensure the availability of every SKU at every store and distribution center. With the help of this technology integration, 95% of the products are available on the shelf and there is a 25% reduction in supply chain costs.14
In contrast to the age-old concept of the rationally economic man, today we know that cognitive biases play a major role in every shopper's purchase behaviour and retailers have no choice but to work to overcome these biases.
For instance, it is critical to optimize the placements of shelves and stocks in order to gain maximum traction as this helps increase the time spent by shoppers inside the store and enhances their overall shopping experience.
Given that retailers lose around USD 600 billion15 as a result of inconsistencies in shelving, lack of shelf auditing is as good as a hidden bottleneck in many retail stores. To overcome these inconsistencies, retailers are deploying robots for accurate and effective auditing of shelves, within a fraction of the time and effort taken by humans.
By using the simple concept of 'following the footprints', retailers have begun using in-store analytics as a way of analysing the floor level customer data such as the flow of customers based on time, their movement patterns across the store, etc. and using those insights to better the pricing of products as well as the store's layout and thus maximize revenue. This enhances the shopper's experience by helping them find their desired products with ease and thus reduce their shopping effort.
Brands like 100% Pure use RetailNext's in-store analytics to analyze the directional flow of customers, peak traffic times, unique traffic, visiting frequency, etc. RetailNext uses the Internet-of-Things (IoT)-based camera device Aurora for this purpose. Thanks to this technology, retailers have registered a 16% growth in average transaction value and a 25% increase in consumer acquisition .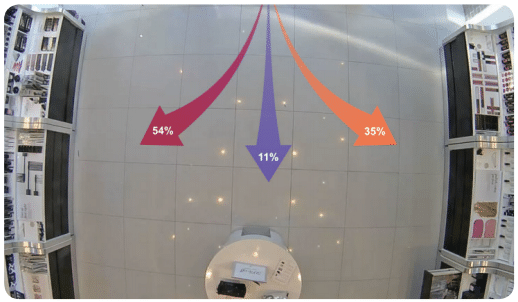 In-store robots perform such operational tasks as shelf-audits (stock tracking, identifying glitches in labeling, etc.). Their impact has been visible in terms of reducing man-hours spent on auditing and improving shop floor efficiency and accuracy. As a result, human resources can be put to better use such as improving customer interaction and experience.
Of late, however, robots have also been deployed for customer-facing tasks such as guiding them to the desired products and procuring the products for the consumers.
This technology is expected to evolve further as robots become IoT-enabled. Going forward, they are expected to communicate with robots in other stores and warehouses and also provide real-time analytics to retailers.
The retail giant Walmart now uses robots in more than 350 of its stores. These robots provide shelf-auditing services, with a major focus on filling empty shelf spaces. It saves Walmart the manpower involved in scanning the hundreds of shelves that make up a single Walmart store.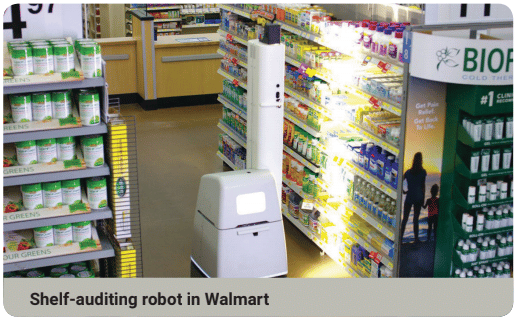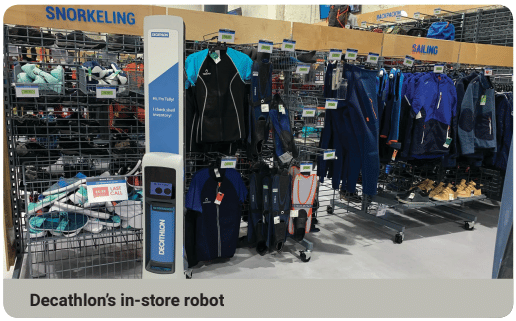 American Rag, the new clothing and apparel brand from AWR Lifestyle has already installed a humanoid robot called Pepper in their stores to help shoppers. The robot knows every product in the store, is able to make recommendations to and take orders from shoppers.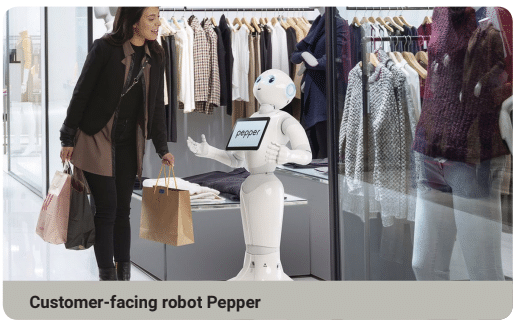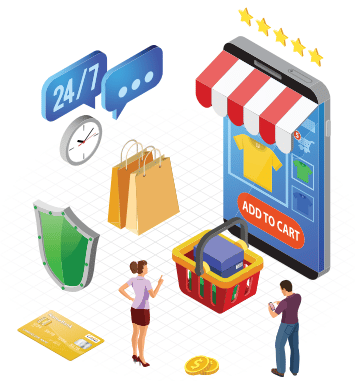 C. Browsing and Discovery
Apart from being the king or queen, customers are also toddlers, which necessitates that the retailer has to go to them and, if necessary, not shy away from pampering them. Product discovery is the make or break point for the retailer in customer acquisition. Retailers therefore invest exorbitant amounts of money, thought, and effort in making this experience easy and fun for the customer.
Moreover, from the customers' point of view, this experience is often the differentiation between one retailer and another, and forms the bedrock of their loyalty towards the retailer. Technology has swept into this phase of the retail value chain with such innovations as dynamic pricing, digital and proximity marketing, voice shopping, social media shopping, etc. which benefit all the parties involved.
Some hypermarkets can easily turn into a maze for customers. A calm voice which guides the customer in taking turns to arrive at the right product location can make a huge difference. In-store navigation involves using digital planograms in creating personalized routes for the consumers based on their shopping list.
This technology enhances the shopping experience by reducing in-store time by as much as 50% as finding the right shelves becomes much easier.
At the same time, it helps retailers understand customers' movement patterns inside the store and devise in-store promotions and deals to target consumers via proximity marketing. In-store mapping is being used effectively in the FMCG and Grocery categories by big retail chains like Price Chopper, Schnucks, and WinCo in the USA.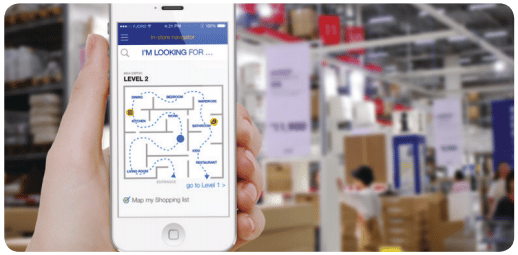 Aisle 411, an American technology firm, is one of the first in-store mapping players. It digitizes the planogram of the store and creates a consumer interface enabling in-store mapping and navigation. It also uses augmented reality (AR) to deliver promotional content to the customers.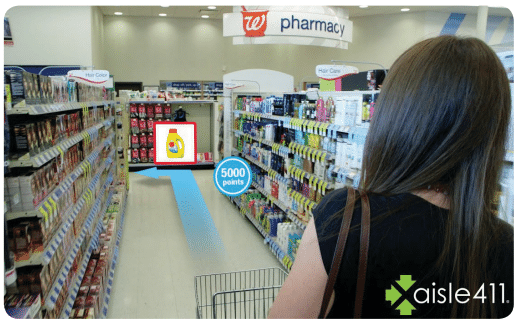 After employing Aisle 411's in-store navigation feature, pharmacy giant Walgreens has seen an average 34% increase in per-consumer ticket size. Popular children's store chain Toys "R" Us estimated a 5-10% increase in revenue after using in-store mapping.17
In the MENA Region, Dubai based retail chain Aswaaq, which owns 21 stores across the GCC, uses indoor mapping and navigation for product location along with sending real-time promotional offers to the shoppers..
Beacon-led proximity marketing has already influenced sales of over USD 50 billion in18 US alone in the past 3-4 years. It bridges the gap between pull and push marketing. The shoppers are sent real-time offers and promotions based on their location within the store. The retail industry has already adopted the concept and the technological aspects of proximity marketing. It is estimated that, as of 2019, close to 4 million beacons19 have already been installed in retail stores across the globe to support proximity marketing.
They aid retailers by reducing promotional spends by targeting the messages in real-time which results in better marketing ROI; and by increasing the conversion rates on promotion by manifolds.
Proximity marketing as a concept can revolutionize most of the fast-moving categories in retail from FMCG to fashion and beauty products. Going forward, proximity marketing will see integration with the CRM database and will act as a catalyst in hyper-personalization and increase conversion rates.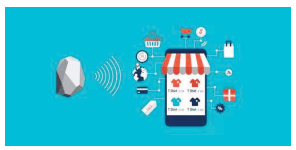 Carrefour, one of the largest hypermarket chains in the world, with its MENA stores owned by Majid Al Futtaim, uses beacon-based proximity marketing to engage with its customers via their app. The number of app users increased by approximately 600% within20 a few months of rolling out the technology.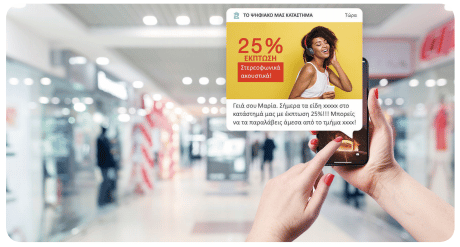 With increasing smartphone penetration across the globe and concomitant increase in time spent on social media platforms on a daily basis, digital/online and social media marketing has become the most sought-after – and effective – forms of communication and sales
conversion.
In social media marketing, businesses are using other popular media such as Instagram, Snapchat, etc., and engaging in new forms of communication such as influencer marketing.
These activities enhance the shopper's experience by increasing the personalized offers based on active and passive online search. At the same time, they aid the retailers by ensuring effective marketing spend driven by extreme targeting.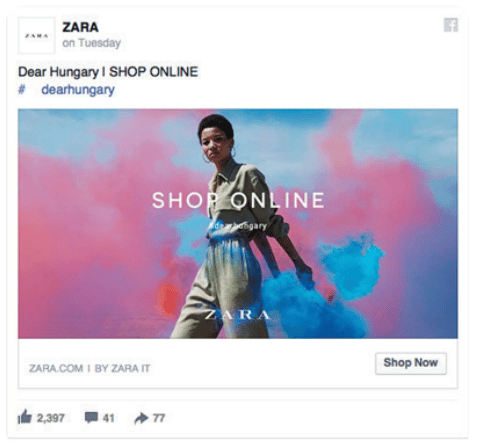 Price elasticity, one of the biggest challenges facing a retailer, is becoming a thing of the past as retailers are getting access to consumer data as well as other market-related data. Using algorithms, the retailers can price the products in real-time/ dynamically as per demand and supply.
This enhances the shopper's experience by reducing the gap between their willingness to pay and the actual prices. At the same time, dynamic pricing helps retailers maximize profits by pricing every unit appropriately; and by increasing the overall demand for the business or category.
It can bring in efficiencies into inventory management. With AI-based fool proof algorithms capturing qualitative and quantitative information, dynamic pricing can reflect demand accurately.
Kaufland, a major German hypermarket chain with stores across Europe, has adopted dynamic pricing shelves in all its stores and has seen a significant increase in revenues, especially in perishable items such as food products. This has also helped them reduce wastage of stock over time.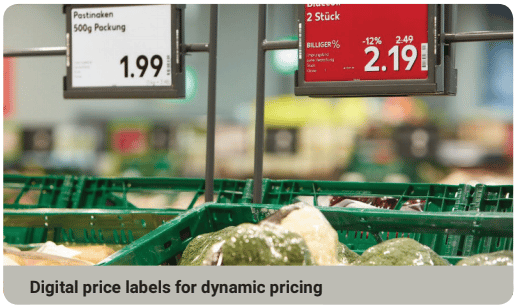 The case of Euler Systems
Euler Systems, a California based tech company has developed a self-learning recommendation engine that has already helped a cosmetics provider to improve their sales in double digits within a year of launch. The model is also shifting towards success fee-based payments aligning the interests of retailers and their partners.
The concept of voice shopping – shopping via interactions with smart speakers such as Google Home and Alexa-based Amazon Echo – is a recent retail phenomenon. Voice shopping is the evolution of shopping over the phone, with customers able to make impulse purchases as well as ad hoc purchases without extra effort. Users can also shop while doing other tasks. According to a study, by 2021, over 50% of product21 searches will be voice-based, as will be product sales.
A voice-based interface is also suitable for people who are not as tech-savvy as heavy internet and social media users. For retailers, this can help in developing predictive marketing. Walmart recently partnered with Google to provide Google Home users the option of buying products from Walmart via the smart speaker.

Going forward, other brick-and-click retailers might follow suit and expand the scope of voice shopping, which has the potential to become the largest form of e-commerce in the next 3 years. This might be possible largely via the Google Home smart speaker since Amazon Alexa would support its own retail platform, and there are no other major players in the smart speaker category.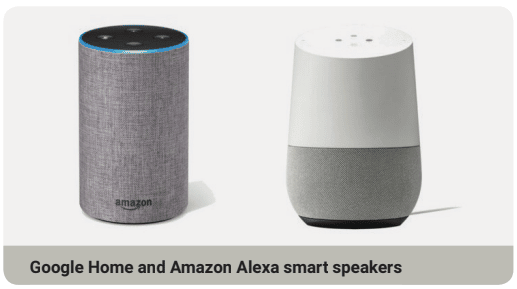 Given that people spend close to 3 hours a day22 on social media, it only makes sense that the market also moves to social media platforms. The concept of social media buying, or social commerce has been up-and-coming over the past few years with increasing mobile phone and social media penetration.
While consumers have begun considering social media a major source of product discovery, they are still sceptical while purchasing on social media because of issues related to payment security, data privacy, seller accountability, counterfeit products, etc.
For retailers, social media selling provides the additional benefit of unpaid marketing as the customers tend to share their shopping photos with their friends and followers.
While Instagram is pegged to become the largest player in social commerce going forward, there can be a growth of commerce-oriented social media platforms such as Famebit, Reelio, Grapevine, etc. which can provide a platform to smaller retailers.
Reseller model – The case of Meesho
In developing markets like India, reseller-based social commerce platforms such as Meesho are on the rise. Here, small time entrepreneurs such as women from Tier 2 and Tier 3 cities sign up as resellers or agents and sell products like ethnicwear apparel, jewelry, etc. These platforms leverage the impulse buying concept to promote sales. The reseller-based model is expected to comprise up to 5% of the e-commerce market in India.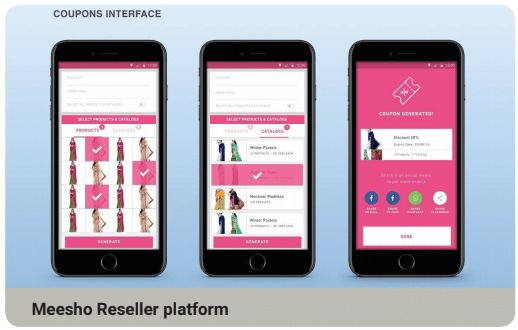 The case of Landmark group
Lifestyle stores and Max Fashion, global apparel retail chains owned by the UAE-based Landmark group, have also begun listing their products and benefits using social commerce features such as Instagram Checkout.
According to a recent study, more than 70% of customers prefer a quicker shopping experience and don't mind limited human interactions.23 The concept of Do it Yourself (DIY) shopping is slowly but surely finding its way into traditional retail. Retailers are increasingly taking a 'phy-gital' approach to enhance the customer's selection experience, making it less tedious and time consuming.
Innovations like smart carts, digital kiosks, CRM, hyper-personalization, magic mirror, etc. are some of the measures taken to ease the selection process and positively influence the shopper towards the purchase phase. These innovations have already been in use globally, with significant top-line impact for some of the major retail chains.
Smart carts are tech-enabled shopping carts which help customers navigate and assist with auto-checkout. They also double up as a means of collecting customer data useful for retailers. A recent consumer study showed that smart cart users spend 74% more24 than the average shopper. Smart carts enhance the shopper's experience by reducing shopping time
(by 35-50%) as well as the time taken to check out; and eliminating the queues for payment and check-out.
At the same time, they aid retailers with tools such as data analytics by studying the buying patterns and shoppers' movements which enable them to optimize the display of products and placement of shelves; and devise in-store promotions & deals.
More than 111 retail stores in Finland, owned by the Russian retail chain Kesko, are using smart carts which have resulted in addressing pain-points like smaller basket size and thereby driving their sales growth via increasing the average basket size by over 40%25 as the consumers find the products with more ease.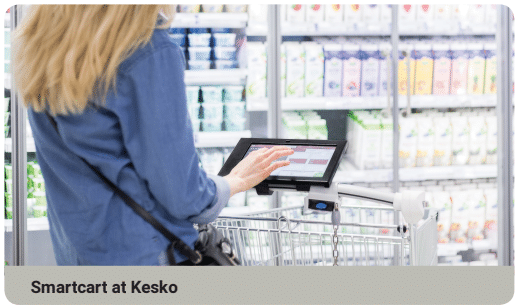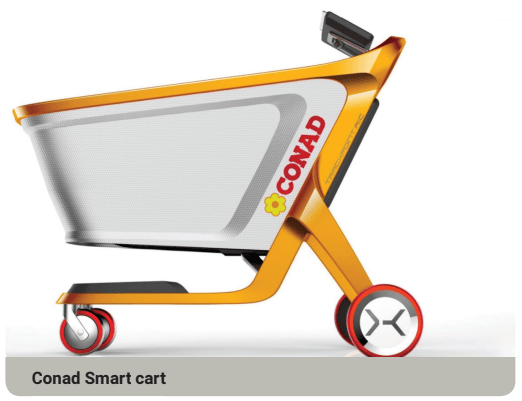 CRM and Hyper-personalization
The long-standing concept of CRM, which includes aspects such as customer service, lead management, task automation, work distribution, payment security, etc. is now being leveraged for bringing in hyper-personalization on a real-time basis. Hyper-personalization is the result of using AI-based techniques to access customer data across multiple touch-points like browsing and search history, demographic information, shopping patterns, social media posts, etc. to provide real-time personalization.
CRM-based software is being heavily used in retail categories like fashion, home care, FMCG, etc. by companies like Etiket Boutique, KFC India, and WorkStore across different geographies. While hyper-personalization is not that prevalent today, because of a lack of technological awareness, with the infusion of artificial intelligence, process automation, data integration, and IoT, CRM software would become the bedrock of hyper-personalization.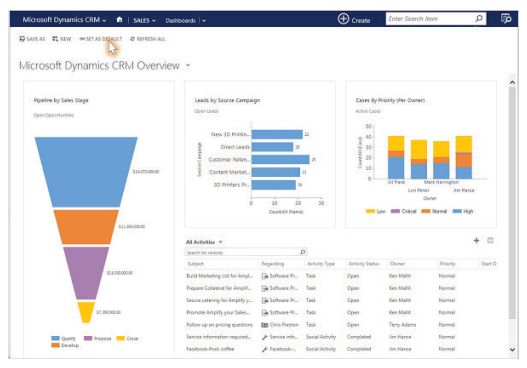 WorkStore, India's largest office products company backed by Future Group, converted 40% more deals after adopting CRM software for lead management. Their CRM-based software uses artificial intelligence and data analytics to help the sales team convert more leads into end consumers. They use Einstein, a Salesforce product, which connects sales, consumer service, and marketing with developers to derive insightful data for various key performance indicators.
The case of the luxury watch retailer
Vacheron Constantin, a watches and accessories retailer in MENA, uses CRM-based software for 360-degree customer management and support across different channels and send personalized offers based on consumer spend. The algorithm-based software sends timely push notifications to its consumer and solves the ticket raised via consumers in real-time.
Digital kiosks provide twin benefits to retailers by supporting back-end operations such as inventory management and also entertain customer queries by doubling up as salesmen. These kiosks enhance the shopper's experience by and by saving the time spent inside the store to look for specific products. These have also helped retailers by saving on additional costs pertaining to operational and support staff on the shop-floor.
Though retailers find kiosks sometimes difficult to maintain, with the inherent nature of the kiosks, they can disrupt the segments that fall in the lifestyle category such as fashion, home care, jewellery, etc.
Going forward, retailers now expect more out of the kiosks as they can enhance many operational factors such as inventory management, payment automation, etc., and customer-related factors such as CRM, personalized marketing, shopping assistance, etc.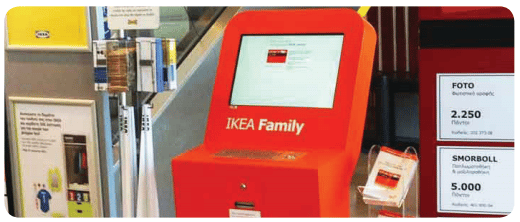 Zara is launching self-service kiosks wherein customers can pick up orders they placed online. When a package arrives to the kiosk, the customer receives a notification about it and can proceed to their location to pick up their items at their leisure.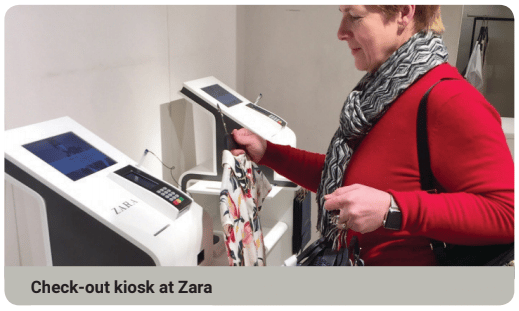 The case of Dubai Smart Malls
Smart Malls, present across various metro stations in the MENA region, provide a convenient shopping experience via an interactive, digital screen through which customers can order products, pay for them with cards, and get them delivered.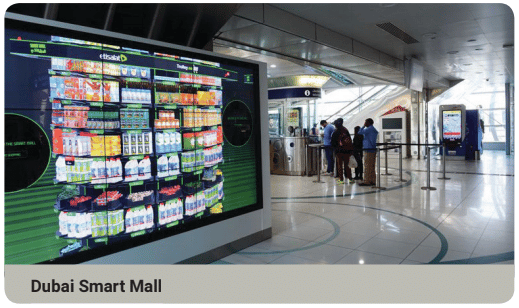 Magic mirrors create virtual trial rooms inside the store. With the use of Augmented Reality, they provide the customer a 360-degree view of how the selected product would look on them without them having to physically try on the product. These enhance the shopper's experience by reducing their time and effort of physical trial. At the same time, magic mirrors help retailers reduce the number of SKUs on the shop floor. Going forward, the technology can disrupt the fashion and beauty retail industries but it needs to become commercially viable.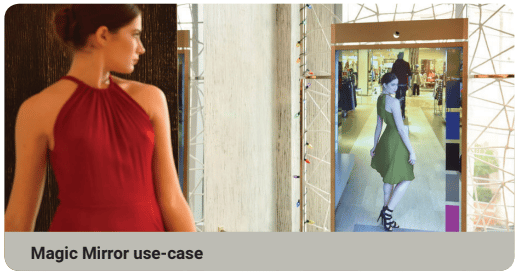 Dubai-based Landmark Group's brand Max Fashion adopted a variation of the magic mirror concept to engage with the customers and saw a conversion of more than 20% among the users.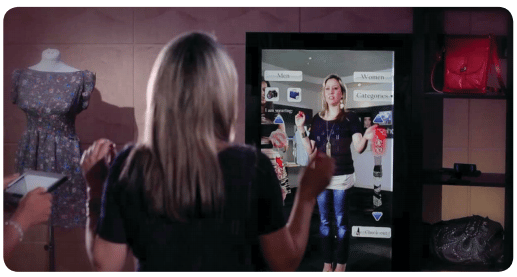 Credit and part-payment options can increase AOV by almost 50% and encourage up-selling. The retailers are making sure that consumers do not think twice before making the payment and do not move towards cart abandonment. According to a recent study, lack of payment options and lack of credit facilities were two strong reasons for cart abandonment in both online and offline retail.
Closed-loop payments, pay-later services, digital wallets, automated check-outs, and other innovations in the payments and credit sector ensure increasing sales, repeated purchases, and increase in brand equity.
Credit integration and part payments
Credit integration and part payment services have become essential with the rise of the millennial and white-collar working-class population wishing to buy products for immediate usage or consumption without upfront payment of the entire price.
These enhances the shopper's experience by stabilizing their money outflow on shopping; and giving flexibility on timing of payments. At the same time, such services help retailers by increasing their overall sales and consumer base; and reducing cart abandonment.
Going forward, these checkout options would be the future of payments as consumers are looking for flexibility and lowering the burden of up-front payments. Models like zero interest instalments can further drive growth.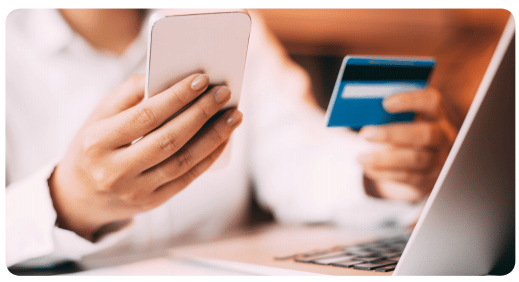 Glasses USA, a US-based online spectacles ordering platform, began giving part-payment options for its consumers, to boost sales. The integration ensured more than 85% increase in average ticket size and a nearly 10% decline in cart abandonment.26
Shopify is a leading cloud-based, multichannel commerce platform designed for small and medium-sized businesses based in Canada. Shopify partnered with a third-party credit integration aggregator to ensure smooth payment methods to varied consumers who wish to make bulk payments in a convenient manner. It resulted in a nearly 15% increase in sales
of Shopify, besides an almost 5% volume growth, while conversion rate also increased by approximately 20%.27
Sharaf DG is one of the leading omnichannel retailers in the Middle East with 33 stores across the region. Sharaf DG has partnered with a third-party instalment payments provider for its consumer. A consumer having a bill size of more than 1000 AED can opt to pay in instalments over 18-to-24 months at a nominal interest rate.
Apps are now helping customers process their own purchases from a retailer. They work as an alternative to the traditional cashier-staffed checkout method. Brick-and-mortar retailers are also letting customers perform the job of the cashier themselves by scanning and making payment for the items purchased.
This enhances shopper's experience by reducing the check-out process time; and helping skip the long check-out queues. They are also useful to retailers as they facilitate an increase in basket size as consumers experience hassle-free shopping; lower the workforce requirement; and lower customer turnaround time.
Going forward, automated check-outs would see investment from retailers to automate their business processes and on the other hand, consumers would want such integration to have a comfortable shopping experience.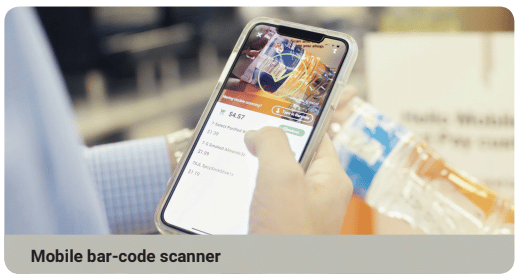 The online retail giant, Amazon.com, also operates physical stores under the Amazon Go brand. At these stores, which are present across 18 different locations in the USA, customers can use the Amazon Go app to add the products they wish to buy through a digital shopping cart and check-in and check-out using QR codes generated via the app. Payments are automatically deducted from the customers' credit cards registered with Amazon.com.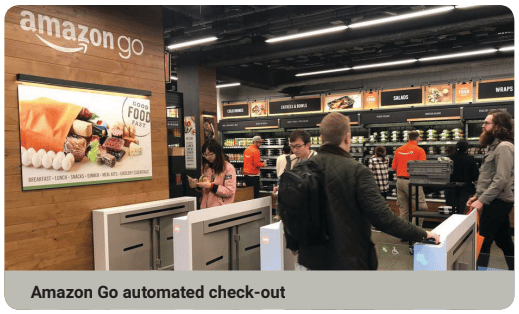 Lulu Hypermarket, one of the largest hypermarket chains with 179 stores in the GCC region, has recently installed self-checkout machines which customers can use for scanning, packing, and paying for the products bought without any interactions with cashiers.
'I want it, and I want it NOW' has become foremost in the minds of customers when they shop online. Last-mile delivery and, most importantly, same-day delivery has become critical for retailers and is going to drive omnichannel retail in future. According to a recent study, delivery speed has become the most important concern for online shoppers.
The instant gratification seeking customer is willing to pay as much as 10% of the order value for same day delivery28, with last mile logistics contributing to approximately 50%29 of the overall logistics industry revenues.
Crowd-sourced delivery model
The emergence of the gig economy has boosted the supply of independent delivery partners for aggregators to offer quick last-mile delivery. This has provided an opportunity even for smaller retailers in their endeavour to follow the omnichannel route and even provide one-hour deliveries in metropolitan cities.
Despite issues of long-term profitability, experts predict an exponential growth in the adoption of crowd-sourced platforms. According to a recent report, by the end of the next decade, over 90% of retailers will be using crowd-sourced delivery models or platforms for their last-mile delivery.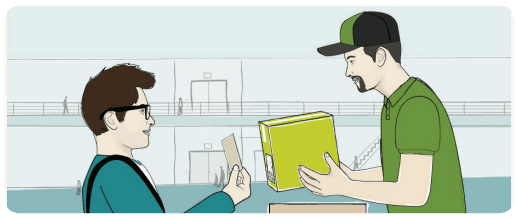 Dunzo, an Indian hyperlocal last mile delivery platform, works on the crowd-sourcing model with its partners picking up and delivering products from the stores where the consumers place their order. These orders are normally delivered within an hour.
Customers can also order from these stores via the Dunzo app. Dunzo has tied up with big and small brick-and-mortar retailers in the cities in which it operates.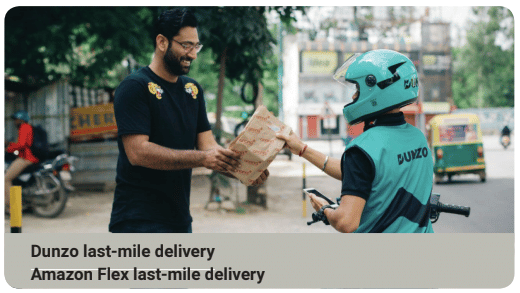 The case of Target and Shipt
Shipt, owned by retail giant Target Corporation, is a crowd-sourced delivery platform that provides last-mile delivery services to reach out to a larger consumer base and ensure same-day delivery of products, which has driven the growth of Target's omnichannel sales by more than 35%.30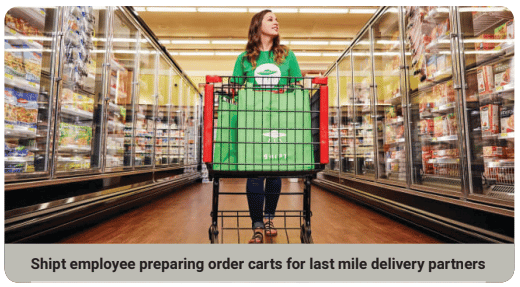 Route and resource optimization
Adopting the last mile delivery brings with it a fair share of complexities in operations. Analytics helps in ironing out inefficiencies and get the best possible utilization of resources while reducing delivery time via optimizing the routes.
LogiNext's logistics management software is used by many big retailers across the globe for resource allocation, for optimizing delivery scheduling and route planning, and for real-time delivery tracking. The results largely translate into increased on-time deliveries and improved resource utilization.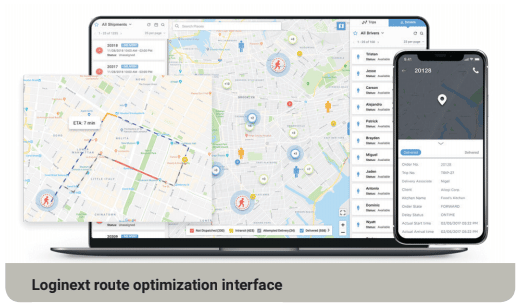 Automation in last mile delivery
One of the most talked about trends is that of automating last-mile delivery. Major e-commerce and brick-and-mortar players have already invested in technologies such as drones and self-driving vehicles for last-mile delivery. While automation in last mile delivery is still in the test phase, mass usage of self-driving EVs and drones in cities can reduce last-mile delivery costs by 40%, translating into a 15%-20% increase in profit margins.31
The case of Kroger: Driver-less cars
Kroger, the largest supermarket chain, has deployed robotics firm Nuro's self-driving vehicles, after conducting pilots, to deliver goods to customers across multiple locations in Arizona and Houston in the past year.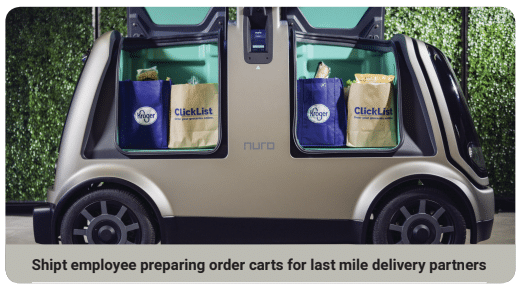 Logistics giant FedEx has begun testing self-driving robots for last-mile deliveries of products of its partners like Walmart, Pizza Hut, etc. to understand the viability of using robots for deliveries in the neighbourhood.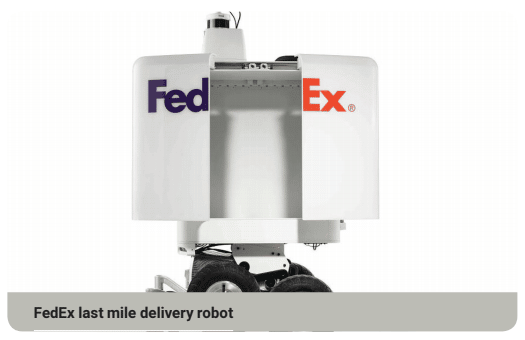 The case of Costa Coffee: Drones in MENA
Costa Coffee, the British coffeehouse, conducted a trial run of delivering coffee and other beverages to customers in Dubai by using drones. The test made a case for the feasibility of drone delivery of food items in the region.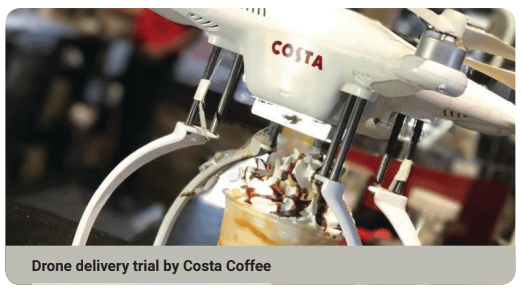 The needs of retail consumers have changed drastically over the years. A retail consumer today wants high degree of choice at a low price. They want the retail services personalised and available seamlessly across channels. And most importantly, they want instant gratification – meaning products being available and delivered quickly.
Retailers have traditionally followed customers by opening in new geographies and new channels. For example, most retailers already have an online presence now either through their own website / channel and/or through marketplaces. However, customers are now demanding more and more integration of the shopping experience. New age retailers are rethinking the complete customer experience journey and investing in the end-to-end digital transformation of their operations to provide an integrated shopping experience to the customers.
In order to do that, retailers are incorporating technological revolutions to bring together their back-end and front-end systems. Retailers have taken different paths to innovate. For example, some retailers have launched their own Corporate VCs (CVCs) to drive innovation while others have formed strategic partnerships with innovative companies. In summary, we believe that Retail Tech is the next frontier for growth for retailers which if applied across the value chain as elaborated upon throughout the report, can help provide a seamless integrated shopping experience to the customers.
In this model, the retailer adopts an existing technology from a vendor as a black-box product or customize an existing product to their needs. The end product, in many cases, is ready to use (e.g. robots, drones, beacons, etc), but in many cases, the vendors customize the offering to suit the requirements of the retailers (e.g. analytics products).
This is one of the most common partnerships across the region and we have covered many examples of such partnerships in the report.
In strategic partnerships, retailers partner with early-stage technology firms that are solving problems that align with retailers' priorities. They typically jointly develop innovative products or services with retailer supporting in terms of capabilities, relationships and investments. Such partnerships enable tech startups to improve on their go-to-market while retailers can influence the products early on.
For example, home improvement giant Lowe's has an innovation arm, Lowe's Innovation Labs (LIL) consists of an in-house team which partners with third-party technology developers such as Fellow robots, Exone, 3D Shook and Assistive Robotics Lab, etc. They focus on developing technologies which help in-store operations (Exo-suits, in-store robots), advanced product visualization (Augmented reality, 3D tech), and in lateral production (3D printing), etc. in the region, Majid Al Futtaim has partnered with I.AM+, an AI platform built to develop human-like conversational experiences.
Venture Studios/ Accelerators
Many major retailers have formed incubators/accelerators in recent years. This model goesone step further than strategic partnerships. Here, retailers ideate on opportunities and  also scout for nascent tech-enablers to invite them to incubate them by providing access to mentorship, network capital and access to data amongst other things.
Walmart has recently launched its incubation arm called Store no.8, via which it scouts for and incubates tech companies in order to build them into viable business models that can support Walmart's global operations in the long run. Target, another large retailer, has been running its accelerator program since 2014. It invites open applications from start-ups to accelerate and develop successful pilots which can then be integrated with its operations. It has invested in concepts such as crowdsourced delivery, collaborative shopping, video shopping and chatbots to enhance shoppers' experience. The Middle East retailers are slowly warming to this model and we expect to see more retailers taking this path in the near future.
IMany traditional retailers have also begun late-stage investment in retail tech startups thathave proved their mettle over time. This enables them to reduce the risk while also being  part of this fast-growing industry. In some instances, retailers have acquired a controlling stake in companies to reduce go-to-market and also develop a competitive advantage.
In the region, UAE based retail firm Majid Al Futtaim has been active in late-stage investments. It has invested in companies such as Beam – a digital wallet start-up, Wadi – a grocery etailer and Fetchr – a last-mile delivery provider. Similarly, Chalhoub group has launched Chalhoub ventures to invest in startups and also has entered into a joint venture with Fashion 'Unicorn' Farfetch.
In summary, we believe that Retail Tech is the next frontier for growth for retailers which if applied across the value chain as elaborated upon throughout the report, can help provide a seamless integrated shopping experience to the customers.
INSIGHTS
Talk To Our Expert