Dec, 2018
| By Pakhi Saxena, Saurav Chachan
Stepping Into India's Footprint
Footwear has emerged as a distinct category with significant presence of retail as well as distribution brands
---
Footwear is the fastest growing lifestyle category reflecting a robust growth at 14.5%. Contribution of footwear to retail is expected to increase from 1.25% to 1.35% by 2021. Women's footwear accounts for 39% of the market and is expected to demonstrate higher growth than men's footwear. Casual footwear, accounting for 70% of the market is expected grow at 14.5% while sports accounting for 3% of the of the footwear market is expected to grow at 24.5%.
Footwear market is characterized by high share of organized channel. Organized penetration stands at 36%, second only to mobile phones. Online channel alone accounts for 11% of the footwear market. This is driven by exclusive partnerships of international brands with online retailers as well as launch of private labels by online retailers. Brands are also launching dedicated product range for online channel to overcome the discount challenge and are leveraging data analytics to grow the online business. However, offline presence lends significantly to the traction witnessed online, hence, brands like Merrell are exploring B&M presence.

Footwear category is also marked by the highest branded quotient across retail categories at 44.5% and is expected to grow at 19% and reach 50% by 2021. There is a significant presence of both retail and distribution led brands and both these segments of players have adopted best practices to drive growth. Distribution led brands have focussed heavily on design and product development, robust supply chain, incentive for distributor partners, balance between in-house and outsourced manufacturing, agile response to market needs and accessible pricing.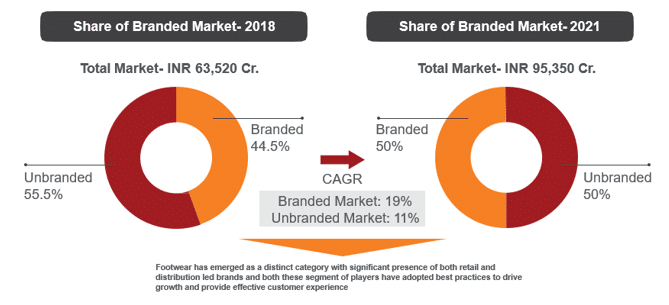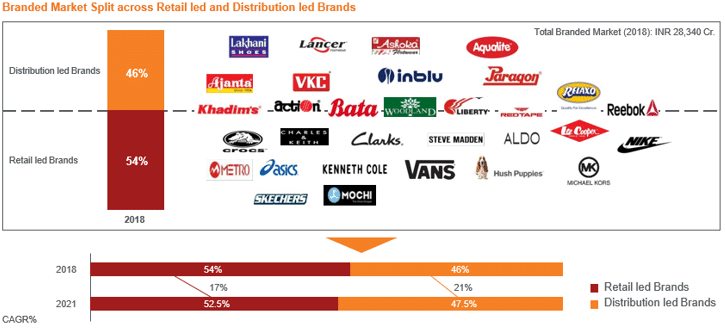 Branded footwear market is dominated by mass and economy brands. Mid and premium brands contribute only to 20% of the market currently
RedSeer Offerings please contact us at query@redseer.com
INSIGHTS
Talk To Our Expert