Aug, 2019
How can content platforms grab $3Bn opportunity?
By Ujjwal Chaudhry, Nikhil Dalal
---
We recently launched a report "Vernacular is NOW, not the Future" (https://bit.ly/2TGUSCo) which has started a lot of discussion in the internet community on the opportunity presented by the vernacular audience (esp for digital advertising). As part of the launch event, we conducted a panel discussion with marketing heads and investors which brought out some interesting points. Please see the video here (Link to be updated soon)
While it is a given among the marketing community, that there is a large opportunity in vernacular space, this is the first time that any report has quantified this opportunity size. Given the large vernacular user base, it's a surprise that companies are still spending <10% of their spend on vernacular ads. Basis the discussion, there were 4 key areas that emerged as the barriers for the content platforms to unlock the large opportunity in digital advertising:
Platform challenges
Tech challenges
Content Creation challenges
Touch points across the value chain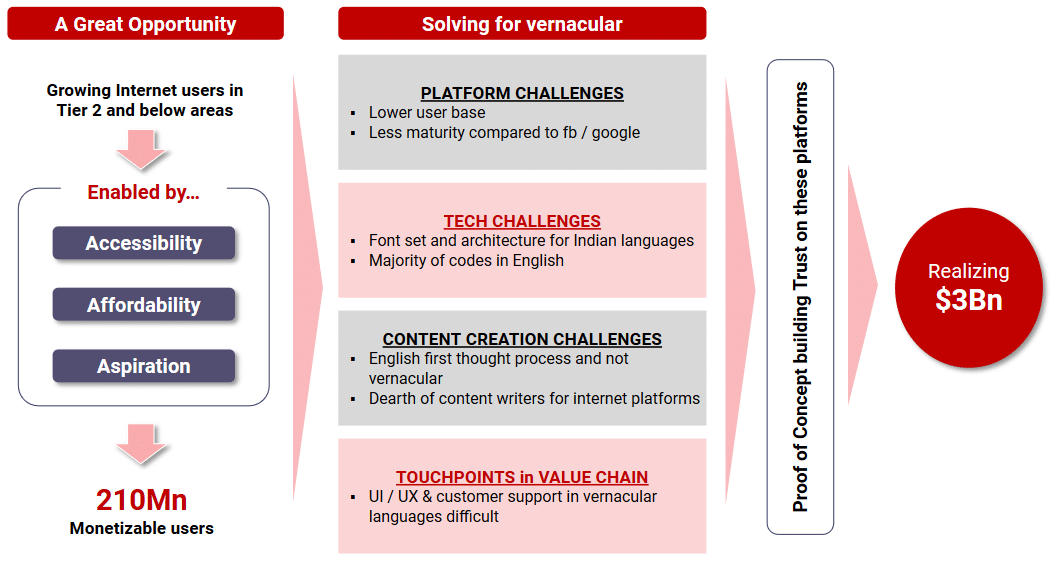 Platform Challenges
1. The advertisers find it difficult to get a decent RoI on the platforms with a low user base given the investments on content creation. The number of platforms which have a sizeable user base are too few.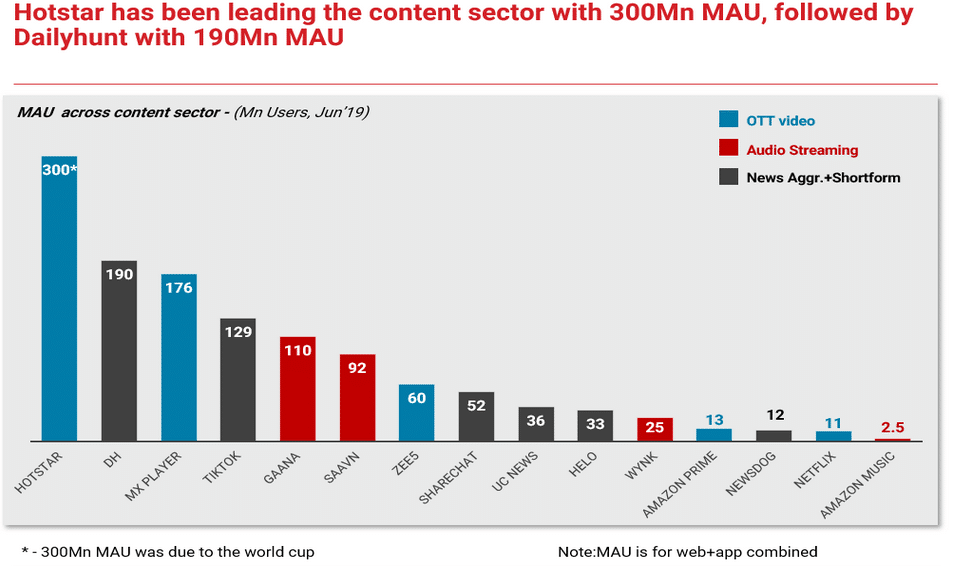 2. These platforms are yet to mature compared to established platforms like Facebook and Google. For e.g.- on some of the mature platforms, advertisers find it easier due to self-serve nature of advertising as well as better customer segmentation basis interests. Most of the content players launched in India around 2016 and afterwards, when Jio was launched and hence are in a growth stage [1].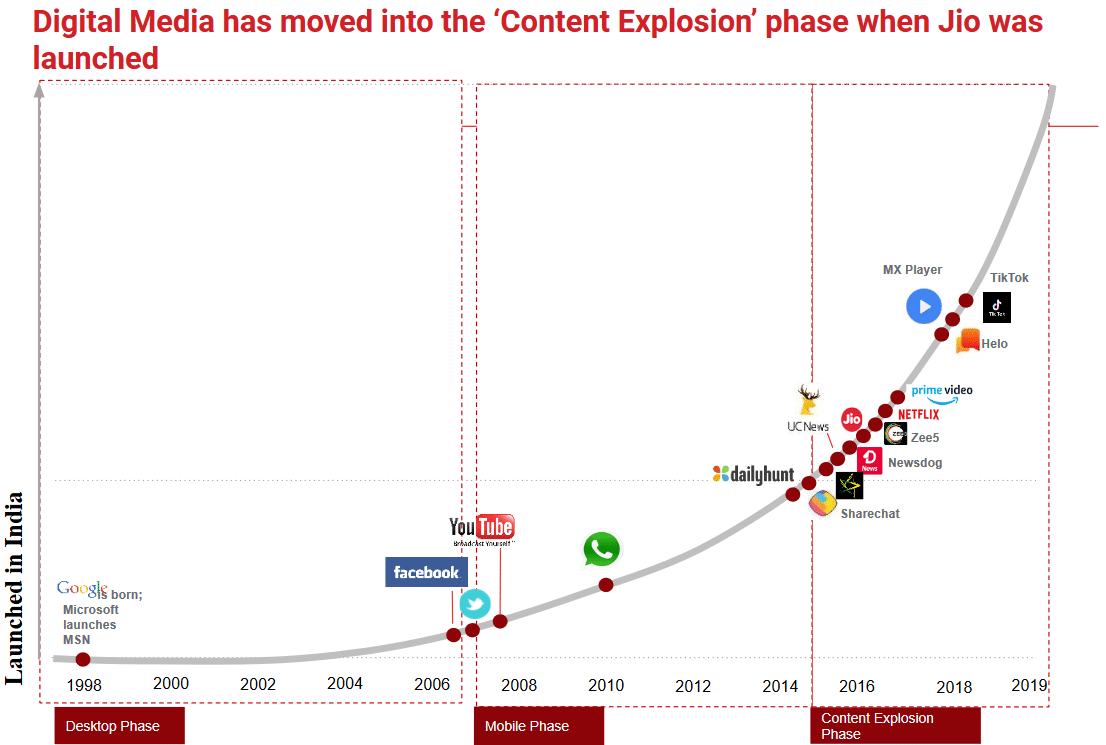 Tech Challenges
According to one of the panelists, there are fundamental architecture problems in developing vernacular content. For example, the only reliable font set available for Indian languages is from Google Fonts. There is a strong need for creating basic architecture for developing strong Google or vernacular content through a new host of tools.
Targeting the right audience in the native language can also become a challenge. For example, in case of geo targeting- a user in Bangalore may or may not understand Kannada- so advertisers tend to play it safe with English.
Tech development also becomes a challenge given that majority of the code for platforms are written in English and not any other language.
The search and tagging of content in vernacular languages is a challenge due to lack of reliable data sets for training of AI algorithms
Content Creation challenges
Thought process in vernacular- Given majority of marketing teams and ad agencies are based in metro cities, their thought processes are also English-first which creates a fundamental challenge in creating quality vernacular content
Content creators and writers- Majority of graduates in languages and media studies opt for writing for other media like Bollywood or TV, given higher pay scales. There is a strong need for projecting the creation of quality content on internet as a viable earning option
Touch points across the value chain
UI/UX- Advertisers find it difficult to give vernacular users a seamless experience in their own language. Even if the ad copies are created in vernacular language, the conversions are low if the customer lands on an English page. Optimising website/ app UI/UX in vernacular language is still a challenge
Customer Support- In high engagement purchases, advertisers find it challenging to provide a seamless experience to the user in their own language
How does it evolve in the future?
As the ecosystem for the vernacular digital advertising is maturing, these barriers are coming down. There is increasingly more trust that these platforms are able to build with the advertisers through proof of concept around better RoI and engagements compared to English-first platforms. This will increasingly lead to a shift from English driven advertising to Vernacular-driven advertising. Across other media like TV and Print, vernacular already commands a larger share- so it is a matter of time that this shift starts happening on digital media as well.
References:
[1] MX player was acquired by Times Internet in 2018, but started VoD in 2019 (https://timesofindia.indiatimes.com/business/india-business/times-internet-acquires-mx-player/articleshow/64771142.cms)