THE HINDU: The Indian consumer internet industry settled down to a modest growth rate of 22 per cent in 2017, ending the year at $55 billion; quite unable to maintain last year's 29 per cent growth forget the scorching pace of 66 per cent growth in 2015.
The first two quarters of calendar year 2017 witnessed sluggish growth as a result of the impact of demonetisation, GST adoption and Snapdeal vacating its No 3 position in the e-commerce rat race.
Investor sentiment, which was largely negative last year, turned positive after Flipkart scored a double bonanza, with two big funding rounds of $1.4 billion and $2.5 billion in quick succession.
VALUE-DRIVEN SHOPPING
"This year, online shopping was driven by value rather than by discounts as e-commerce firms were sharply focussed on building sustainable businesses that solve real problems for customers," said Anil Kumar, CEO of RedSeer Consulting.
"Therefore, this year's annualised GMV of $17-18 billion by e-tailers, which constitutes 33 per cent of the overall consumer internet market that is dominated by OTAs (online travel agents), is more solid than the previous year's GMV of $14.5 billion."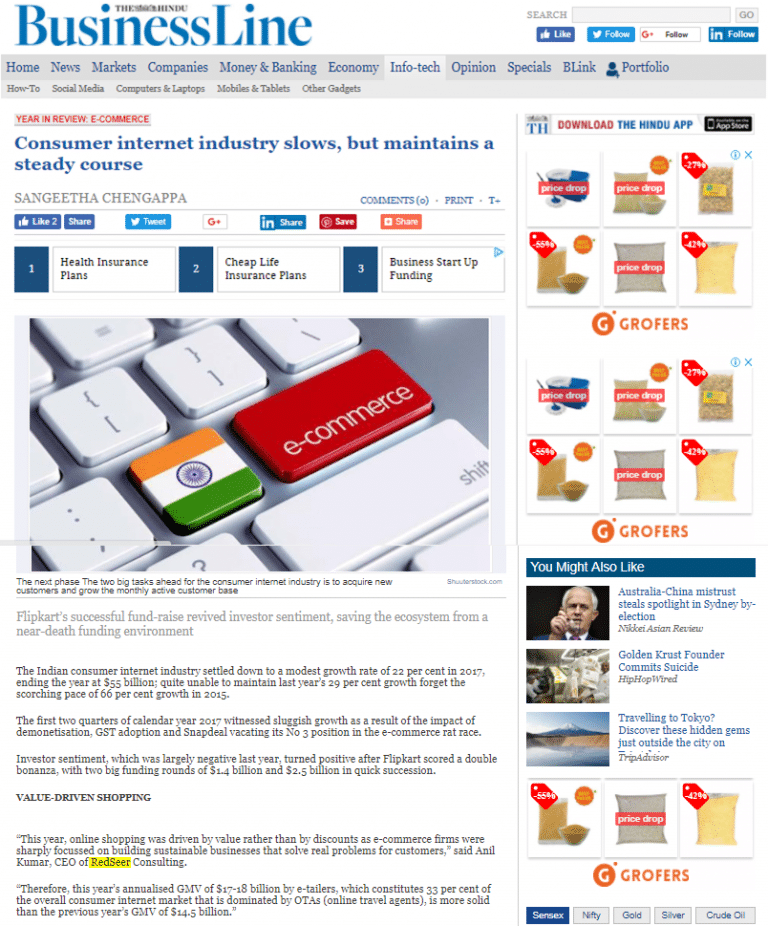 Click Here for the complete Article.