FIRSTPOST: With Swiggy getting $100 million in funds and Zomato $200 million a week ago, the food delivery sector seems to be poised for growth again after a bleak couple of years.
From the latter half of 2015 through to 2016 and also the first half of 2017, a number of food-tech startups shut down. Remember TinyOwl, SpoonJoy, Eatlo among others? But the industry emerged with new learnings on account of several startups shutting down and with improved focus on consumer satisfaction and key geographic areas, said RedSeer Consulting.
Zomato and Swiggy have had steady growth throughout 2017 with improved operations by reducing delivery costs and time and innovations like cloud kitchen, said industry experts. The market has been growing steadily in the last four quarters and the consistent performance by Zomato and Swiggy has led to investor confidence and the investments, they said.
In the latter half of 2017, ride-hailing app Ola (owned by ANI Technologies) decided to get into the food delivery space again, this time around by acquiring German-firm Delivery Hero's Foodpanda India. The pendulum seemed to be swinging positively since then for the food delivery sector in India.
RedSeer Consulting predicted the food delivery sector is on course to hit $1.5 billion by the end of 2018 and $2.5-3.5 billion by 2021 in GMV terms. The sector valued at $750 million is expected to grow well. The food-tech industry is growing at a 15 percent quarter-on-quarter rate and the players are moving towards self-fleet to have a better overall control on the consumer experience, it said.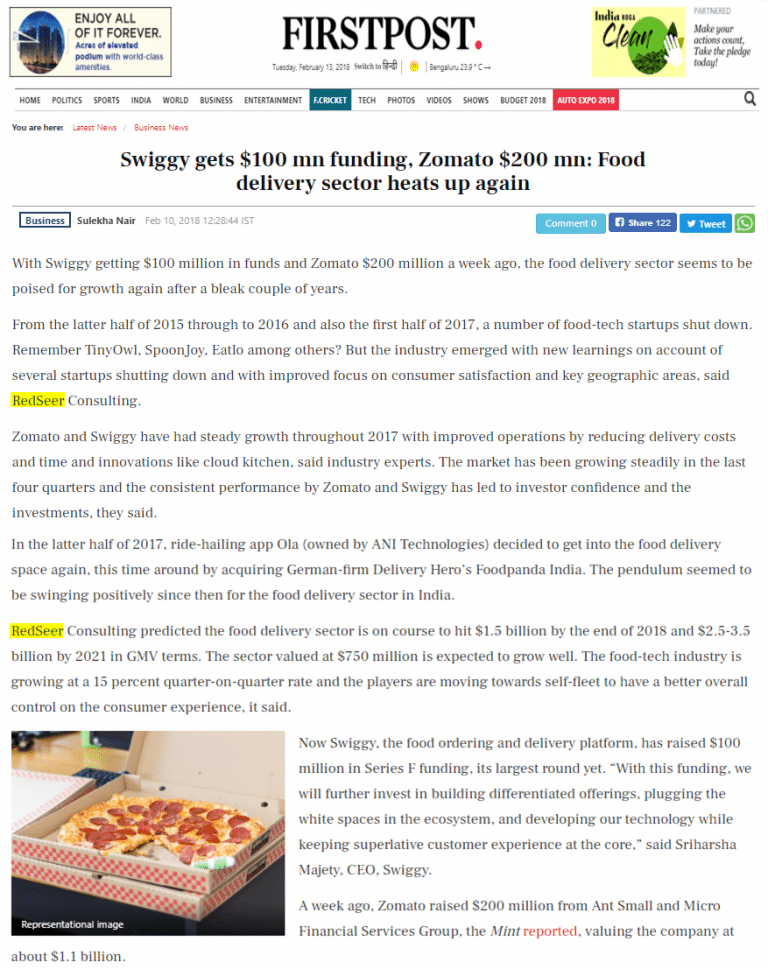 Click Here for the complete Article.