FORBES: Amazon entered India in 2013 after losing out in China to local etailer Alibaba and its subsidiaries. The drubbing in China, especially after it was listed as a seller on Alibaba-owned marketplace Tmall, made it imperative for the company to make a mark in India. But it spent a relatively quiet first year, infusing about ₹732 crore into its marketplace subsidiary, Amazon Seller Services, until December 2014 (according to regulatory filings). Then it upped the ante. Amazon Seller Services received ₹5,289 crore in 2015, ₹5,340 crore the year after and ₹6,200 crore last year. It began 2018 with another infusion of ₹1,950 crore.
The flush of funds helped Amazon expand from a fledgling force in 2014 to a close second to Flipkart. In fact, much of Amazon's expansion in India in 2015 and 2016 came at the cost of Snapdeal, which was battling a paucity of funds and Flipkart, which was coming to terms with changes in the top management.
Things, however, changed for the better for Flipkart last year, when it mopped up about $4 billion from a clutch of investors, including SoftBank and Tencent. Since the middle of last year, Flipkart, under chief executive Kalyan Krishnamurthy, has bounced back.
Armed with a $100-billion Vision Fund, SoftBank encourages its portfolios to gain market share, even if it entails aggressive spending. Amazon has no choice but to match such spends.
"Ecommerce in India is still small as a percentage of overall retail. Number one or two doesn't make a difference now. The whole ecommerce market will become $100 billion in a few years. When that happens, Amazon needs to have a significant share, even if it is not No 1," says Anil Kumar, chief executive at ecommerce-focussed consulting firm RedSeer.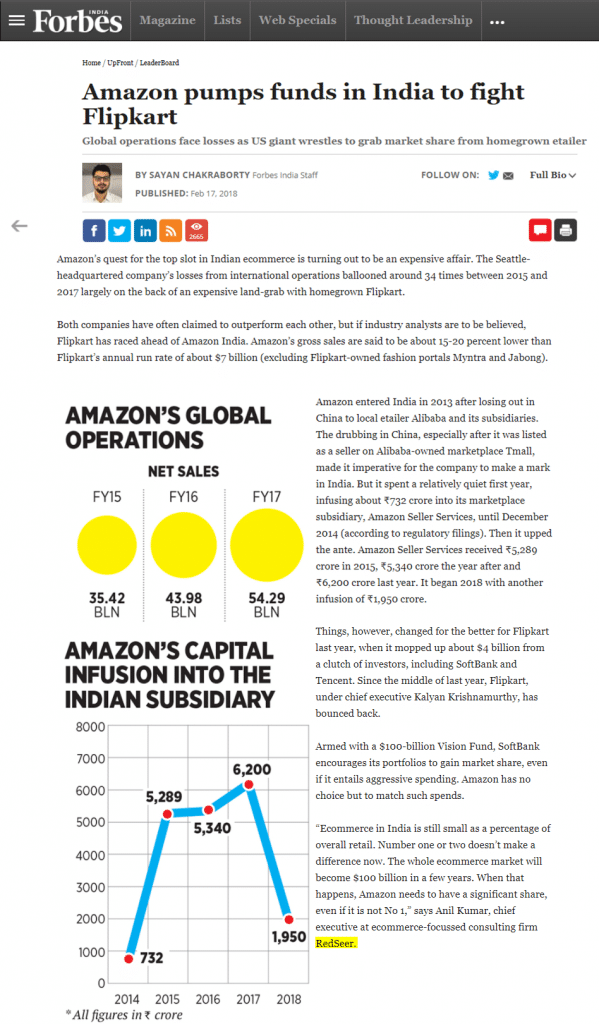 Click Here for the complete Article.