FORBES: Samsung electronics co sells its phones through about 150,000 authorised shops in India. And Paytm Mall, through a collaboration with Samsung that started in November 2017, is bringing all of them onto its online marketplace, giving each one a QR code, and the requisite training and support.
Paytm Mall is the recently formed ecommerce business of One97 Communications, which was separated from the parent to function independently around March-April 2017. Noida-based One97 Communications operates the Paytm mobile wallet. And with backing from China's Alibaba Group Holding Ltd, and Japan's SoftBank Group Corp, founder Vijay Shekhar Sharma, 39, has been expanding into online commerce, financial services, including wealth management and insurance, as well as travel and entertainment.
The way ahead
The entry of SoftBank has made a big difference in India's ecommerce market. Sharma doesn't comment on their strategy, but points out that the landscape will change a lot by 2020, in India. "Basically, India can't be a multi-horse game for long," he says. However, it will take those three or four years for the dominant ecosystems to emerge, and it won't easily be a winner-takes-it-all market. That means "in some areas we will be the challengers, and in some places, we will be challenged, but I think India is too important a market to be ignored by anyone".
Industry analysts concur: "If you look at the e-tailing industry, it is consolidating among these three players—Amazon, Flipkart and Paytm," says Ujjwal Chaudhry, engagement manager and head of e-tailing practice at RedSeer Management Consulting in Bengaluru. "While the first two have the largest share, Paytm Mall has seen the most growth, albeit on a smaller base."
While Paytm believes dominant ecosystems will consolidate the categories, "We still think it will be a category by category play," says Chaudhry. Cash-back offers currently work as a strong enticement, and while Paytm has made large strides in areas such as movie ticketing, for instance, "it remains to be seen if they can convert people into other services," he adds.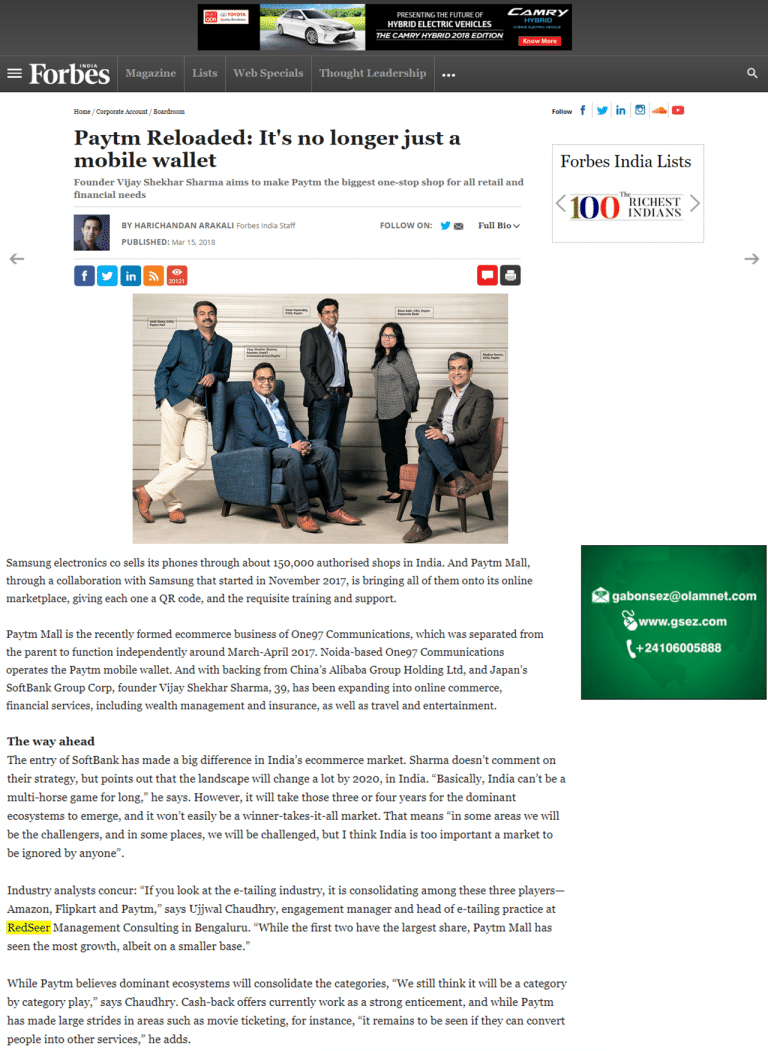 Click Here for the complete Article.