HINDUSTAN TIMES: A strike this week by drivers of Ola and Uber turned out to be a damp squib, but highlighted the tough business model of cab-hailing platforms that requires them to squeeze drivers to generate higher margins, analysts and drivers said.
On Monday, drivers at Ola and Uber went on an indefinite strike to protest against low incomes, but apart from Mumbai, cab drivers in other major cities didn't participate in the strike in large numbers.
Declining Incentives
Until early 2017, Ola and Uber used to hand out many incentives to attract drivers, often from other professions. After luring hundreds of thousands of drivers, both Ola (ANI Technologies Pvt. Ltd) and Uber (Uber India Systems Pvt. Ltd) had to slash incentives over the past 15 months because of investor pressure to cut losses.
Despite protests by cab drivers, Ola and Uber continued to reduce incentives through last year. Incentives as a proportion of overall ride value fell to 17% in the September quarter of 2017 from as much as 62% in the year-ago period, according to market research and consultancy firm RedSeer Consulting.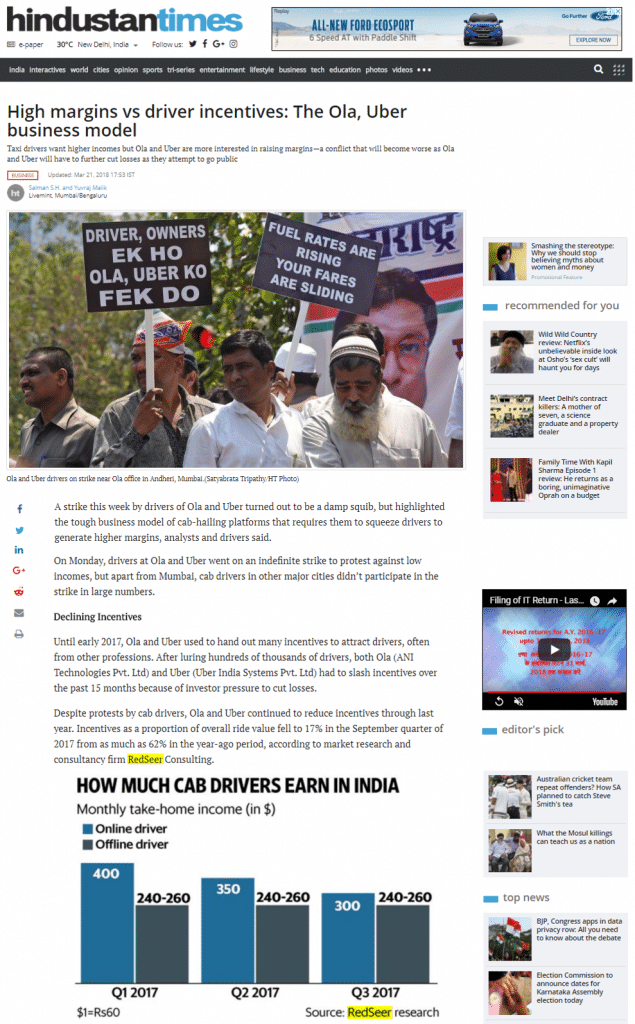 Click Here for the complete Article.