INC42: Homegrown cab service provider Meru Cabs has announced that it is now adopting a marketplace model in the ride-hailing market. For this, the company has enabled its enrolled drivers to set dynamic fares in a bid to attract more customers.
According to the reports, drivers associated with Meru Cabs will be able to decide fares as per the demand in the location or the time of the day. This is much like the unregulated autorickshaws operating in the cities everywhere.
On the app, the company will offer its customers the option to choose from up to 10 cabs whose fares along with ETA (expected time of arrival), vehicle model and driver ratings will be displayed.
Years Old Battle Of Meru With Uber And Ola
This isn't the first time the company is experimenting with its fare policy to attract customers. Earlier in September 2016, it launched an accurate fare calculator called 'Fare Exactometer'. Using this feature in the Meru Cabs app, exact fares were confirmed at the time of booking the cab. The total fare was equal to or lower than the fares prescribed by State Transport Authority, for the respective travel route and time.
However, for quite some time, the company has been making headlines primarily for its battle with Ola and Uber.
As per data from the consulting firm Redseer, the gross booking value of companies in the local ride-sharing space increased to $2.1 Bn in 2017 from $1.5 Bn in the year before. The Indian online mobility market, which encompasses cab aggregator and auto hailing segments, contributed over 15% of the industry's overall gross book value (GBV) in 2017.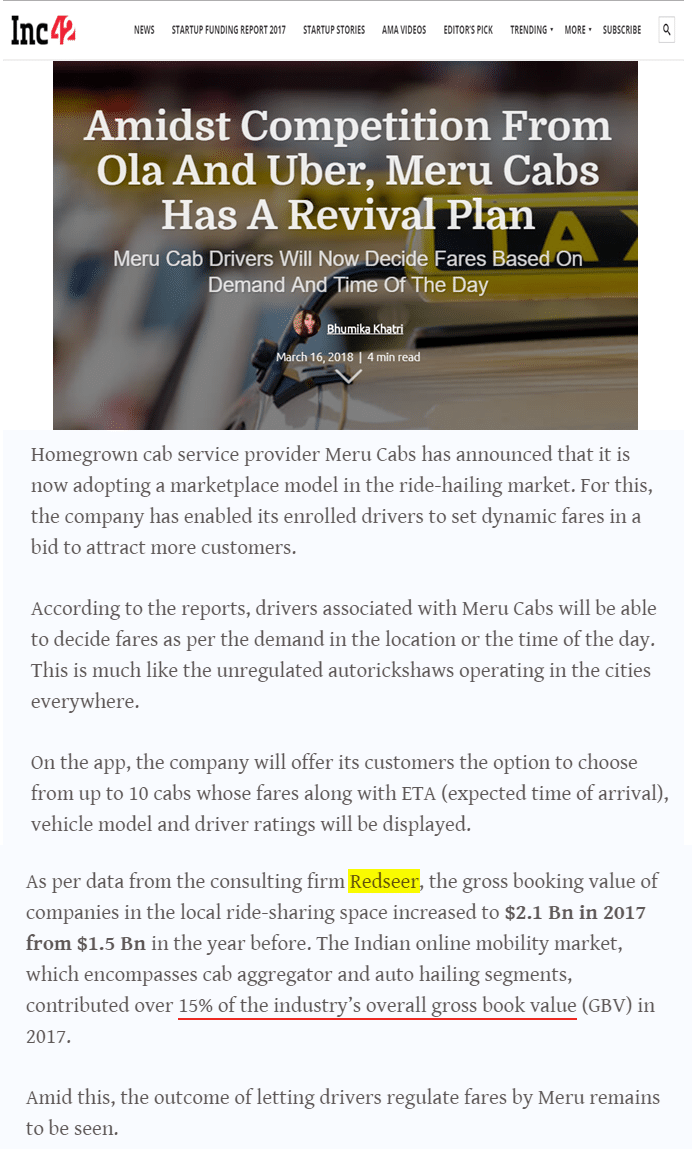 Click Here for the complete Article.