THE INDIAN EXPRESS: From pizzas, biriyanis, soups, starters, curries, tea to jars of sweet delicacies, Chennaites have now been constantly ordering in through delivery apps like Zomato, Swiggy and the new entrant in town — UberEats. In fact, having every day meals for consumers has evolved to a point where food delivery has become a must-have feature for every restaurant, big or small.
"The delivery feature in restaurants improves customer satisfaction, increases reach, and also boosts profits for restaurant. Since we launched in Chennai, the number of restaurant partners on our platform has increased four-fold," says Bhavik Rathod, head, Uber Eats India.
Deterred by urban challenges of long working hours, traffic and parking concerns, Chennaites, especially youngsters, are turning to delivery apps to enjoy a meal in the comforts of their homes and offices. "Chennai loves to order in. We have seen spikes in dinner orders on weekends but lunch orders are predominantly higher here. While lunch combos and mini meals are a hit during weekdays, biryani and varieties of dosas are a hit over the weekends," he shares.
"In an already tough restaurant landscape, where new restaurants emerge and disappear every month, technology has a growing role to play, changing the way people eat," shares the official spokesperson of Swiggy. Chennai is a key market for Swiggy. "We have consistently seen an increase in the number of daily orders, ever since we began operations in November 2015."
According to Swiggy's order analysis for 2016, in addition to traditional dishes like idli, dosa and pongal, Chennaiites like chicken fried rice and paneer butter masala. "It also revealed Chennaiites love to snack on chaats, sandwiches, shawarmas, momos, rolls and coffee," shares the spokesperson and highlights a recent report by Redseer, which showed that Chennai was the sixth city to cross the mark of 10,000 daily online food orders after Bengaluru, Delhi, Mumbai, Hyderabad and Pune.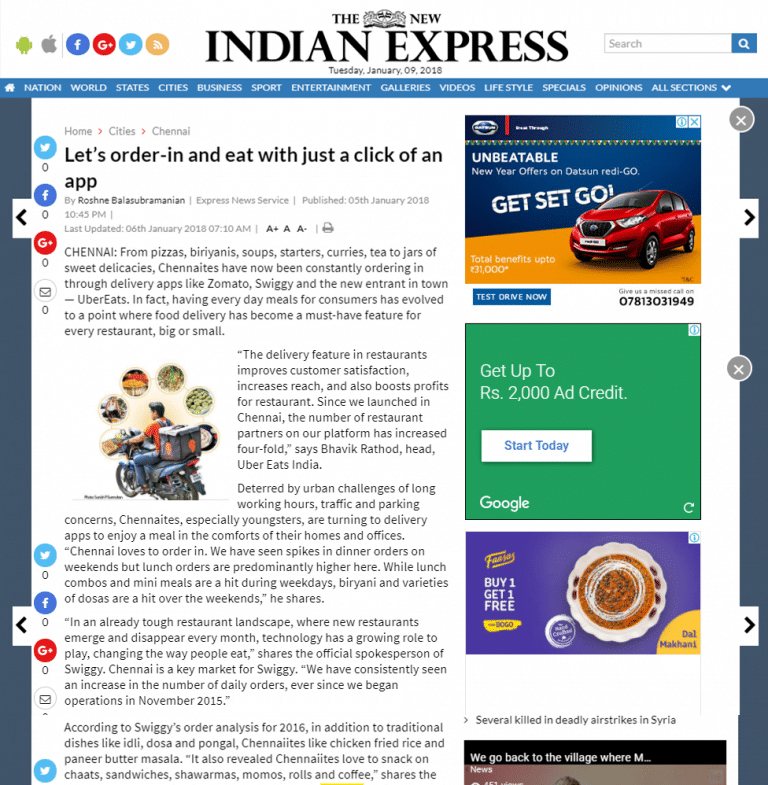 Click Here for the complete Article.