LIVEMINT: The food delivery sector, written off not too long ago, has seen a revival over the past six months. While market leaders Zomato and Swiggy have raised large funding rounds, cab-hailing firms Uber and Ola, attracted by the runaway expansion of Swiggy, are investing hundreds of crores of rupees to gain a slice of the market.
The food-technology sector is expected to touch at least $2.5 billion by 2021 from its current size of about $700 million, according to a report by consultancy firm RedSeer Management. The online food delivery market is growing at a steady 15% quarter-on-quarter in terms of daily food orders.
Bengaluru-based Swiggy leads the stack with a 35-38% market share, followed by Zomato at 25-30%, according to RedSeer. UberEats, the food delivery business of cab major Uber Inc., which was already operational in several countries, entered the segment in India last year.
Uber's local rival Ola, which had shut its food delivery business of Ola Cafe in 2016, re-entered the space by acquiring FoodPanda's India operations in December, and said it would invest $200 million to expand the business.
"The industry is moving more and more towards self-delivery, resulting in the fall of delivery time. Players that have higher control over the delivery process are able to provide much better value," said Vaibhav Arora, associate general manger, RedSeer Consulting.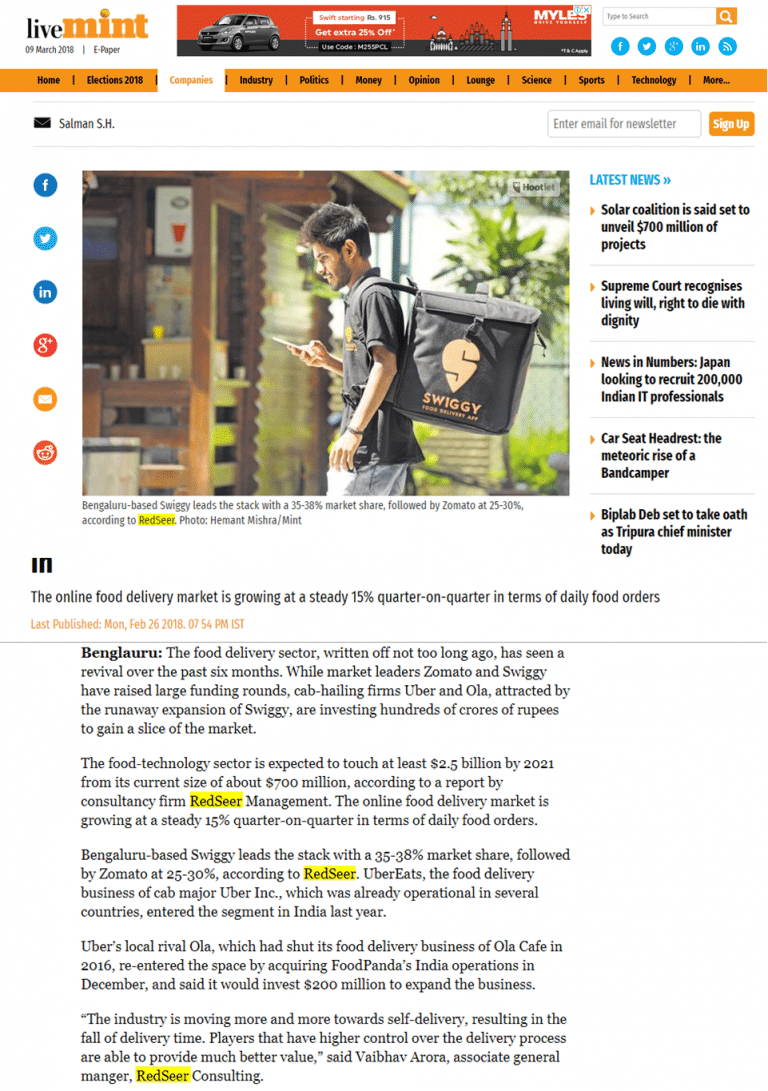 Click Here for the complete Article.