LIVEMINT: A strike this week by drivers of Ola and Uber turned out to be a damp squib, but highlighted the tough business model of cab-hailing platforms that requires them to squeeze drivers to generate higher margins, analysts and drivers said.
On Monday, drivers at Ola and Uber went on an indefinite strike to protest against low incomes, but apart from Mumbai, cab drivers in other major cities didn't participate in the strike in large numbers.
Despite protests by cab drivers, Ola and Uber continued to reduce incentives through last year. Incentives as a proportion of overall ride value fell to 17% in the September quarter of 2017 from as much as 62% in the year-ago period, according to market research and consultancy firm RedSeer Consulting.
Drivers either own their cabs or work for middlemen who own several cabs. Cab drivers want higher incomes but Ola and Uber are more interested in increasing their margins—this conflict at the heart of the aggregator model will become worse as Ola and Uber will have to further cut losses as they attempt to go public.
Indeed, for all internet marketplaces, this is a problem. Third-party sellers at Flipkart and Amazon have also complained about increasing commission rates and higher shipping and other charges.
For Ola and Uber, the drop in incentives, which accounted for a large chunk of the incomes earned by cab drivers, has led to lower cab supply. The last time cab drivers struck work in the March quarter of 2017, cab supply slumped by 25%, according to RedSeer.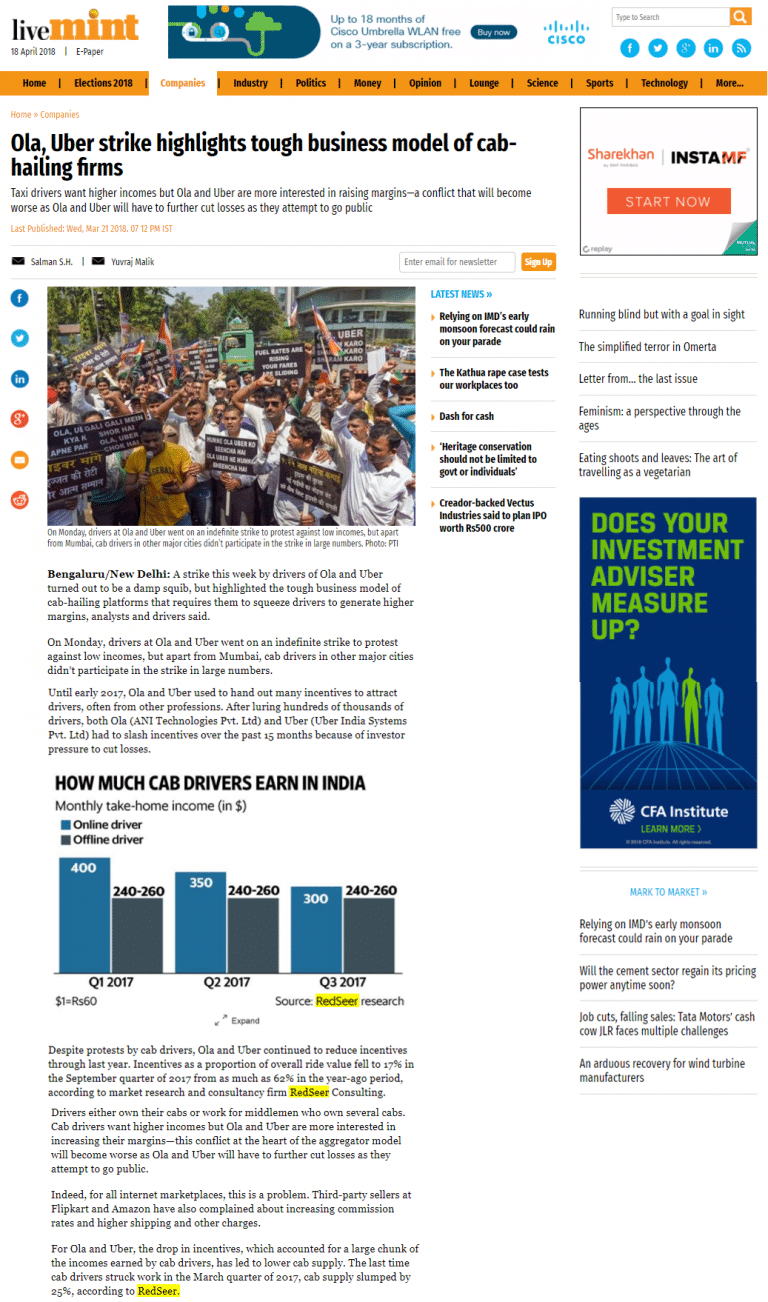 Click Here for the complete Article.