THE ECONOMIC TIMES: The year 2017 has undoubtedly been the year of reckoning for India's food technology startups. From food aggregators like Swiggy and Zomato to cloud-kitchen players like Faasos, FreshMenu and Box8, cost-cutting had been the theme for 2017.
While food aggregators such as Swiggy lost more than what they made, the story has been a tad tastier for cloud-kitchen players. Sample this. For every Re 1 that Swiggy earned, it lost Rs 1.5 in FY17 but players such as Box8 and FreshMenu earned Rs 2.7 and Rs 1.8 for each rupee spent, respectively.
With the usual suspects of frenzied discounting and irrational marketing costs taking a back seat, the cloud kitchen model has helped players improve economic efficiencies remarkably well. "We have seen significant success in utilising our existing cost base such as pan India supply chain, delivery kitchen network, our full stack technology — for launching a number of brands in many large categories such as biryani, pizza, world cuisine, desserts, etc. This meant, our revenue grew at a healthy rate without any significant increase in our cost lines," said Jaydeep Barman, CEO at Faasos.
For Faasos FY17 saw its pace of revenue increase match that of its lowered losses at 32%, a move that has been the result of putting a cap on increasing its delivery kitchens in a bid to manage costs. This is true not just of Faasos but also players such as Box8 and FreshMenu.
However, having a multi-brand approach within its singular kitchen model has helped Faasos score a 100% YoY growth as of December 2017, the company claims. Faasos is looking to grow its network of kitchens from the current 150 to over 500 by FY20.
Industry experts view 2017's costcutting exercise with caution as lesser discounts and fewer ads would also have a direct impact on growth, slowing it down for cloud-kitchen players, given that clocking volumes akin to that of aggregators remains a huge challenge. "For the Indian market, a lower average order value and (a pessimistic) outlook towards paying a higher delivery fee makes it difficult for cloud kitchens to work in a simple plain delivery fashion. They will have to look for additional sources of revenue if they have to sustain themselves," said Rohan Agrawal, engagement manager, Redseer Consulting.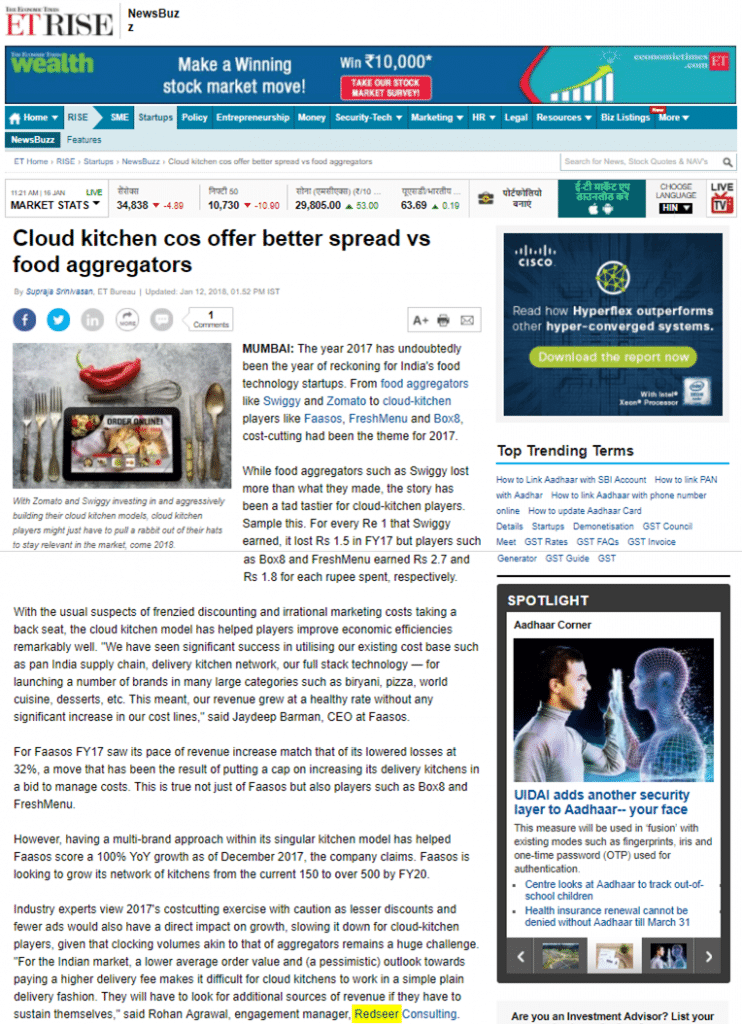 Click Here for the complete Article.