THE ECONOMIC TIMES: Flipkart is wooing back customers in Indian metros with a slew of initiatives as the country's largest online retailer seeks to reclaim lost ground among high spending urban shoppers who had gravitated to rival Amazon India in recent years.
A larger selection of branded goods and faster deliveries are just a few of the sweeteners for metro dwellers being offered by the company, which raised a war chest of $4 billion from marquee investors such as Japan's SoftBank and China's Tencent last year. This focus on winning back top-tier spenders comes even as Flipkart trains its sights on smalltown India —the final frontier—in the battle for leadership in one of the world's most dynamic e-commerce markets.
Flipkart estimates its ecommerce business grew at about 85% year-on-year in terms of gross merchandise volume (GMV) between April-September 2017 that included its flagship festive sales events. Amazon India said it registered 72% year-on-year growth in terms of gross merchandise sold (GMS) for the September 2017 quarter, compared with 59% growth between April and June.
According to data from retail consulting firm RedSeer, in the last quarter in 2017, India's online retail market ended with $20 billion in gross sales primarily due to the fastest growing market in tier two cities.
Tier-II and cities beyond added 10 million shoppers in 2017 and is expected to add 19 million more this year.
Compared to that, both metros and tier-I cities added just 3 million shoppers each in 2017 and are expected to add 4 million each in 2018.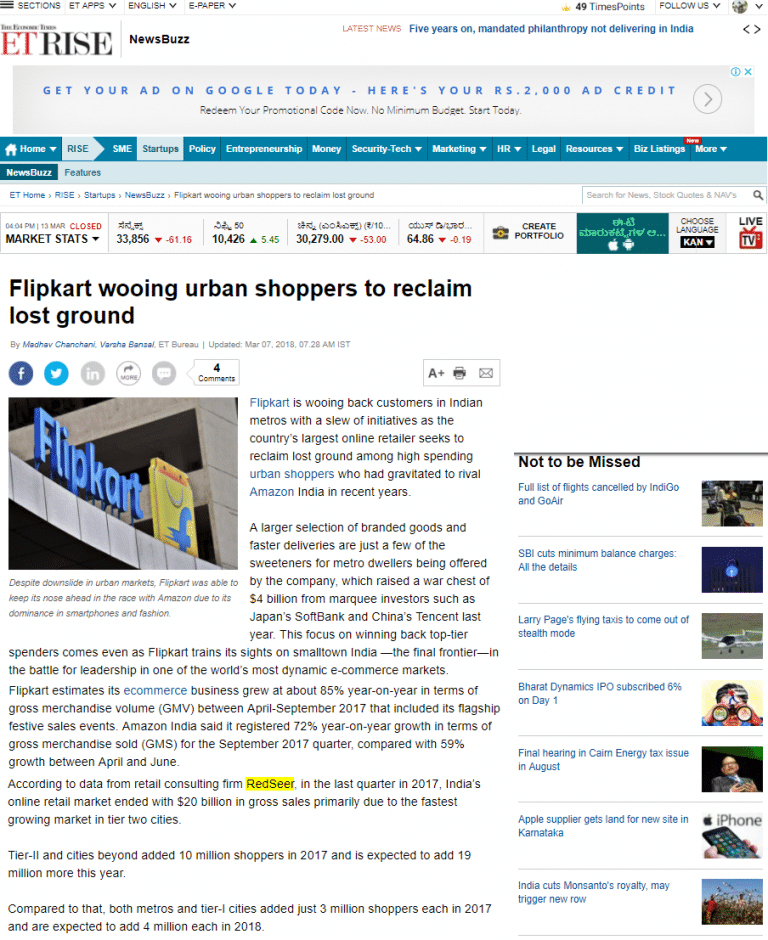 Click Here for the complete Article.