THE ECONOMIC TIMES: India's resurgent food-technology sector is having no respite even after its massive cleanup last year that helped it draw investors back in and garner massive amounts of capital.
Much of this was pocketed by leading food aggregators Zomato and Swiggy even as the country's largest ride-hailing platform Ola drove into the sector with an acquisition lifeline to Foodpanda.
And as food-delivery startups try every trick in the book to increase the number of orders, the strategy that has emerged front and centre for them is the cloudkitchen model.
Swiggy and Ola have recently approached leading cloudkitchen firms including Faasos, Freshmenu and Holachef, which deliver dishes prepared in their own kitchens, to explore strategic partnerships or acquisitions to own or expand their capabilities in the space.
Swiggy, which launched a similar business called Swiggy Access in November, has also found expansion of the model to vicinities within Bengaluru itself a rather slow process. For Swiggy, its new supply business–which includes its private label The Bowl Company as also its cloud-kitchen model Access–will garner significant focus in 2018, a strategy for which it also acquired the leadership team of 48East in December.
Beyond highly frequent volumes driven by low-priced meals in such a model, attractive margins on the cloud or invisible kitchen model pegged at 35-45% makes the proposition rather enticing for delivery firms as the timeline to grow their topline gets squeezed further.
The increasing focus and importance on pushing up volumes comes as Chinese investors in the market, including Alibaba (through its payment affiliate Ant Financial), Meituan Dianping and Didi Chuxing, which have backed Zomato, Swiggy and Ola, respectively, look to recreate China's food-delivery success story in India.
China's food-delivery market was estimated to be worth $37 billion in 2017, growing from $25 billion in 2016. The massive market has two clear leaders with Alibabaowned Ele.me and Tencent-backed Meituan Waimai (the food-delivery service of Meituan Dianping) owning almost 85% of the market share equally.
As per estimates from Redseer Consulting, a gross merchandise volume of $700-750 million in 2017 means India's food-delivery market has more than just a long way to go.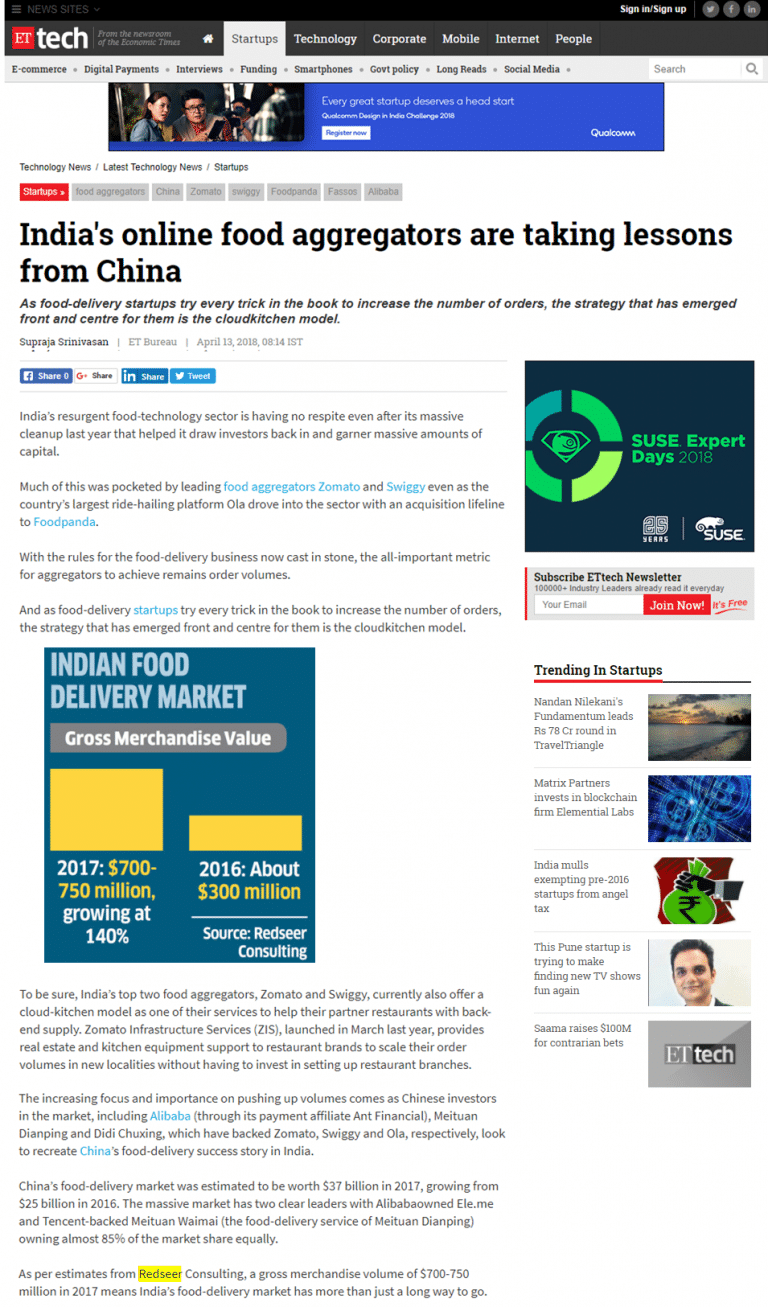 Click Here for the complete Article.