THE HINDU BUSINESSLINE: Kidswear on Amazon Fashion reported 80 per cent year-on-year growth in 2017 over the previous year, in terms of units sold, fuelled by a sharp spike in demand from tier II and III cities.
Tees, shirts and dresses topped the charts as the most popular items in these cities, followed by sneakers, sports shoes and backpacks, with the largest segment of demand coming from the 8-12-years age group, said Arun Sirdeshmukh, Director, Amazon Fashion.
"We have seen a tremendous increase in kidswear shopping in tier II and III cities, contributing 60 per cent to the total kidswear sales. For instance, 60 per cent of the sales for large kidswear brands on our marketplace, such as GAP and Marks & Spencer, is from tier II-plus cities," he said.
Sirdeshmukh sees a bigger uplift from the East, which has opened up a new customer segment for Amazon. "This is because the ease-of-doing-business in the East has improved after the introduction of GST, making it easier for sellers to move and ship goods to the Eastern States."
This spike in demand is in line with estimates from research firm RedSeer Consulting, which reveals 63 per cent of new customers in the e-commerce industry came from tier II and III cities in 2017, and this percentage is set to further increase to 65-70 per cent in 2018.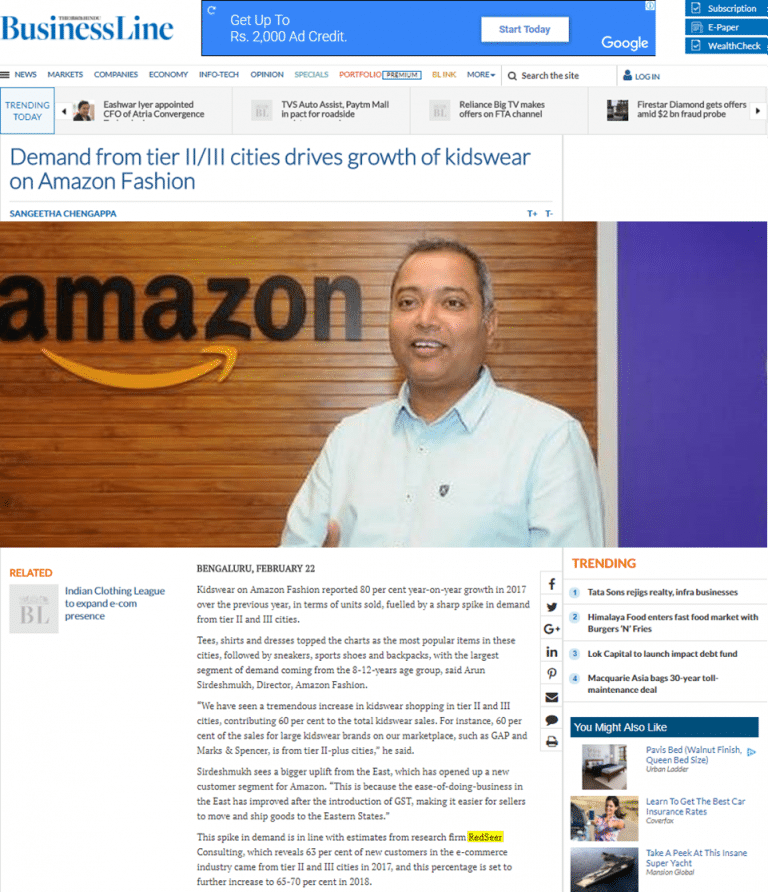 Click Here for the complete Article.