THE STREET: Over the last two years, Walmart (WMT) has spent billions to buy several U.S. e-commerce upstarts with the goal of becoming a formidable online retail rival to Amazon.com (AMZN) . But the results have been very mixed to date.
Now, it looks as if Walmart is ready to fork over billions to become a top player in a booming Indian e-commerce market that still has plenty of room to grow. And once more, Amazon's rapid growth and willingness to spend whatever it takes to win could throw a big wrench into Walmart's plans.
There have been several U.S. and Indian media reports over the last week indicating Walmart is in advanced talks to take control of leading Indian e-commerce marketplace Flipkart. On Thursday morning, Reuters reported Walmart is "likely to reach a deal" to buy a majority stake in Flipkart by the end of June.
In echoes of Uber's recent transaction with SoftBank, Reuters' sources state Walmart would buy new Flipkart shares at a valuation of at least $18 billion and existing shares at a valuation of about $12 billion (the higher valuation for new shares is perhaps meant to help Flipkart save face). If the Uber-SoftBank deal is any guide, more existing shares will be bought than new ones.
Amazon has also reportedly shown interest in taking a controlling stake in Flipkart. However, Flipkart is said to be leaning towards a Walmart deal, in part because a tie-up with Amazon brings with it a lot of regulatory uncertainty. Whereas Walmart has virtually no Indian e-commerce presence today, Amazon is easily Flipkart's largest rival.
Worries about a Flipkart deal appear to weighing on Walmart's shares a little. They're down about 1% this week, even as the S&P 500 has risen more than 2%. Walmart tumbled in February after disclosing weaker-than-expected U.S. e-commerce growth and issuing light fiscal 2019 (ends in Jan. 2019) EPS guidance in its January quarter earnings report.
By taking control of Flipkart, Walmart would become a leading player in an Indian online retail market estimated by consulting firm RedSeer to have grown 23% in 2017 to $17.8 billion. That's still just a small fraction of a total Indian retail market that according to one 2017 research report is worth $672 billion and forecast to grow to $1.1 trillion by 2020, aided by solid GDP growth and a larger middle class.
And though long-term forecasts need to be taken with a grain of salt, Morgan Stanley predicted last September that the Indian online retail market would swell to $200 billion by 2026 on the back of a 30% 10-year compound annual growth rate (CAGR). The firm estimated at the time that only 14% of India's Internet users shopped online, compared with 64% of China's.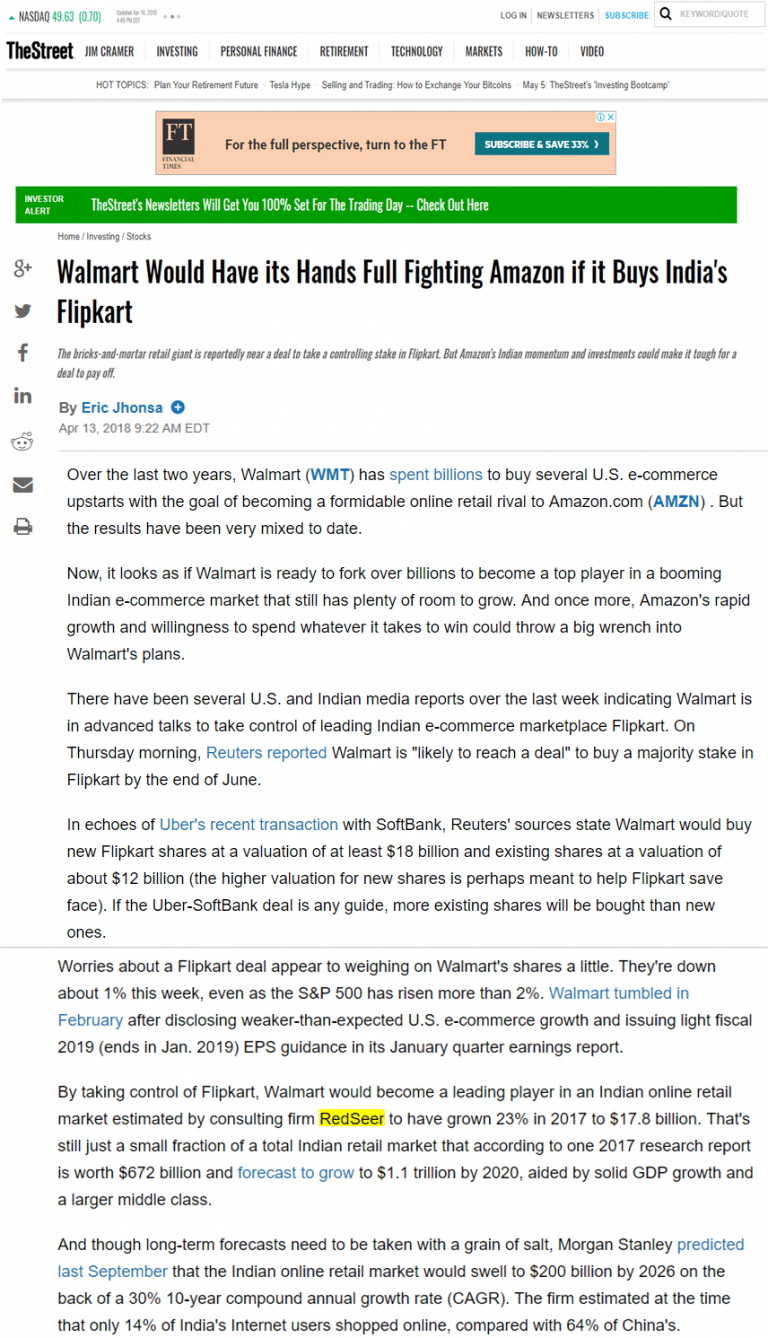 Click Here for the complete Article.