YOURSTORY: Flipkart's Singapore filings for FY 2017 are out and the numbers show how unbridled ambition has had to be tempered with the realities of cost control.
The point of all that money being spent should be much greater revenues and, hopefully, profits at some point of time in the future. The company filings show just how far those profits seem.
Flipkart Group's Singapore filings for FY 2017 are out and the numbers show how unbridled ambition has had to be tempered with the realities of cost control. Revenues have gone up by 29 percent to Rs 19,854 crore, but the rise in losses was more dramatic at 68 percent, to Rs 8,771 crore.
The filing was shared by Paper.vc, data intelligence platform for the venture ecosystem.
The more worrying statistic for Flipkart is the slowing rate of revenue growth. FY17's rate at 29 percent is much lower than what was registered in FY15, at 50 percent.
This is not surprising for two reasons–one the revenue base has grown, and so percentage growth will be lower and, two, online retail is growing at a much slower pace. In 2015, the e-commerce industry grew at the rate of 180 percent but in 2016 grew at only 12 percent, according to data from advisory firm RedSeer Consulting.
In 2017 the industry growth rate is pegged at a little over 23 percent.
Now, much has changed since March 2017. Most importantly Flipkart has raised almost $4 billion from a slew of deep-pocketed investors, led by the biggest and 'baddest' of them all: SoftBank. It isn't surprising then that Flipkart has put its foot on the growth pedal since then. It has launched two big categories–furniture and grocery–in the second half of 2017.
The company, according to multiple sources YourStory spoke to, is focusing on improving the range of selection it has. Amazon has much better breadth and depth in selection. The Bengaluru-based company is continuing to spend on its logistics network and is making investments in technology as it leverages the massive pile of consumer data it is sitting on to tailor offerings, ranging from schemes like no-cost EMIs, to launching a large variety of private labels across fashion, furniture and appliances categories. Most of these new offerings are aimed at improving affordability of products without offering too many actual discounts.
Estimates put the cash burn rate, which includes all the marketing and discounting that marketplaces do to attract customers, at about 12-15 percent of Gross Merchandise Value (GMV).
The biggest focus of the spends will be on acquiring new customers. A certain amount of saturation has happened in the big cities, and e-commerce is now growing thanks to small-town shoppers. RedSeer data shows that e-tailers saw a 33-percent rise in monthly active shoppers in 2017, from 15 million in 2016 to 20 million last year. There was a 34-percent growth in number of shoppers from Tier-II towns, compared with 11 percent growth in metro shoppers.
The company will have to try different tactics like investing in offline stores to ensure expansion in Bharat.
It won't be surprising, then, if Flipkart's filings look very different this fiscal with higher spends and increased losses.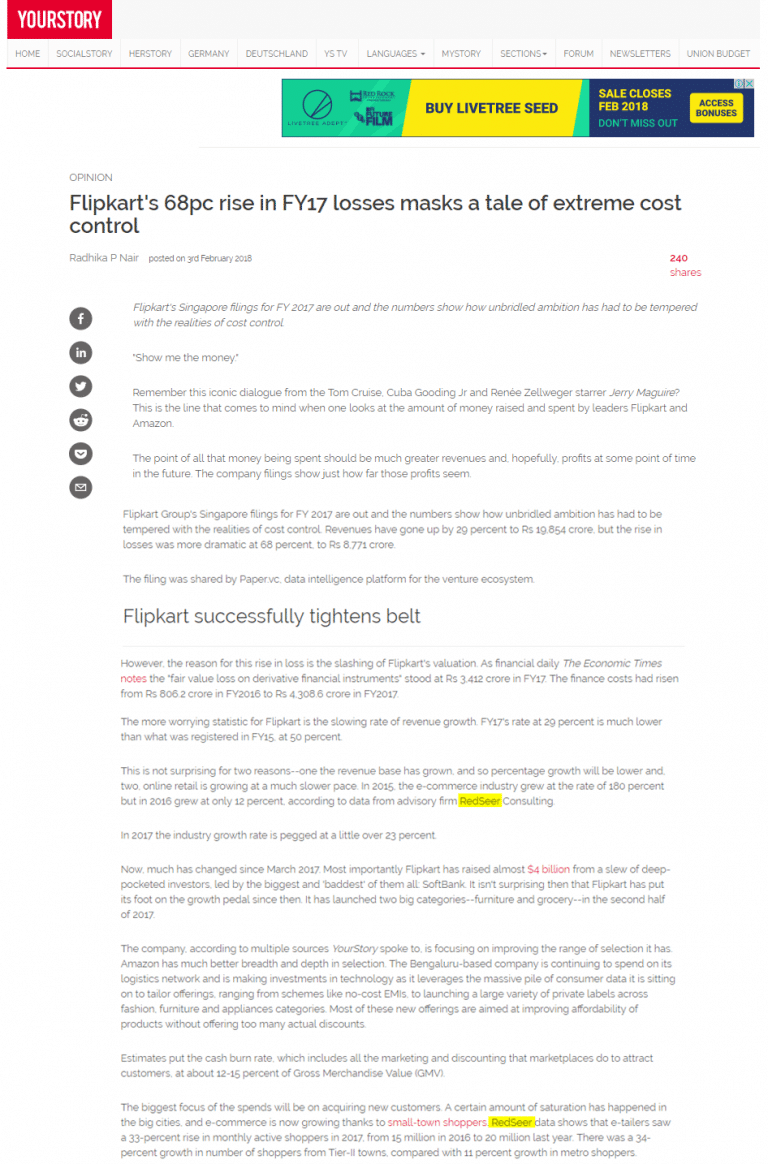 Click Here for the complete Article.