YOURSTORY: With two mega fund raises, rise in mobile and fashion sales, and the launch of private labels, Flipkart calls 2017 a 'watershed year' that helped cement its position as India's leading ecommerce marketplace.
When you are under siege in a battle you can either dig in, hoping the opposing side will run out of firepower, or you can go on the offensive with all guns blazing. Flipkart opted to do the latter in FY 2017-18 and the results are showing.
The overall e-tail industry reached $17.8 billion in size in 2017, according to data from advisory firm RedSeer Consulting, and is expected to grow at 60 percent this calendar year.
RedSeer's Engagement Manager Ujjwal Chaudhry says Flipkart accounts for 40 percent of this sales and Amazon lags by 5 percent. If Myntra's and Jabong's sales are considered, then Flipkart's share becomes 45 percent.
The mobile battle
Mobile is still the numero uno category in e-tail. RedSeer data shows that mobile accounts for 50 percent of the e-tail Gross Merchandise Value (GMV) in India and is also among the fastest growing categories with a growth rate of 51 percent. Dominance in this category is an almost sure-shot means to industry domination.
Focus on affordability
Since 2016, Flipkart has been focusing on making online shopping easier on customers' wallets without giving outright discounts. Schemes like no-cost EMI, buy-now-pay-later, guaranteed buyback, and product exchange were launched in 2017. During the 2017 BBD, about one-third of GMV had some kind of affordability link, claimed CEO Kalyan Krishnamurthy in an interview with YourStory.
Such schemes are especially important for ensuring purchases from smaller towns and cities, which is where the growth is coming from. Small-town Indians accounted for 41 percent of all online shoppers in 2017. While the number of metro shoppers grew by 11 percent annually from 2016, the number of Tier I shoppers grew by 18 percent and Tier II shoppers by a whopping 34 percent.
During BBD 2017 for instance, Flipkart claims to have seen shoppers from 250 towns and villages from where no one had bought on Flipkart before. The company also claims to have seen an over 1,000 percent increase in orders from remote locations such as Kashmir, Arunachal Pradesh. and Mizoram.
Affordability features are helping Flipkart make the pie larger, with more people buying online. But contribution of such schemes to overall GMV will not exceed 5-6 percent," says RedSeer's Ujjwal.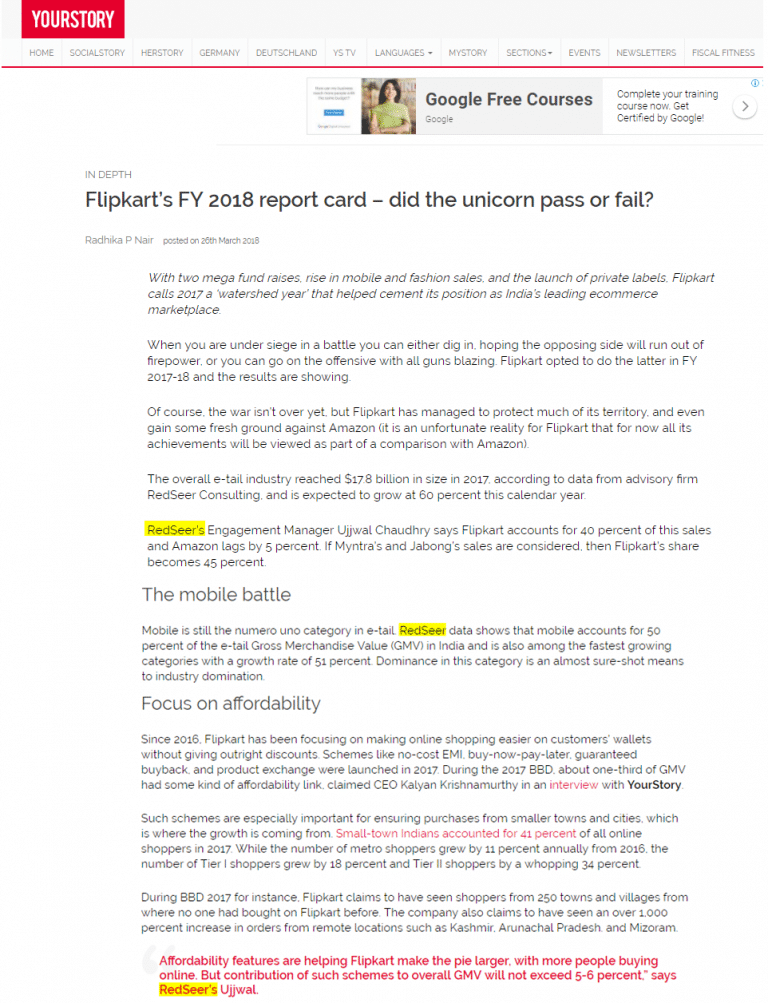 Click Here for the complete Article.