YOURSTORY: For the financial year 2017, here's how the fiscal turned out for Ola. We list down the cab aggregator's key achievements and milestones, and set sights on its future in the next fiscal. 
In the eight years since Ola (ANI Technologies) began operations, the Bengaluru-based unicorn has seen several ups and downs.
As of last year, Ola was fighting a tough battle. However, from the beginning of this year, the Bengaluru-based cab aggregator seemed to be giving Uber a run for their money. In FY2017-18, Ola raised a significant $2 billion led by Tencent Holdings. And while the cab aggregator seems to have an on-again and off-again battle with its drivers and regulators, it has made a significant dent in the market.
While Ola is yet to file its 2016-17 revenue details, as of FY 2015-16, it posted total revenue of Rs 501.76 crore and losses of Rs 2,311.74 crore. In 2014-15, it had total revenue of Rs 421.72 crore and losses of Rs 796.12 crore.
A growing consumer base
Sanjay Nath, Managing Partner, Blume Ventures, which became a shareholder in Ola after the latter acquired TaxiforSure, had earlier told YourStory,
"India is growing, and the consumer is changing as well. The sharing economy, already entrenched in the consumer's mind, will only grow.  This is especially true in fast-growing emerging markets like India, China, and Southeast Asia.  That said, it's not a one-size-fits-all approach, and each region will have its own set of winners."
A RedSeer report attests to this shift. The report states that while the cab industry has grown by 40-45 percent year-on-year, over 2017, both Ola and Uber have been able to improve the consumer net promoter score (NPS) – which measures customer satisfaction – significantly.
The report said this could be attributed to better-trained drivers, improved app experience, and enhanced offerings from cab aggregators. While the NPS in September 2016 was at 19 percent, a year later, it stood at 29 percent.
"The coming year also promises to be power-packed for us. We have doubled our focus on sustainable commuting solutions such as Ola Share, electric vehicles, as well as our widely popular Ola Auto-rickshaws. Customer and driver-partner safety, and technological advancements/innovations in the auto tech space too, will continue to be important areas of focus," an Ola spokesperson said.
It is also interesting to note is that online car-pooling grew 22 percent in July-September, as compared with the same quarter in 2016. RedSeer stated this growth was primarily driven by the heavy discounts offered. The main reason for this push is that car-pooling helps improve driver ride efficiency – there are more rides per trip – and helps to reduce the need for more drivers on platforms.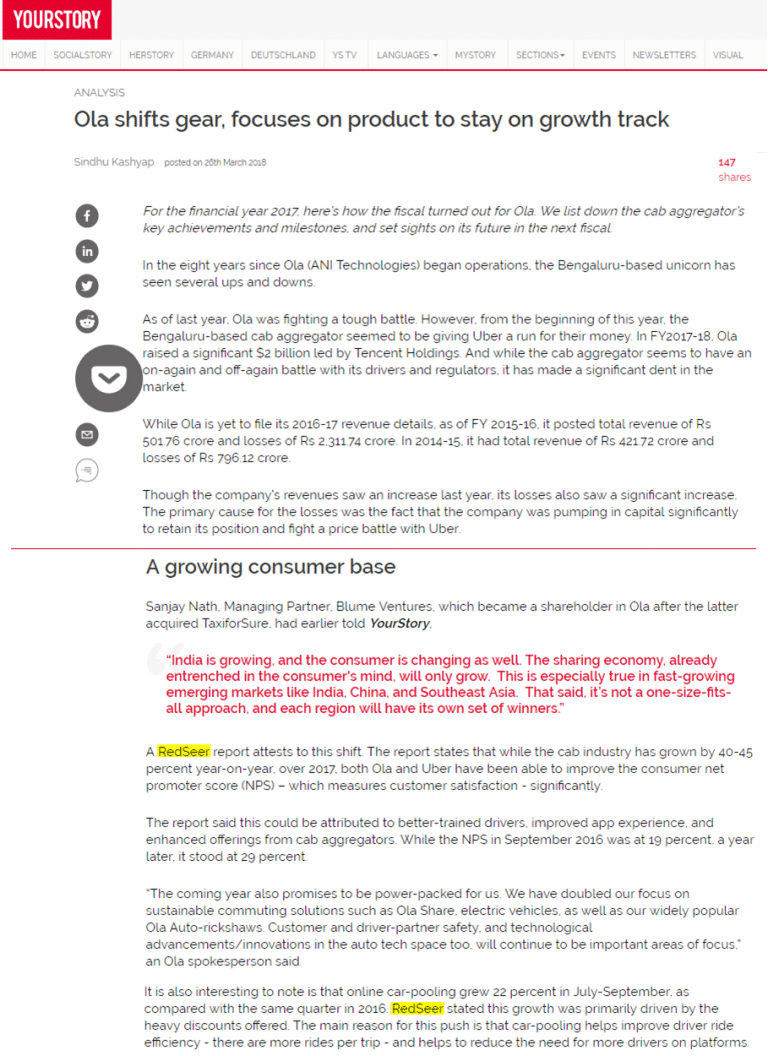 Click Here for the complete Article.