YOURSTORY: Amit Sinha, the man at the helm of Paytm Mall, knows a thing or two about India's small towns. You know this when he recounts how he didn't get to hold a Coca Cola bottle until he was in high school. The stores in the town he lived in — Panchet in Jharkhand's Dhanbad district — just didn't stock the cool drink.
"I know how access can be a challenge. My father was with a PSU and money wasn't the issue; we could afford to buy things. I loved the life (living in a small town) but you had to travel to the nearest big town to get anything," says Amit.
Paytm's Founder Vijay Shekhar Sharma was also raised in a small town — Aligarh. This partly explains the company's focus on small towns. The team, almost viscerally, understands the aspirations of those who live in India's smaller towns.
There is the economics of it too. The 2011 Census found that India had 7,935 towns. India's small towns, semi-urban areas, and villages are still home to a majority of the country's population. It is a myth that there is no wealth or buying power in these locations. In fact, Kotak's Wealth Report states that emerging cities and small towns account for 45 percent of India's Ultra HNI population.
Physical presence in the digital age
Online retailers have made some inroads into this market. Online shoppers in Tier II and smaller towns grew threefold compared with metro shoppers, and accounted for nearly 41 percent of the overall online shoppers in 2017, according to advisory firm RedSeer Consulting. Yet physical is still king here.
As Ujjwal Chaudhry, Engagement Manager at RedSeer, says, while small towns have a huge smartphone user base, not all of them are shopping online as there is still mistrust of the online mode of shopping. Having a physical presence helps improve trust as there is a feeling that a brick-and-mortar store is more enduring than a virtual one.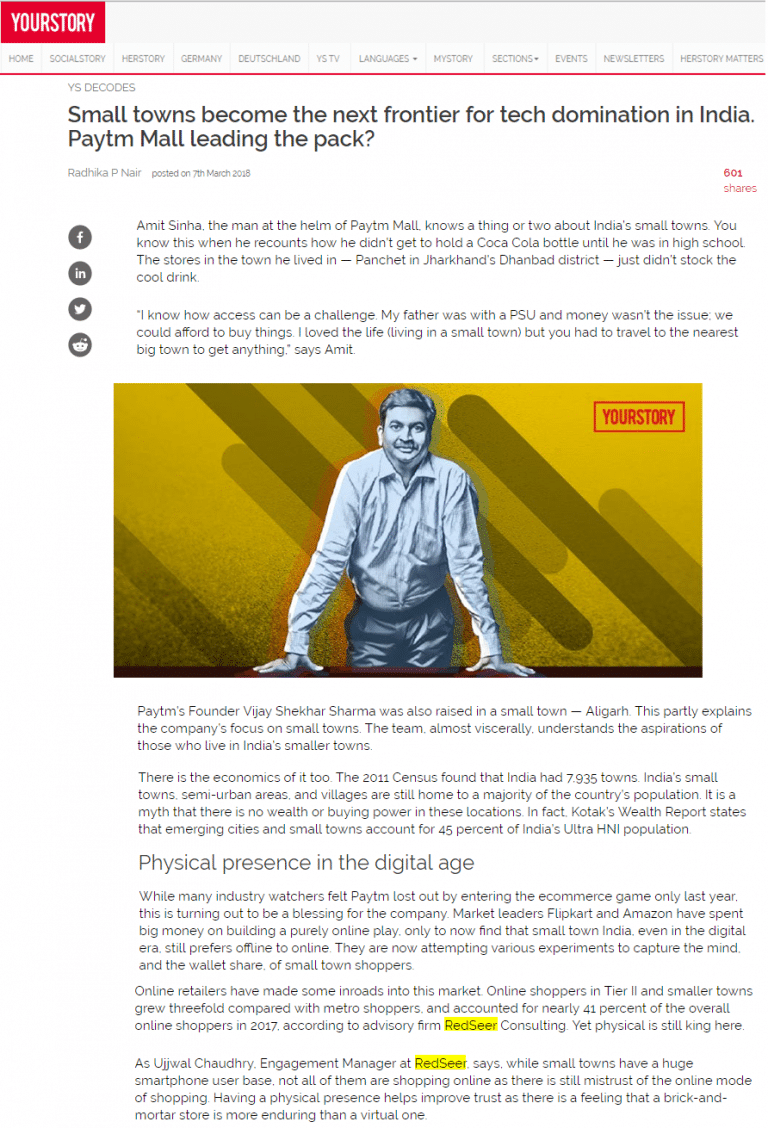 Click Here for the complete Article.