'Health is wealth'. This age-old saying is no longer a cliche. The pandemic has compelled all of us to prioritise health over other aspects of our lives. I have myself been spending at least an hour a day hitting the gym, meditating or making a healthy diet plan. Kudos to technology for making this routine simpler than ever before. Be it a smartwatch to track fitness or monitor heart rate or an app that gives us the choice to order from an outlet with an array of healthy food options, health is an easy choice to make today.
Undoubtedly, consumers' expectations from the various new-age preventive and curative healthcare companies for more such products have increased tremendously. This leads us to an obvious assumption that new-age healthcare companies can cater to this demand and build profitable businesses.
However, when we looked closely, we saw a different story. The eHealth (including ePharma, eDiagnostics and eConsultation service providers) sector's profitability has become a cause of concern, especially with customer acquisition cost (CAC) returning to pre-COVID levels. Moreover, discounts continue to be an indispensable component of the offering to retain the chronic-first customers. As a result, the sector currently operates at negative contribution margins. Having said that, there is surely room for improvement!
Here's a look at the current state of profitability for the eHealth sector and the key avenues for eHealth platforms to improve the situation.
1. eHealth sector currently operates at negative contribution margins, with potential for improvement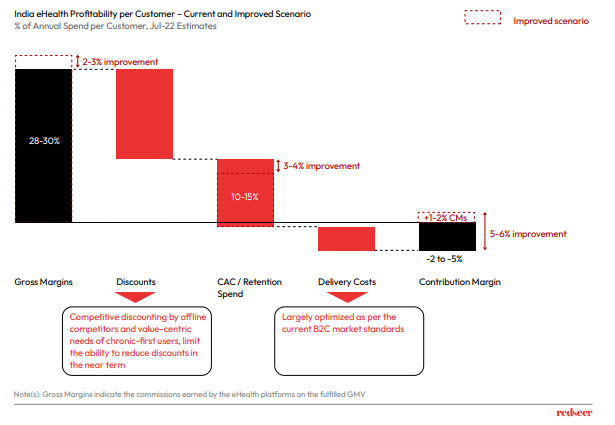 Discounting and CAC are the largest spend areas for India's eHealth platforms and they currently outweigh the earned margins. Discounting spend is likely to remain at similar levels for the eHealth players to stay competitive. Therefore, improvement in profitability shall be brought about by increased margins and reduced spend on customer acquisition/retention. With the right set of efforts by the platforms and reciprocation from customers, the sector has potential to reach early positive CMs. How can the eHealth players make this happen?
2.CAC /Retention spend can be improved by driving higher revenue from existing users, whose 90% healthcare wallet remains untapped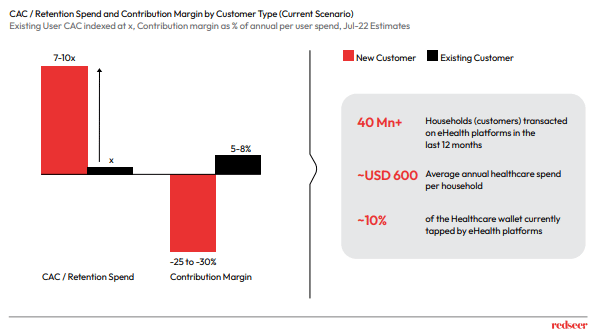 The existing customer base, which is more profitable, is large enough and comprises of 40 Mn households. And interestingly, only 10% of their healthcare wallet has been tapped by eHealth platforms today. Hence, there is huge room to derive increased value from the existing customers and maximize their LTV. This will bring down the blended CAC/retention spend and improve the overall profitability.
3.Tapping into the emergency medicine and curative pathology diagnostics wallets should be the immediate course of action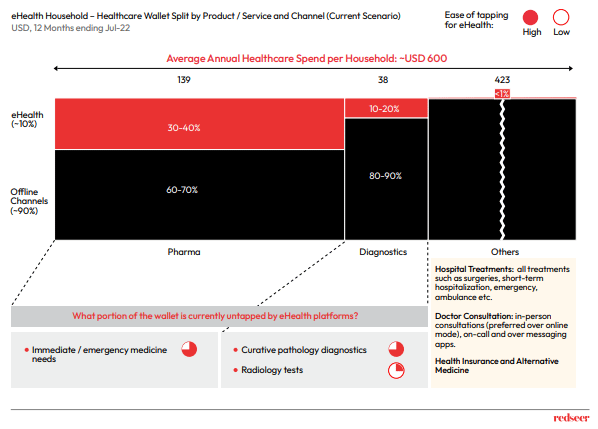 There is material headroom for the eHealth platforms to penetrate further into the pharma and diagnostics segments within the healthcare wallet of the existing eHealth customers. On the pharma side, eHealth platforms can create their presence among the immediate and emergency medicine needs, which are currently fulfilled offline through either the pharmacy attached to the doctor's clinic or the pharmacy closer to the customer's location. B2B Partnership with clinics and smaller hospitals and instant delivery capabilities would be crucial in winning this opportunity. These B2B partnerships will also come handy on the diagnostics side, to help the eHealth platforms establish stronger hold in the curative pathology and radiology segments. Radiology diagnostics is relatively tricky as it requires deeper integration with the doctor & site of care and is an asset-heavy business.
4.Further, gross margins can be improved by increasing the share of eDiagnostics in the eHealth pie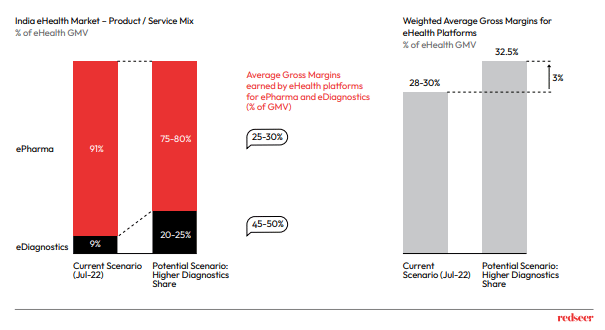 Diagnostics is a high margin business and hence improving its share within the eHealth pie would materially improve the overall gross margins. However, currently, eHealth has been largely restricted to the preventive pathology use-case and hasn't been able to tap the curative segment, owing to the missing link with the doctor. In case of curative diagnostics, doctor's recommendation plays a critical role in selecting the diagnostics provider. Hence, integration with doctors is essential for eHealth platforms to win the less-touched and larger curative pathology segment. Faster turnaround of pathology test reports will also aid in this endeavour.
Profitability is tricky in eHealth, considering the reliance on discounts and CAC spend to drive growth. However, there is a way to solve this. Making focused efforts towards maximizing the customer LTV and driving higher business from more profitable segments could be the natural next steps towards making eHealth profitable.