Food delivery market is poised to benefit from the celebratory atmosphere that has been a feature of Mega sports events. High consumption enthusiasm will drive consumer spending and acts as a springboard to boost sales. "The Qatar cloud kitchen culture is rapidly evolving and will naturally get a major boost from the celebratory atmosphere" Ramez Shehadi, President and Chief Growth Officer, REEF, noted. While it marks an opportune time for food delivery players to capitalize on the increased demand, they need to be cognizant of the evolving consumer behaviour trends to devise coherent strategies
Let's take a look at the impact of World Cup on food service industry.
1. World Cup has had a historic impact on F&B for host nations alike, Qatar to see a strong uplift in demand as well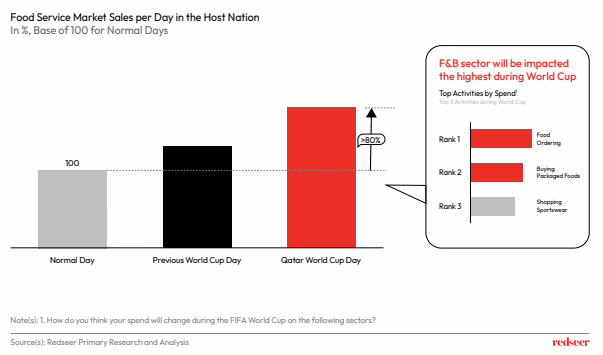 Historically, world cups have driven considerable food and beverage purchasing. Qatar will follow a similar trend as the value and frequency is pumped up by the high consumption enthusiasm of fans. Interestingly, Due to the fundamentally essential nature, the Inclination of consumers to order food (including packaged food) is highest, even higher than the sportswear.
2. Whereas globally the uplift in demand will be limited but expected to have notable change in ordering behavior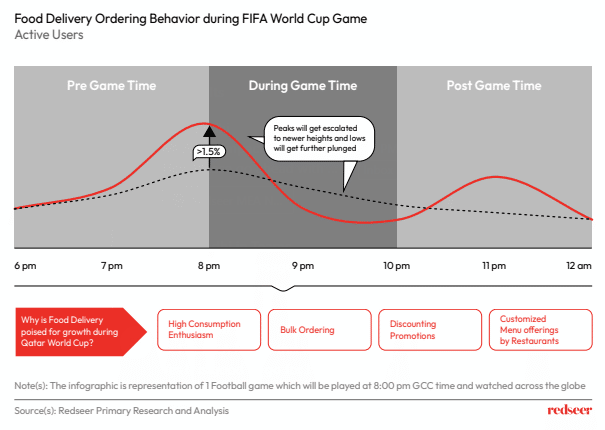 Change in consumer behaviour is driven by peak order timings, bulk ordering behaviour and increased preference towards world cup themed reward programs and customized menu offerings. This change is reflected in the peak ordering timings as consumer food ordering patterns fluctuate according to to match timings. During Pre-game times, Food delivery peaks escalate and the lows get further plunged during the game. Post-game time further sees an upward trend as consumers return to normal schedules.
3. Players need to be cognizant of the impact and devise strategies accordingly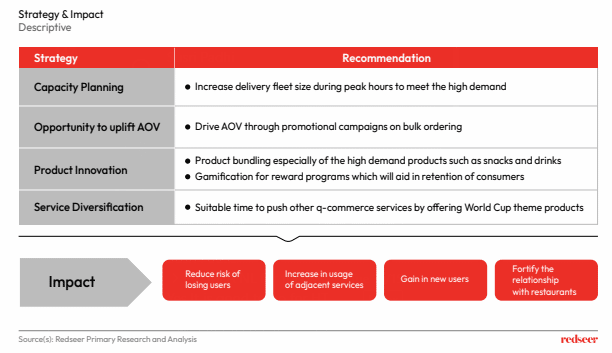 FoodTech players need to diligently plan their strategies to efficiently capitalize on the expected increased demands. Players should focus on capacity building to cater to the demand and uplifting AOV through rewards and discounts for bulk ordering. This is also an opportune time for players to strengthen their Q-commerce services demand by diligent product bundling of match day essentials.
"It's an opportune time for restaurants and the retail industry at large to capitalize on this moment to enhance offerings, channels and customer experiences and drive greater operating efficiencies." Ramez, noted.
The world cup promises to be a Mega event and will have a long-lasting impact across sectors, creating a legacy for the MENA region.