1. India has 15+Mn Kirana stores that face four big challenges in daily operations- each of which is a massive opportunity for tech start-ups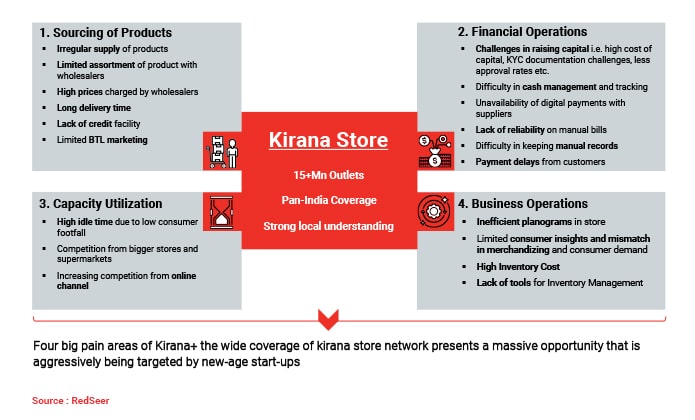 Indian retail market is marked by the presence of 15Mn Kirana stores which has penetrated into the nook and corner of the country. However, this traditional distribution structure is highly fragmented leading to challenges in four key areas- sourcing, operation, managing finance and utilizing the free time/capacity for the Kirana stores.
Tech start-ups across the board have realized the massive opportunity in solving these four big challenges and have started offering solutions to address them. However, these players have just scratched the surface and there is still-huge potential to be unlocked by addressing these challenges end to end.
---
2. e-B2B players are streamlining the traditional distribution process for Kiranas by reducing the intermediaries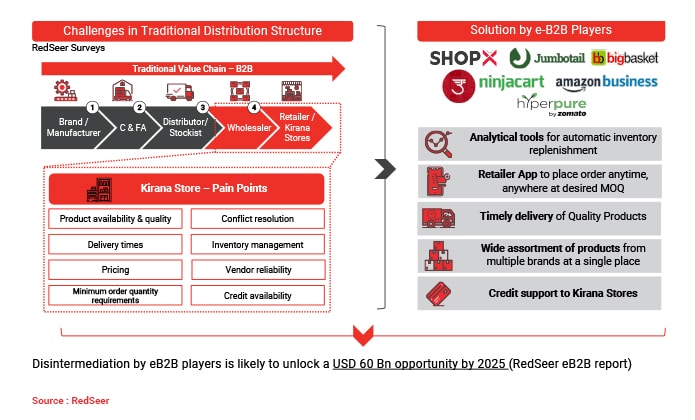 Traditional distribution structure is fragmented in India with the presence of multiple intermediaries leading to inconsistency in sourcing for Kirana stores.
These retailers are depended on Wholesalers for their sourcing and face issues including irregular supply, limited range of products, high prices, credit availability and longer delivery times leading to the frequent stock-out situation at the retail shelf.
e-B2B players are addressing these challenges by channelizing the product flow across the traditional retail chain. These players are connecting brands/ distributors directly with retailers and hence remove the wholesalers. e-B2B players allow a Kirana store to order anytime/ anywhere and provides them access to a wide range of product. These players also provide credit support to Kirana for better cash flow management
---
3. FinTech players are assisting Kirana Stores to solve across the entire financial operations journey of Kirana stores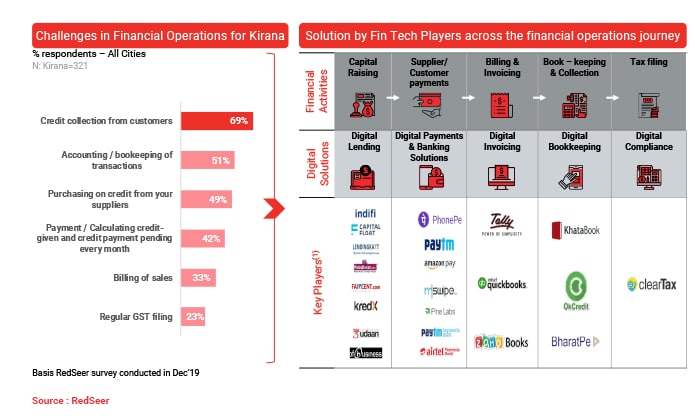 RedSeer research indicates that traditional Kirana stores are facing multiple challenges in managing their financial activities including Capital Raising, Supplier payments, Invoicing, Book-Keeping and Tax-Filing
The biggest challenge faced by them is the management and recovery of a large number of credit receivables, which often are not recovered at all.
The above challenges are an opportunity for fin-tech players who provide solutions to Kirana stores across Lending, Payment and Book-keeping. Going forward, the rising adopting of these fintech platforms will likely enable more prudent financial management and better P&Ls of these so Kirana stores, thus helping them compete with organized supermarkets more effectively
---
4. E-tailing Marketplaces are creating alternate channel of revenue for Kirana stores by leveraging them heavily for last-mile delivery partners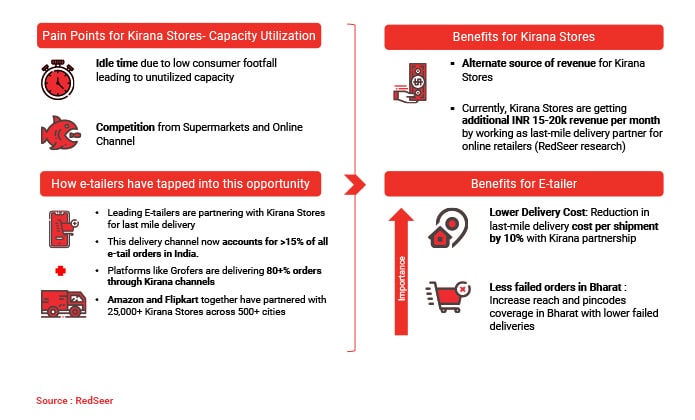 Traditional Kirana Stores are facing challenges in utilizing their full capacity owing to low customer footfall and competition from organized supermarkets and increasingly e-tailers. To utilize the idle capacity of these Kirana stores, leading online retailers are partnering with these stores for last-mile fulfilment of orders.
These retailers deliver orders within a radius of 4-5 Km and are well aware of their surroundings thus allowing e-tailers to penetrate deeper and solve the challenge of mismatch in Pincode. At the same time, it helps Kirana stores to have an alternate source of revenue
---
5. Large opportunity in digitizing Kirana Stores by providing integrated solutions across analytics, payment and inventory management
Besides sourcing, Kirana stores face challenges in tracking sales, merchandizing, driving customer insight and managing the right inventory. To address these challenges, leading cash & carry players such as Reliance, Metro, Walmart etc. are providing integrated PoS to Kirana stores which is helping them to track sales, manage inventory, drive customer insight and conduct proper product planning.
Other than helping Kirana Stores, PoS solutions also provide gamut of opportunity for Brands who right now has limited access of sales to end customers and are reliant on market research agency. However, deeper penetration of PoS will enable brands to get real-time customer data leading to better product planning.